Mr. CraftyPaws' cousin's daughter just got married, and I needed to get out a wedding card out ASAP. The wedding was originally planned for this winter, but after her fiance got orders to serve for next week, an accelerated wedding was pulled together. This card is as sparkly and fun as this fabulous young couple (he graduated from college last year and she did this year – wow that's young in my world (we were both 38 when Mr. CraftyPaws and I got married. LOL)).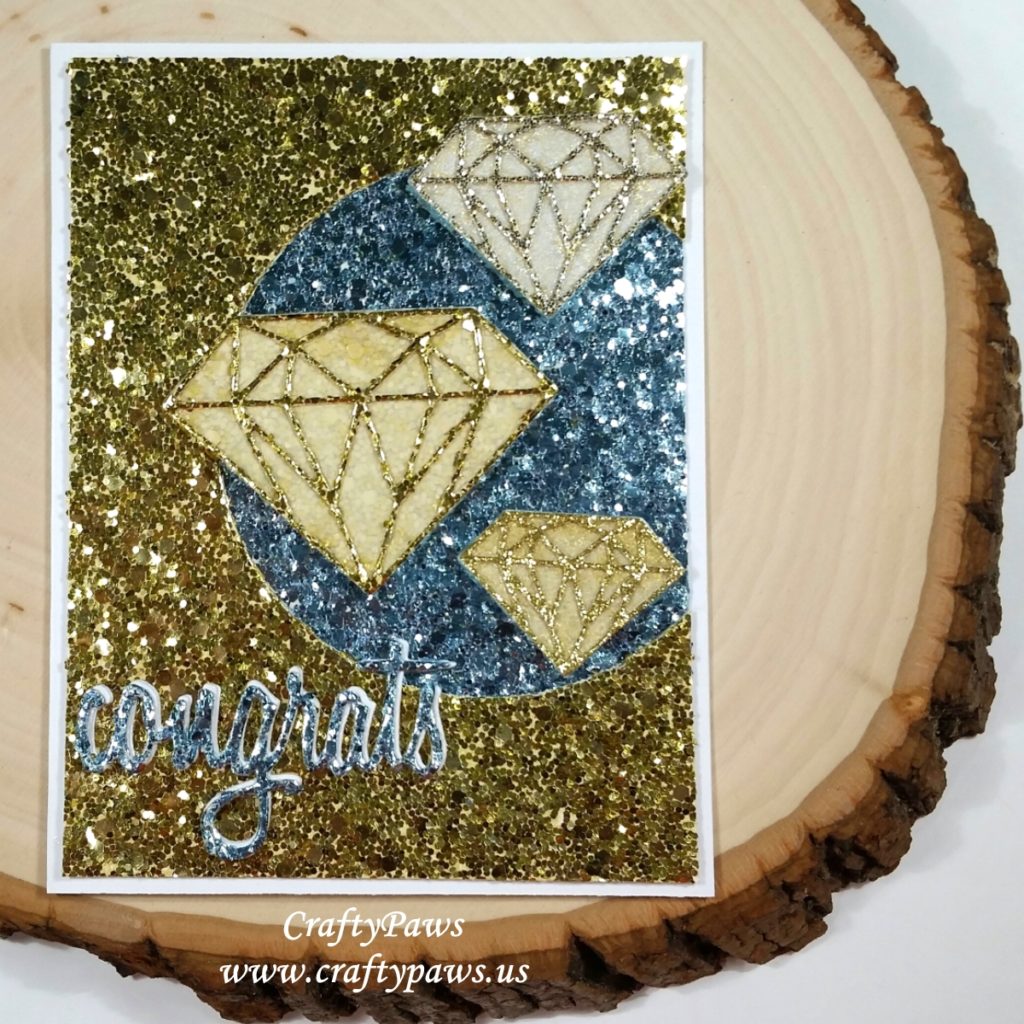 I used 4 different glittered cardstocks from my scrap box that had been langushing and throwing off glitter for the past 3 years! There is a silver, a fine gold, a big bold gold and a medium blue glittered cardstock. Since these card stocks are not coated, loose glitter does rub off and sometimes bald spots can form when cutting with guillotine cutters or fine detailed dies, but there is nothing as bright and sparkly as real, uncoated glitter. 🙂
For the base background panel, I used the blue glittered card stock to offset all the gold and silver diamonds. For the top background panel, I used the 12th largest circle from the Diemond Dies Die-Normous Stack-Ems Circle Nesting Die Set and cut out a round window so the base blue would be revealed.
I used the My Favorite Things Die-Namics Diamond Die Set (retired) that has backgrounds and detailed intricate facet layers in three sizes. I cut each diamond in a different colored glittered card stock and in between the base layer and the top layer, I sandwiched a background layer of die cut vellum. The vellum was a bit tricky to adhere to the virtually non-porous glitter cardstock, but a little patience and Glossy Accents ultimately worked. To add a little dimension, I also popped each of the diamonds up on double sided foam adhesive.
Lastly, for the sentiment, I cut out the "congrats" word from the Tim Holtz Sizzix Script Celebration Words Die Set. Actually I cut it out twice from white cardstock and once from the blue glittered cardstock and layered them all together, offsetting the white so they would help the blue stand out from the gold and blue glittered background panels. So yes, this entire card was made just with dies! No stamps (as much as I love them) were used in the creation of this card.
Disclosure: Many of the supplies I've used for today's project are linked. Some may be affiliate links, which means if you make a purchase I receive a small commission at no extra cost to you. I truly appreciate your support toward the costs of running this blog!
This card is being entered into the following challenges:
Just Keep On Creating Anything Goes Challenge
Creatalicious Anything Goes with Optional Create Your Own Background Challenge
613 Avenue Create Anything Goes Challenge with Optional Masculine Card
Lil Patch of Crafty Friends Anything Goes Challenge
Word Art Wednesday Anything Goes Challenge
MFT Sketch Challenge #353