Are you one of those people who can't stand to leave things undone? I am. Although I certainly enjoy the process of creating, I also really love the feeling of completing something (and the converse is also true–I really dislike unfinished projects).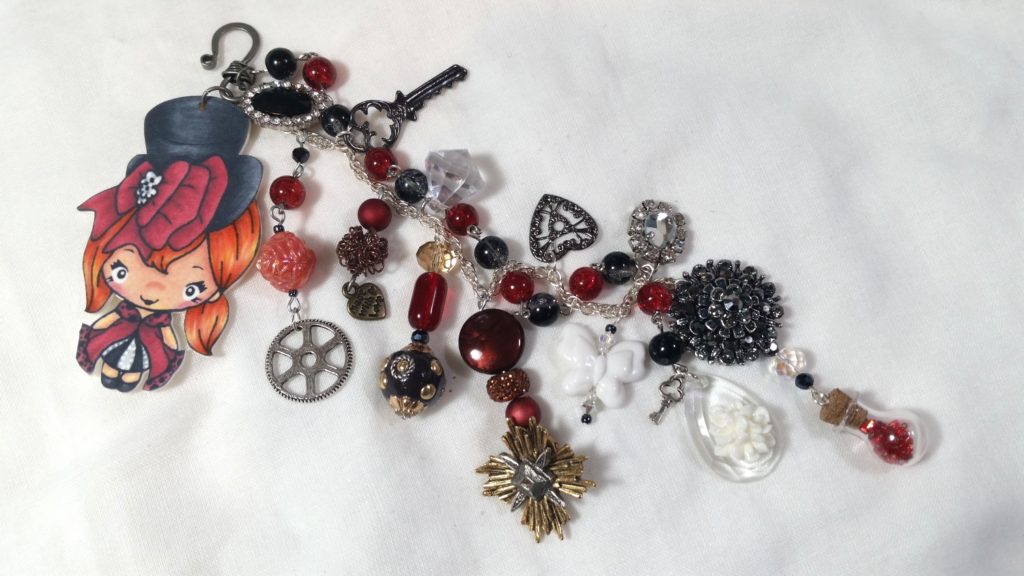 As I mentioned in yesterday's post, I recently found a charm or necklace holder that had six hanging arms that matched my craft room decor perfectly and seemed to be made for the chunky charms I've been making with The Greeting Farms Hatters stamp set and Shrinky Dink papers.  So I took that as a sign that I was supposed to finally ink up the last of the Hatters girls and get to coloring her up.  I doodled on an extra layer of ruffles to her dress and a polka dot pattern to parts of her outfit to give her a little extra flair.  Then I colored her up with the following Copic colors: Skin: E000, E00, E21, and R20; Blacks and greys in outfit: C1, 4, 6, 8, and 9; Reds in outfit: R22, 35, 37, and 39; Funky bright red hair: Y00, Y21, YR02, YR15, E13, YR04, and E15. Whew! That's a lot of colors to achieve that bright red hair, but I really wanted it to harken to the bright colors of Tim Burton's Alice in Wonderland and still contrast sufficiently from the red in her outfit (did I mention that I've named this cute Hatter, Queeny?).  Ultimately I did a little cheat that I'll share with you a bit later… 🙂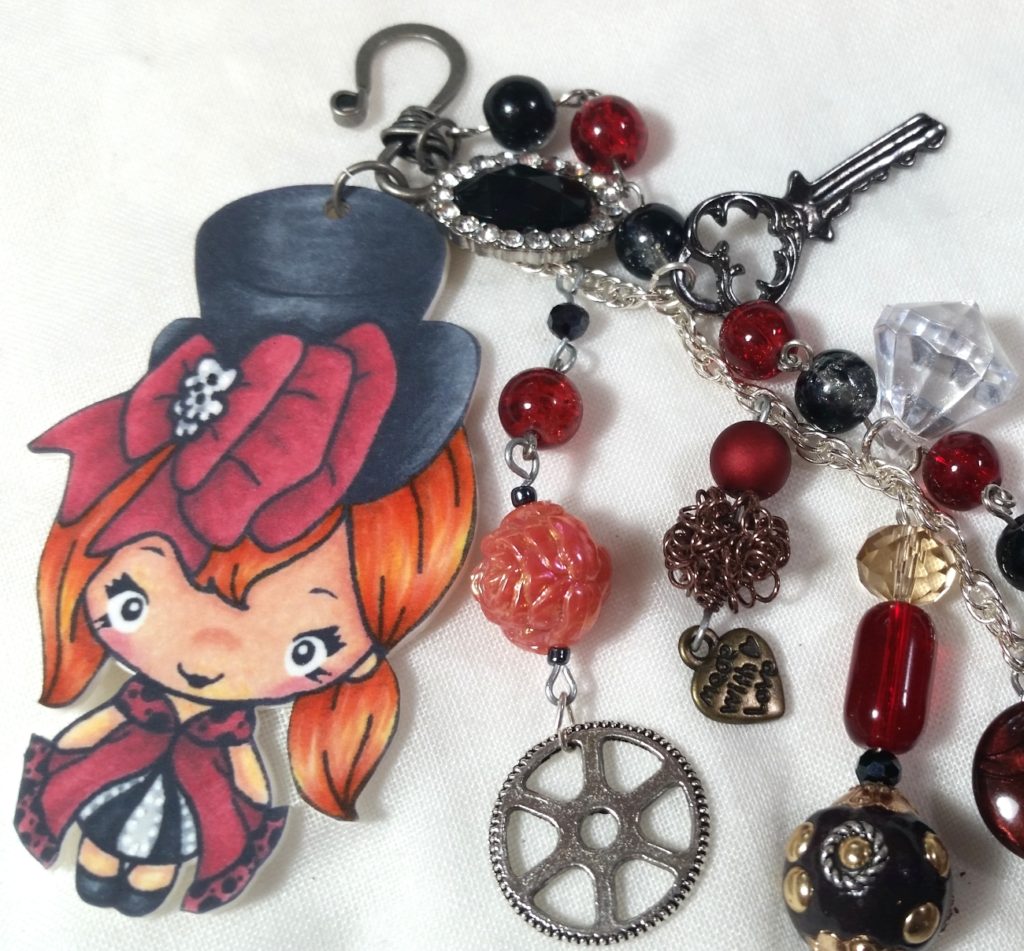 I scanned her into my computer, lightened the image by 60% and increased the contrast about 10%.  Remember Shrinky Dink papers intensify the colors so this lightening step is critical. I printed her out to a 5″ x 7″ size on Shrinky Dink paper and then punched a standard 1/4″ hole at the top. Then I shrank her down using my heat tool to make her into a durable charm. When she was all shrunk down, I noticed that her hair seemed a bit faded. I decided to try a little experiment and added a top coat of Copic YR02 and Y00 over the dark and light areas (respectively) of Queeny's hair, and I loved the vibrant result!
Then, like for all the prior chunky charms I poured through my stash of beads, charms, junk jewelry, and metal pieces and gathered everything that I thought would fit with Queeny's color scheme and "queen of hearts" theme. Unlike for all the others, however, I realized I would have to do little shopping for some red beads (I had one measly bottle of red seed beads). Luckily Joann's was having a 50% off sale plus an extra 20% off entire purchase (including sale items) coupon! I picked up a strand of Jesse James beads and a strand of Blue Moon beads and combined them with some junk jewelry pieces, acrylic pieces, a tiny corked glass bottle, and steel, black and gunmetal charms in my stash to make my last and most favorite chunky charm in this collection.
The following is a video share of this chunky charm and the one I shared in yesterday's post HERE:
This chunky charm is being entered into the following challenges:
SanDee & Amelia's Anything Goes Steampunk/Industrial Challenge
Simon Says Stamp Wednesday Anything Goes Challenge
Through The Craft Room Door Anything Goes Challenge
Crafts Galore Encore Anything Goes Challenge
613 Avenue Create Anything Goes Challenge
Craft Your Passion Anything Goes Challenge
Word Art Wednesday Anything Goes Challenge
Crafty Gals Creations Anything Goes Challenge
Creatalicious Anything Goes Challenge