Hands down, taking a couple of Sandy Allnock's classes this weekend is the most SUMMER FUN I've had yet (I told Sandy that too!). Today I spent 4+ hours learning various techniques to use with Ken Oliver Color Bursts. We practiced a whole bunch on small tags cut from student-grade Canson XL watercolor paper.  I know I'll be able to use at least some of these on card fronts but I might just keep them on a ring as a kind of reference. 🙂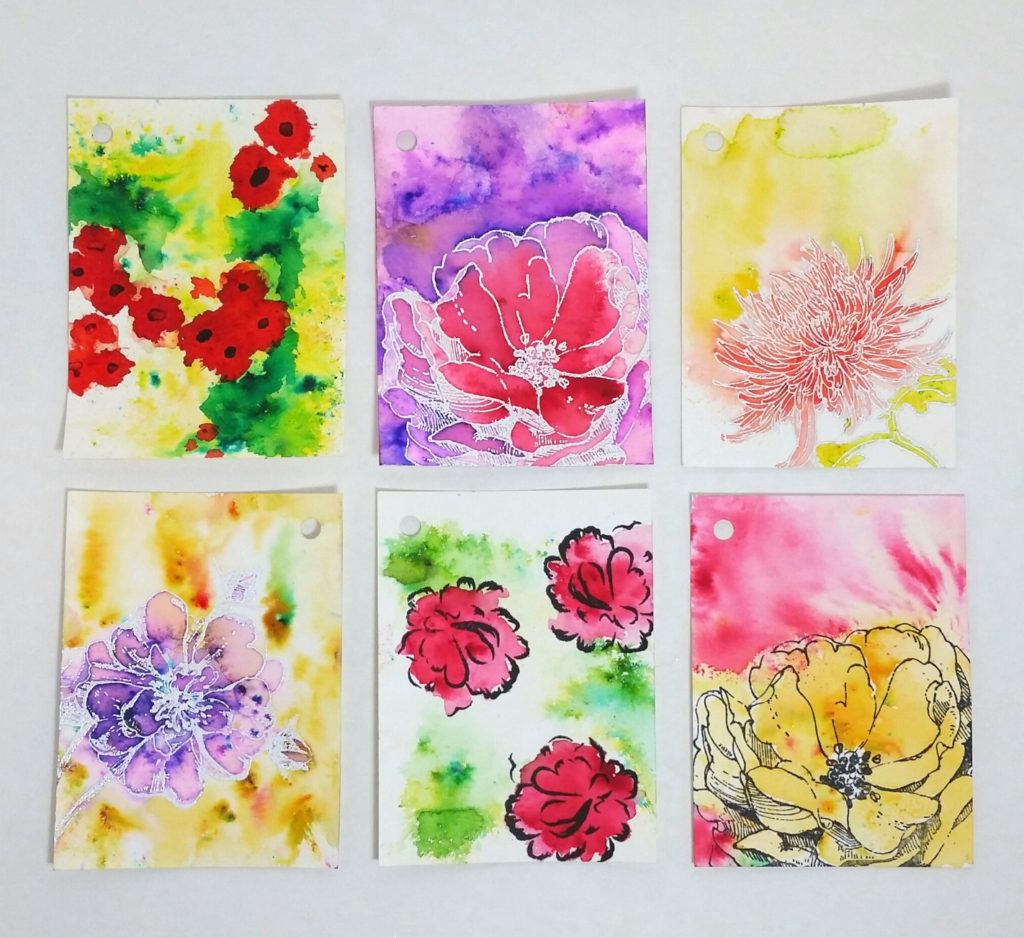 Anyway, after a lot of practice (see the photo at left of 6 of the 12 tags I colored up in class), I really fell in love with the magic and mystery that are in those tiny granules of pigment in the Ken Oliver Color Bursts.
My favorite technique was: (1) stamping an image with VersaMark ink, (2) heat embossing it with Hero Arts white embossing powder, (3) laying down water around the image (or in the image, but not both at once or you'll get pigment everywhere), (4) lightly sprinkling on a bit of powder (never squeeze those bottles or you'll end up with a hot dark mess), and then (5) moving the pigment crystals around with a paint brush or going WILD just spraying on water to move the pigment around in the ultimate crazy loose way (I can't believe it since I'm usually all about control, but I did this a lot)!
We had the opportunity to try out one of our favorite techniques on a larger format. Sandy also provided a matte so that we could frame this "work of art," but I had to finish up my piece when I got home to add the background soft greens. I wanted to try my hand at using some complementary colors (which if you're not careful can turn very muddy) so I thought about vintage pansies and WILD roses as I painted this picture of a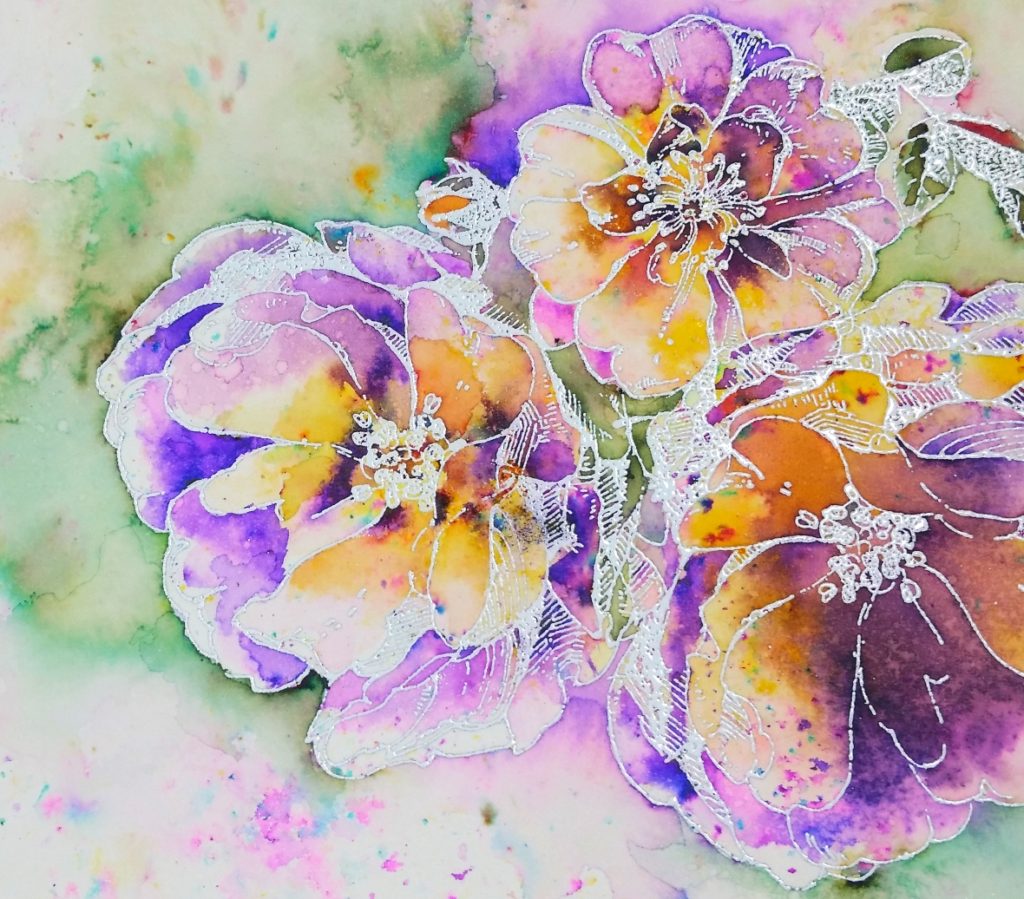 cluster of flowers (I did a bit of masking as I stamped the image to eliminate most of the stems and overlapping areas) that I stamped using the Hero Arts Antique Rose and the Hero Arts Antique Rose Stem stamps. The Ken Oliver Color Bursts I used were Violet, Lemon Yellow, Yellow Ochre, and Terre Verte. Even though this is a single layer treatment, there is so much visual movement and interest that comes from the Color Bursts.  I'll definitely be playing more with these!
By the way, the BIGGEST THRILL for me was that Sandy actually took a picture of my final floral project! She said she had never seen the purple and yellow worked together to achieve such a pretty natural color combo and she wanted to use my piece as a reference! I was humbled and absolutely floored!
The large floral watercolor is being entered into the following challenges:
Simon Says Stamp Monday Summer Fun Challenge
Simon Says Stamp Wednesday Let's Go Wild Challenge
CAS-ual Fridays Time to Color Challenge
Word Art Wednesday Anything Goes Challenge
Through the Craft Room Door Anything Goes Challenge
613 Avenue Create Anything Goes Challenge
Penny Black and More Anything Goes with a Stamp Challenge
Craft Your Passion Anything Goes Challenge
Addicted to Stamps and More Anything Goes Challenge
MFT Camp Create Farewell Bonfire Single Layer Challenge