I have been meaning to make a collage of my mini poodle, Biscuit for a while now. After making a collage of Bandito months ago, it was really on my mind. Recently, Biscuit has been quite ill so in between vet visits, and sleepless nights I finally decided to work on the collage in short stints.  Crafting keeps me sane, so this was very therapeutic for me.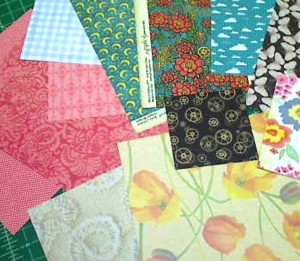 The following is a step-by-step list of instructions for how to make  a collage of your favorite pet (or anyone for that matter):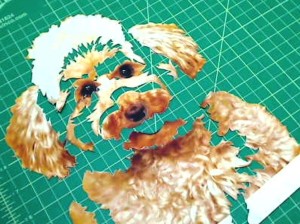 1. Print out 2 pictures of the subject. One will be used to cut up the collage pieces and the other will be the base/background on which the collage pieces will be adhered.
2. Take the background photo and spread gesso on the areas around the main image. This will provide the paper with "tooth" to make the gelato coloring deeper and richer. When dry, color using colors of your choosing.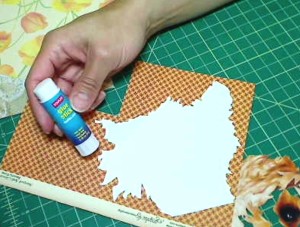 3. Take the other photo and draw dividing lines on the main image to create "puzzle/collage pieces", following light and dark areas may help you make the puzzle pieces "fit" more naturally, but there are no mistakes here.
4. Fussy cut all the puzzle/collage pieces out. This is easier with less detail, but you may like it more if you add more "ins and outs" to better represent fur or other features.  If you'd like to add the details of the shiny eyes and nose with Glossy Accents on the background photo, you will have to cut out those areas in your affected puzzle pieces with an Exacto style knife.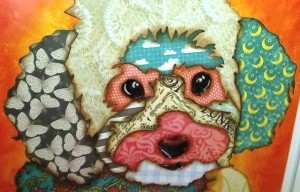 5. Select patterned paper (this is a great time to use up scraps) that you think will look good together and perhaps represent your subject. Using a glue stick, adhere these patterned papers to your collage photo pieces and fussy cut around them again.
6. Using your choice of Distress Inks (I chose Walnut Stain and Antique Photo), distress the edges of each patterned collage piece.
7. Using a strong adhesive, like gel medium, adhere the patterned collage pieces back together on the background photo that has already been gesso'd and colored.  Voila, you're done!
This collage is being entered into The Pink Elephant Anything Goes Challenge
The following is a video of my sharing this collage:
Hope you like my completed collage. I certainly will treasure it.  Thanks for stopping by. WOOF