Ok, I've had on my "to try" list a collage project that I saw on the Internet over 7 months ago. I don't recall who was the artist (there may be several who do this); however, I knew the instant I saw this that I wanted to try to make a collage of Biscuit and Bandito.
I didn't follow any instructions (honestly, I didn't look for any so there might be some out there), and just tried to puzzle my way through the project.  I'll share with you how I did it.
First, I picked a clear, up close head shot photo of Bandito. This actually took much longer than anticipated, as I got distracted by all the adorable pictures. XD.  When I finally settled on one, I printed out 2 color prints of this on my laser printer (an old Cannon Pixma 892) on matte photo paper.
Next, I took one photo and drew out sections of Bandito's head and divided it up into sections, adding jaggediness (is that a word?) to give the feeling of fur. I fussy cut (that means using plain old scissors) to cut out the various sections, making sure to cut out the nose and eyes, which I wanted to keep as a photograph in the final project.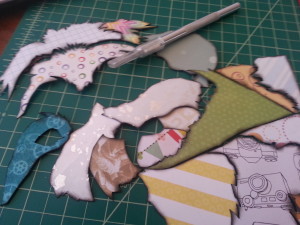 I then took all those pieces and started looking through my box of scrap patterned papers. I wanted the colors to coordinate but not be matchy matchy. After selecting the patterned papers, I used a glue stick to glue those onto the cut up photo pieces.
When I put all the pieces back together, I noticed that some of the lighter pieces seemed to blend into each other too much and all of my hard work fussy cutting wasn't coming through. I decided I would use my dauber and a distress ink pad and ink the edges. Ahh much better.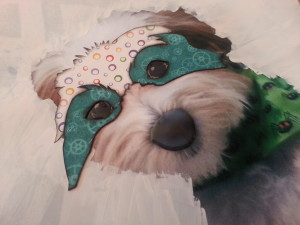 After prepping the edges of my other photo with gesso, to just beyond where Bandito's picture started, I started to glue down my patterned pieces. It was a bit like putting together a jig saw puzzle.
Some of the pieces had to be trimmed down a bit to fit (don't ask me how they grew, but somehow they didn't fit back the way they logically should have) and re-inked on the edges, but overall, this went pretty quickly.
After all the gluing down, I decided to use my gelatos to color up the background in blues and greens and to add a little written detail to the kerchief with my Uniball pen. I wrote over and over (as if it were part of the patterned paper), "I'm El Bandito. I will steal your [heart picture]." I also used Glossy Accents on the eyes and nose to give them a shine.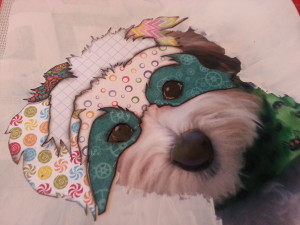 This was a great project, with fantastic frame-worthy results, and I plan to repeat it with a picture of Biscuit. However, it is not for the faint of heart. There is a LOT of fussy cutting since you have to cut every piece out twice. I am waiting until I purchase a new pair of fussy cutting scissors (perhaps the Tonic spring loaded scissors?) before my next one of Biscuit. 🙂
The following is a sharing video of this project.
Please subscribe if you like, and thanks for stopping by!  WOOF