Today I had a crafty play date with my friends' daughter, Caroline (she's 8 years old)! We made cards for firefighters for a challenge hosted by my crafty friend Beth (YT: Bethsscrapbookroom). We decided to make circle punch dogs to add to cards.
The bases we used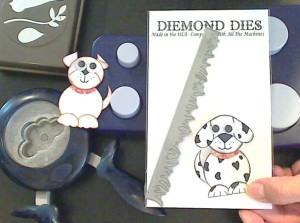 were pre-made or simple white card stock with different colored card stock to delineate grass and sky. We added white clouds to some cards using Fiskars hand punches and we added grass to most of the cards using a Diemond Dies grass die.
DISCOUNT CODE: I am continuing on as a guest design team member so if you make a purchase from Diemond Dies, please use the code: thankskristina  for an extra 10% off your entire purchase and free worldwide shipping on orders over $35!
The following are the measurements of all the punched pieces to create the dogs:
1.5″ Circle (body)
1.25″ Circle (head)
1.25″ Circle (cut twice to make tail and muzzle)
0.25″ Circle (cut in half to make feet)
2 bird wings or similar tear drop shape like from a flower petal or just free hand (ears)
sliver from 1.25″ circle (collar)
Ink around the edges of each piece and then draw in a simple mouth, dots for "freckles" and dots for eyes. Of course there are endless possibilities to further embellish. You could add things like a charm for a dog tag, bows for above the head or over the ears, or pearls or bling to the the collar.  We made some with brown inked edges and some with black inked edges. We added spots to some (like a Dalmatian), and we even made a couple with googly eyes for a little added whimsy. 🙂
The following is a link to the video share and the tutorial:
Thanks for stopping by. Please subscribe if you wish, and have a great day! WOOF