I am one of those crafters that embarrassingly sends out store bought Christmas cards. I don't like making "mass produced" cards–I am too easily bored. That means each card is usually a new endeavor, and therefore time consuming.  Anyway, I thought I would create a Christmas themed digi early enough in the year to actually (hopefully) be helpful to you all with YOUR holiday card endeavors. 🙂
I drew this "Christmas Tree Kitty" for all you cat lovers, but especially for the extremely talented Linda Lapotka (YT: Linda Lapotka), who starts and ends her YT videos with adorable pictures of her kitties and my crafty friend, Cindy (YT: cindy4kiddos), who has a cat who stays in her tree from the moment she puts it up in November.  I colored up the digi with the following Copic markers: Kitty: E11, E 15, and C1; Oval bulb: RV00, 02 and 04; Round bulb: B60, 63 and 66; Pine branches: YG 63, YG67 and G29; Strand of gold balls: Y35, and 38. The dark shadows I laid in with my Derwent Inktense water color pencil in ink black and a Pentel waterbrush.  To add sparkle to the bulbs, I added Wink of Stella, and to add glitter to the gold ball strand, I used a clear star Gelly Roll pen.
This Christmas card is one that I made using non-traditional colors and an adorable paper from imaginisce called, "Gingerbread Village". The front of the paper has those super cute elves/gnomes and the back is pale green with small circles. I have been wanting to use this sweet paper and make a "gnomey-homey" holiday card (LOL) for a while, and I thought this was the perfect opportunity.  Just to add a little decorative flourish, I tied a triple bow using green and white bakers twine and "dangled" a little gingerbread house that I fussy cut out of the paper and popped up on a double layer of foam adhesive.
This card is being entered into The Aviary Ribbon or Twine Challenge and
the Taylored Expressions Sketch Selfie Share Challenge and
the Catherine Pooler Housewarming Party Challenge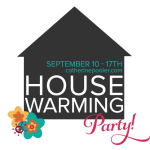 Thanks for stopping by and have a great day! WOOF