I wanted to finally play with this stamp set from Jillibean Soup and the Unity Stamp Company that I picked up in an eBay auction a couple of months ago. These little penguins are so stinkin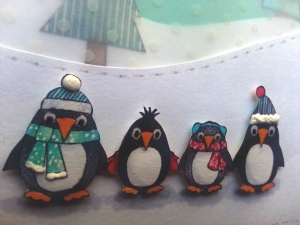 cute.  But, yes, they are little. The largest ones are about 1.5″ tall and the smallest are just under 1″.  Assembled together they make adorable cards (as you can see), but singly, they could be great for little gift tags.
I decided to try one of my new favorite color combinations: red, teal, white, black and kraft (that's in the Christmas tree trunks) and used the following Copic marker colors: Red: RV29 and R39; Teal: BG10, 13, and 45; White (well actually greys: C1, 3, 5, and 7; Black: Copic multiliner in 0.3; Kraft: E70 and 74.  Ok, there is also a teeny pit of Y38 for the beaks and feet of the penquins. 🙂  I also added some dot and hash details to the scarves on two of the penguins using a Sakura White Gelly Roll Medium Point Pen
.
.
These cards were all about playing with some fun crafty goodies. I wanted to play with some white polka dot vellum paper because I thought it could help make a snowy scene by layering it with some hand cut snow banks. I tried using some glittery white embossing powder (I must say that I didn't like the fuzziness created by the glitter–or maybe that's from my heavy handed stamping with VersaMark Ink) to stamp the sentiment "Christmas Blessings" on top of the vellum.  I also tried Uchida Liquid Applique Marker in White
 for the puffy parts of the hats and scarves. Not everything came out perfectly, but that's ok since these are handmade cards after all.
For added shimmer and sparkle. I added Glossy Accents on the beaks, feet, and eyes of the penguins. I also added faux stitch lines on all the snow banks using a clear star Gelly Roll pen.  Finally I twinkled up all the Christmas trees with both the clear star Gelly Roll pen and the metallic gold Gelly Roll pen.
The following is a process video of these cards:
These cards are being entered into the Inspired by Stamping #87 Color Challenge and
The Simon Says Stamp Anything Goes Monday Challenge and
The Addicted to Stamps Holiday Challenge and
The Paper Nest Dolls Anything Goes Challenge
Thanks for stopping by. Hope you'll consider subscribing. Have a great day! WOOF