As we leap into all the adventures that await us in 2017, I wanted to create a card that celebrates life. I dug through my crafty stash and picked out various stamp sets that included characters that looked like they were excited about life and combined them all together to create a single-layer card.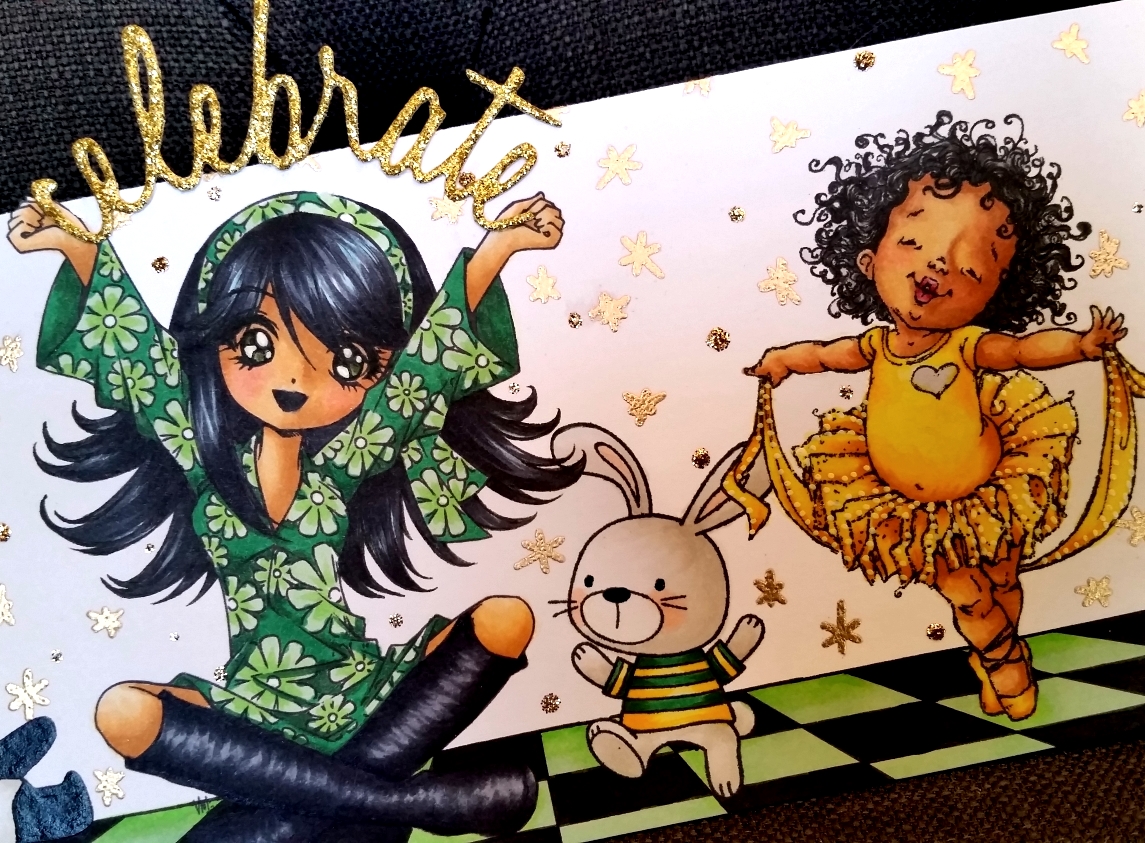 I tried to keep scale and level of detail in mind when choosing the stamps to include (that's why there aren't any Lawn Fawn stamps even though they have so many happy characters). From left to right, these are the the stamp sets used:
Teddy from My Favorite Things "Snuggle Bunnies"
Owl from Purple Onion Designs "Lilly"
Panda from Mama Elephant "Pandamonium"
Girl from Make it Crafty "Melody"
Bunny from My Favorite Things "Snuggle Bunnies"
Ballerina from Penny Black "Tutu Sweet"
Penguin from Mama Elephant "Arctic Penguins"
As the guest designer today for MarkerPOP, I stuck very tightly to the Let's Celebrate Color Challenge (see challenge graphic below) and used the following Copic colors: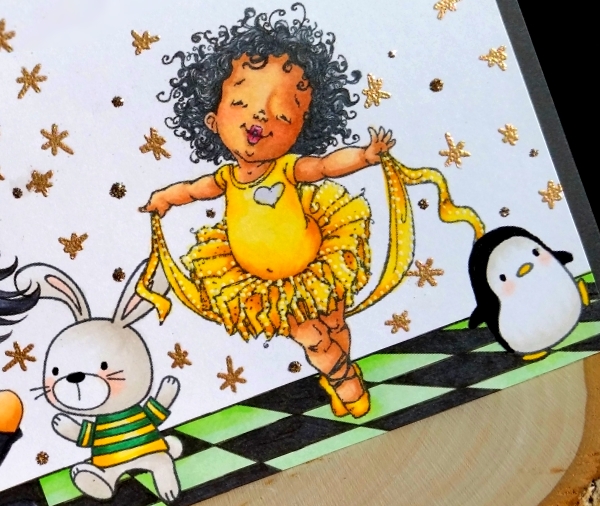 Light Green: G12, YG06
Dark Green: G14, G17 and G29
Light Yellow: Y13
Dark Yellow/Gold: Y19, YR24
Silver/Grey/Shadows in white areas of characters: W0, W1 and 0 colorless blender
Girl's skin: E50, 51, 53 and R20
Girl's hair and boots: B00, C3, C6, C7, C8 and C10
Ballerina's skin: E51, E11, E33, and R20
Ballerina's hair: N1, N3 and N7
Ballerina's lips: R83, R85 and R89
Black parts of panda and penguin: Sakura Black Glaze Pen
Blush on all the critter characters: R30
Then to create a floor that matched the energy of the characters, I picked a single point about 2/3 of the way down the card in the center, and used that as my one-point perspective focal point. After drawing in a floor horizon line, I drew lines from the focal point, starting at the floor horizon, and connected them to the bottom edge of the card about 1″ apart. Then I drew in a couple more parallel lines under the horizon line about 1/4″ apart to create a checker board tile floor (I was channeling Dance Dance Revolution and disco dance floors from Saturday Night Fever — LOL). I colored the floor with G12, YG06 and 100.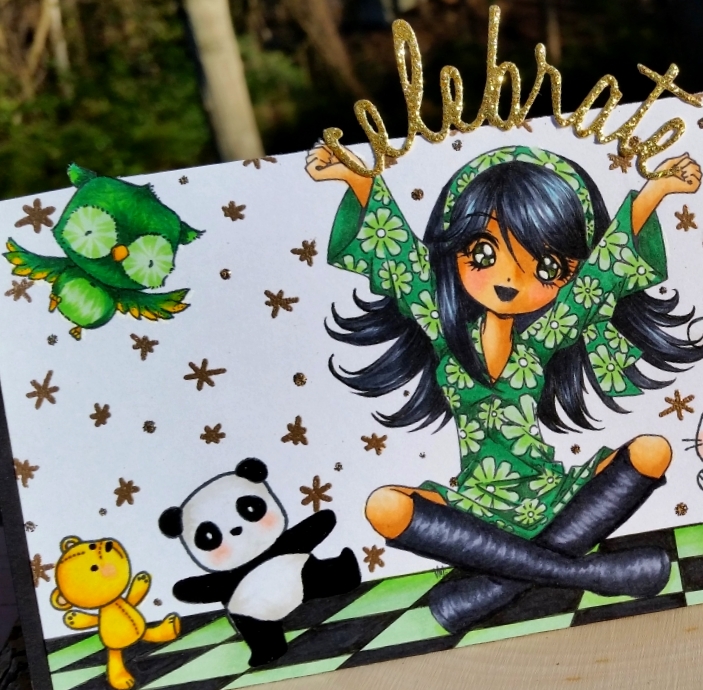 I was a little bit at a loss on what to do with the background wall–I didn't want to try masking the images to blend on color since getting around the two girls' hair would be difficult at best. Then it struck me that I could add some glitz and sparkle if I heat embossed some gold stars and added Champagne Gold Stickles glitter dots to create my own background pattern. I used all six tiny simple snowflake stamps from the Avery Elle "Be Jolly" stamp set with VersaMark Ink and Ranger Queen's Gold embossing powder.
Lastly, to drive home that this card is all about celebrating, I used the "celebrate" word die from the Sizzix Script Celebration Words Die Set with some gold glitter card stock and placed the two ends of the word in the girl's outstretched hands. Because the word die is thin enough, I was also able to curve the word a bit to give it a slight arch over the girl's head and let it hang over the top edge of the card.
The following is a video share of this card:
MarkerPOP Let's Celebrate! Color Challenge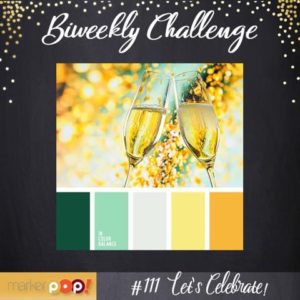 This card is being entered into the following challenges:
Simon Says Stamp Monday Party Time Challenge
Simon Says Stamp Wednesday Anything Goes Challenge
Word Art Wednesday Anything Goes Challenge
Crafty Gals Corner Blogisversary Challenge
613 Avenue Create Anything Goes with Optional Holiday Happiness
Through the Craft Room Door Anything Goes Challenge
Not Just Cards Anything Goes Challenge
Creatalicious Anything Goes with Optional Happy New Year Challenge
Penny Black and More Anything Goes Challenge
Cards Galore Encore Anything Goes Challenge