There are many meanings to the word, "cat", and this background stamp by Studio Light called, "Cats & Girls Cat Sayings" is a "must have" for cat-loving paper crafters (IMHO).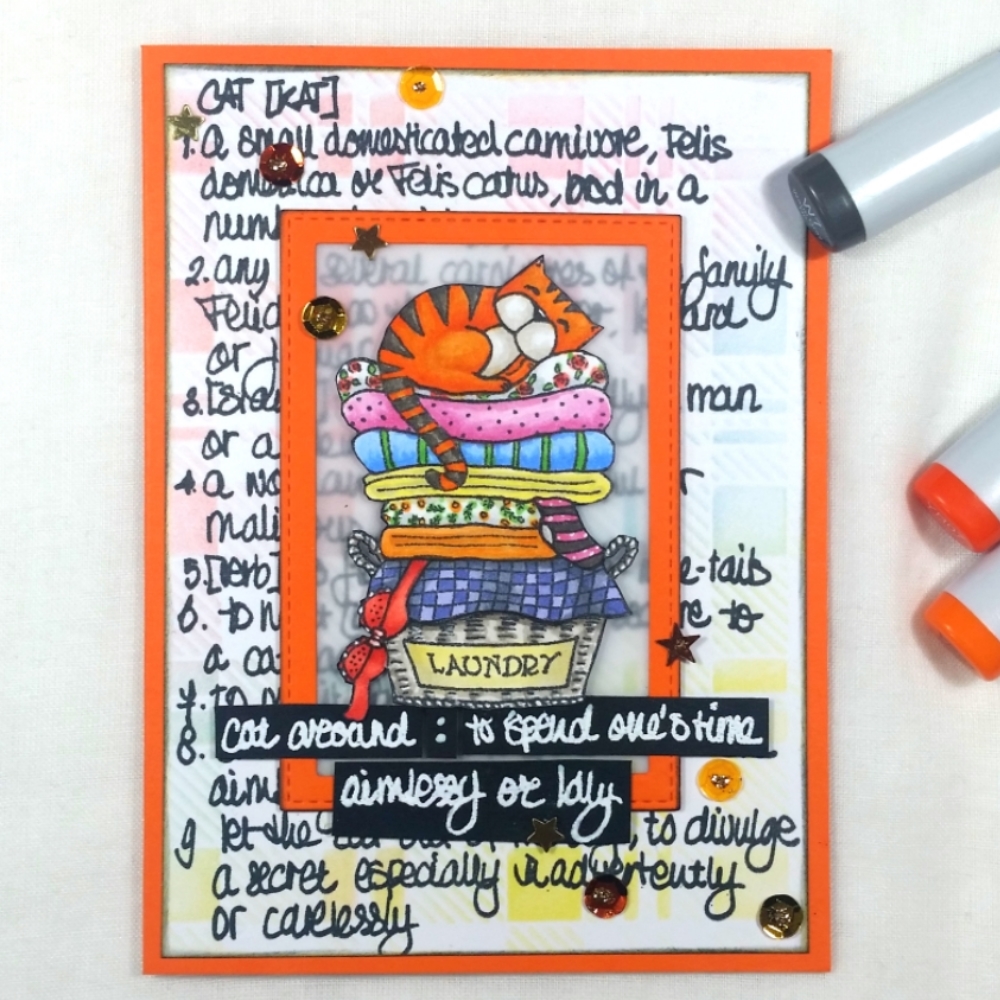 For this card, I used the AWESOME Clarity Stencil Brushes and a Tim Holtz Plaid Layering Stencil with Tim Holtz Distress Inks in Worn Lipstick, Squeezed Lemonade and Tumbled Glass to create a blanket-like textured background. Then I stamped in black ink the Cats & Girls stamp with all the definitions of cats: 1. a small domesticated carnivore, Felis domestica or F. catus, bred in anumber of varieties. 2. any of several carnivores of the family Felidae, as the lion, tiger,leopard or jaguar
3. [slang] a person, especially a man or a devotee of jazz
4. a woman given to spiteful or malicious gossip
5. [verb] to flog with a cat-o-nine tails
6. to hoist (an anchor) and secure to a cathead
7. to vomit (British slang)
8. cat around like to spend one's time aimlessly or idly
9. let the cat out of the bag, to divulge a secret especially inadvertently or carelessly
I also inked the edges of the card front with Tim Holtz Distress Ink in Spiced Marmalade and Black Soot to give a nice finished look to the background.
For the focal image, I found the perfect kitty dozing atop a pile of laundry from the For the Love of Stamps "Cute Kitties" Stamp Set. I mean if that doesn't epitomize #8 I don't know what would! I Copic colored the image with the following bright colors (listed top to bottom in the image):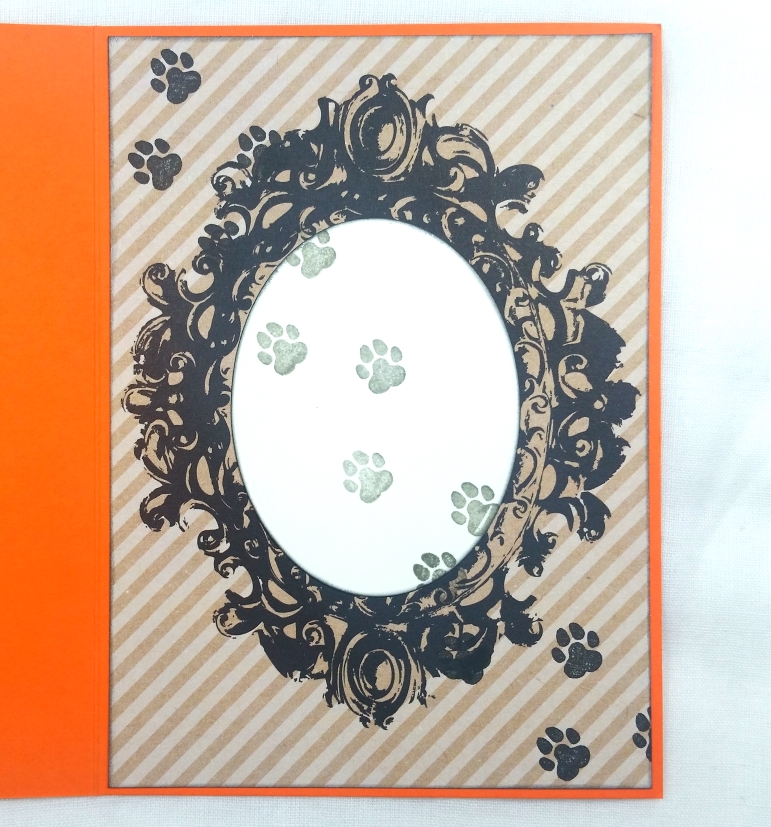 Cat: YR12, YR04, YR04, W0, W1, W5 and W7
Floral blanket: G14, R22, R24, C0 and C2
Pink blanket: RV52 and RV55
Blue and green blanket: G14, B21 and B24
Yellow blanket: Y11, Y02 and C2
Floral blanket: Y04, G14 and C2
Orange blanket: YR12, YR04, C0 and C2
Sock: W7, RV55 and Sakura White Gelly Roll Gel Pen
Purple check  blanket: BV02, BV04, C2 and C4
Bra: R22, R24 and Sakura White Gelly Roll Gel Pen
Basket: Y11, C2, W0, W3, W5 and W7 with Sakura White Gelly Roll Gel Pen
When I placed the image on top of the stenciled and stamped background, it all looked too busy and detracted from the cute sleeping kitty so I decided to frame the kitty and back it with a bit of vellum to soften the background. I used the 4th and 5th dies from the MFT Stamps Die-Namics Stitched Rectangle STAX Die Set to create a frame and backed it with vellum. Then I added a bit of dimension to the frame and behind the kitty image with foam adhesive and assembled the whole card front. Since at this point the part of the background cat definition that went with the image was mostly obscured, I decided to heat emboss that part of the stamp onto black card stock, cut it up into segments, and place it just under the image. As a finishing touch, I added a bunch of gold star confetti and yellow, orange and gold sequins, dotted with Champagne Gold Stickles to cover up the holes.
For the inside of the card, I salvaged a patterned paper from my scrap box that had a kraft base with white diagonal stripes and a black baroque frame with the word "LOVE" inside. I covered the oval frame opening with cream card stock that I die cut with the second smallest oval from the Diemond Dies Ovals Nesting Die Set – it fit perfectly (I love it when that happens!). I also stamped a path of kitty paw prints across the card liner for a little whimsy and to tie it back to the card front. I did full strength stamping of the paw prints, except across the oval die cut area where I did 2nd generation stamping for a slightly lighter effect.
The following is a process video of crafting this card: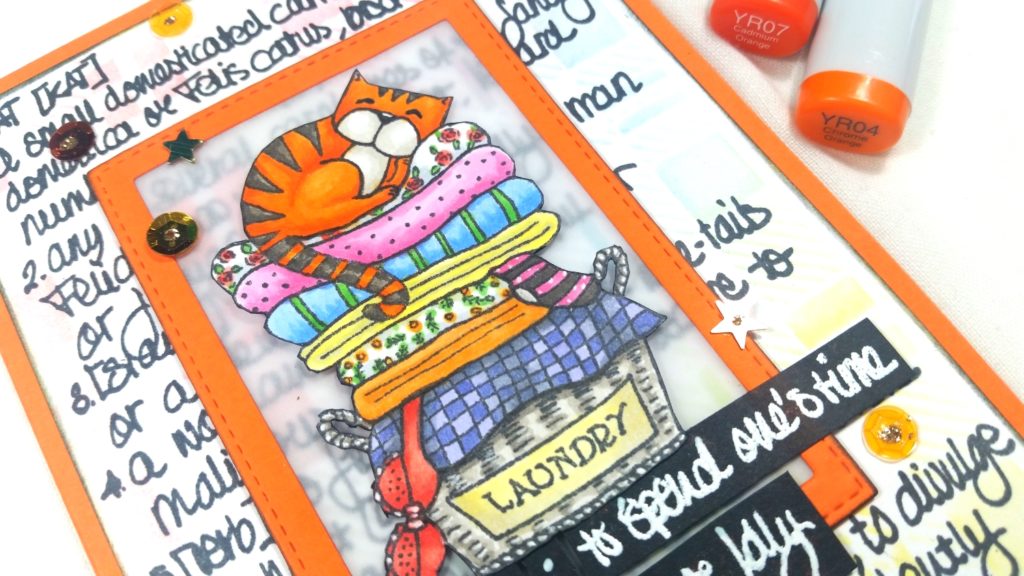 Disclosure: Many of the supplies I've used for today's project are linked. Some may be affiliate links, which means if you make a purchase I receive a small commission at no extra cost to you. I truly appreciate your support toward the costs of running this blog!
This card is being entered into the following challenges:
Word Art Wednesday Anything Goes Challenge
Creatalicious Anything Goes with Optional Girly Challenge
Card Mania Embossing Challenge
Lil Patch of Crafty Friends Anything Goes Challenge
613 Avenue Create Anything Goes with Optional Reuse/Upcycle Challenge
Penny Black and More Feature a Creature Challenge
Not Just Cards Anything Goes Challenge