I wanted to create a CAS (Clean And Simple) doggy card that was inspired by a wonderful card that I saw May Park make last September. I used the Mama Elephant "In My Heart," the Lawn Fawn "Critters in the Dog Park," and the Lawn Fawn "I Love You S'more" stamp sets to make this sweet card for a friend who lives far away.  I used the marshmallow stamp from the I Love You S'more set to make tin can telephones (you know, the kind you used to rig up as a kid but that kids today just wouldn't understand since everyone has cell phones now), and used the Dachshund and Boxer stamps as the two puppy friends talking to each other even though they are miles apart. 🙂  I stamped the sentiment from the Mama Elephant stamp set with VersaFine black ink and two red hearts with Memento Luxe Love Letter red ink that I heat embossed.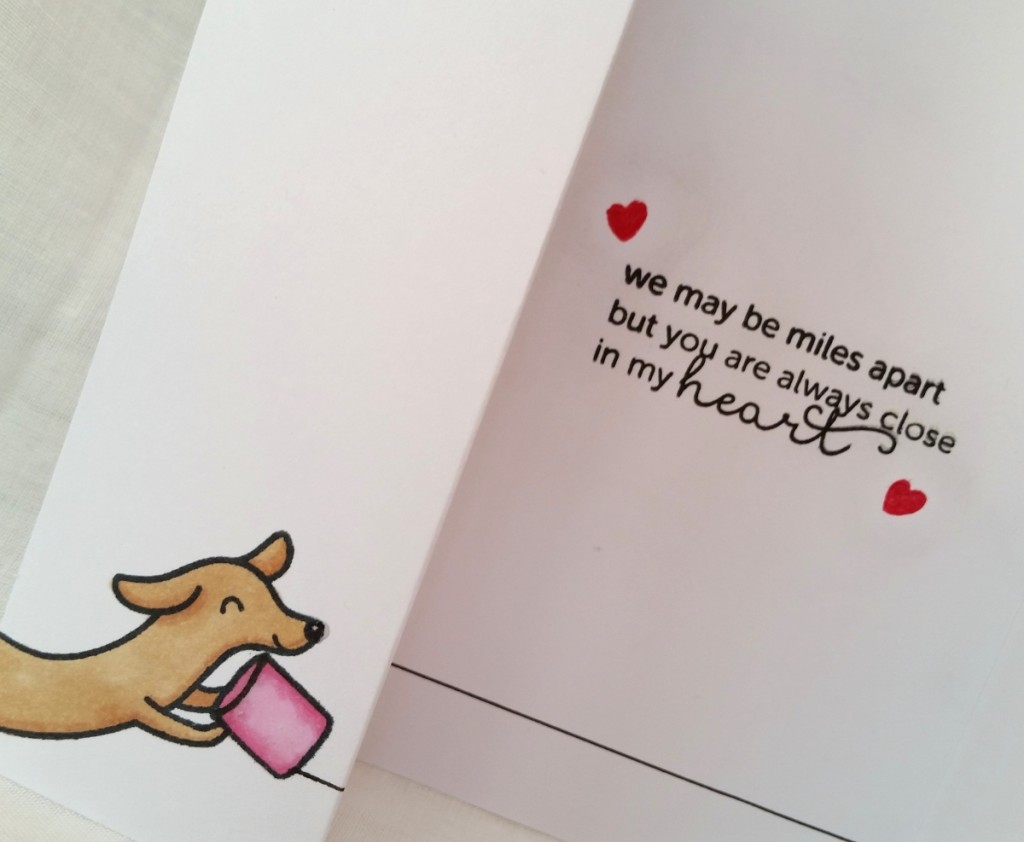 The video is a start to finish tutorial, so I won't go through all the details here, but I will include the measurements for the card base and the Copic colors used.
Measurements:
Card base: 10 1/2″ x 5 5/8″
Pencil lines which are later scored at: 1 3/4″, 3 1/2″, 7″ + 8 3/4″
Copic colors:
Dachshund: E31 and 33
Boxer: E21, 23, and 29
Pink tin can phone: RV52 and 55
Blue tin can phone: B00 and B02
I also used Clear Wink of Stella on the tin can phones and Glossy Accents on the tin can phones and on the puppies' noses to add more shimmer and shine.
The following is the card process video:
This card is being entered into the following challenges:
Virginia's View 100% Stamped Challenge
Lawnscaping Sparkle and Shine Challenge Sponsored by Ellen Hutson