I'd never made a swing card before because I thought you needed a special die to make it. Then I happened across a great, detailed swing card tutorial on Youtube by a wonderful crafter, Peggy (YT: jppeggy2). She shows how you can make it with simple shaped dies or even with just a circle shape that you can cut out with scissors!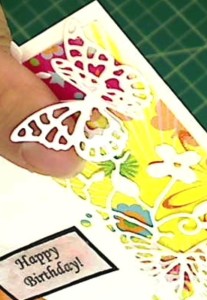 I wanted to make a special card for another Youtuber's mom (YT: A'nnamaria Davis). Something fun and with a little bit of movement, so I tried my hand at this swing card. It was easier than I thought and it was so much fun to play with so many of my crafty goodies! I used the Blossom Spellbinders Nestabilities, a cupcake stamp from TPC Studios Cupcakes, a Penny Black Mimi in Paris fairy stamp, and my first intricate die from Memory Box called Kensington Border (which I cut out twice and fussy cut the butterflies from the second to overlap the butterflies on the base so they looked like they were flying!). Whew, that's a lot of stuff!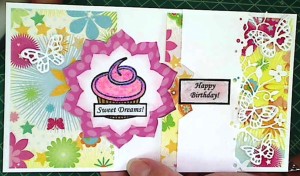 The front of the card has the fairy Mimi, colored with Copic markers, holding a little sign that reads "Sending you butterfly kisses and…"  The inside flips open to reveal a cupcake bedazzled with Pink Glam Stickles and the sentiment "Sweet Dreams."  The die cut butterflies and flower border add such a fun dimensional touch. I love how this card came out.
If you haven't tried a swing card, I highly recommend it. It will definitely be a mainstay in my crafty card rotation!
Thanks for stopping by! Please subscribe if you wish. Have a great day! WOOF
This card is being entered into the Sugar and Spice Crafty Challenge #6