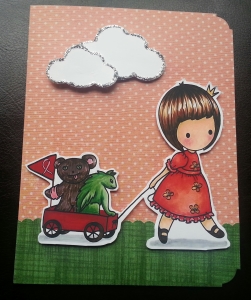 October is Breast Cancer Awareness month, and one of my crafty friends, Beth (YT: Bethsscrapbookroom) is hosting a challenge asking folks to make cards or tags or something for folks battling breast cancer. I had this adorable digital stamp called, "Help is Coming" from Olga Ishenko, the designer of Little Blue Button Stamps, and knew this was the perfect opportunity to use it.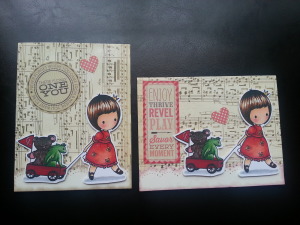 My big dilemma was how was I going to make a handful of cards since I am such a slow Copic colorer?  Then I learned from another crafty friend, Candace (YT: Candace Scarborough) that after coloring an image, one could scan it into a computer and then print out as many colored copies as needed. Brilliant!  So I took my time and colored in one image very carefully using the following Copic colors (yes, there are a ton of colors in this one): Dragon: YG 61, 63, and 67; Teddy bear: E70, 74, R30, and RV13; Dress: YR00, 02, 07 and E07; Skin: E50, 51 and 53 and R30; Wagon and pennant: YR 07 and E07; Hair: E55, 57 and 59; Shoes E59; Teddy Bear's bandage: R30 and RV13; Crown and flowers on dress: YR31 and YR24; and Shadow under girl and wagon: N0 aand N2.
After scanning it in, I was also able to clean up some of the areas where I colored outside the lines using a free program called paint.net, before printing out multiple copies to fussy cut out and add to cards! What would have taken me a week to create, I was able to create in 1 1/2 days! YAY!
The following is a video share of the cards:
This first card is being entered into the Simon Says Stamp Work it Wednesday Color Recipe Challenge and
Kraftin' Kimmie Stamps Wonderful Wednesday Anything Goes Challenge
Thanks for stopping by and have a great day! WOOF