I am a new student in the Kit and Clowder Copic coloring class, and I even though I thought I had done a decent job of teaching myself over the last year and a half since I started Copic coloring, I am already seeing a bit of improvement! YAY!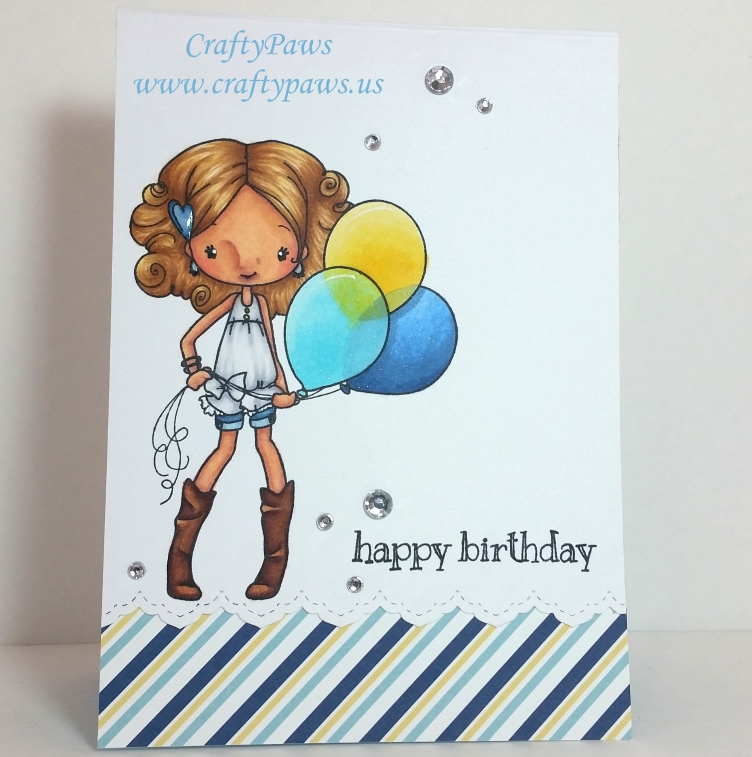 To practice some different skin tones and some curly hair, I decided to play with The Greeting Farm's Anya Lifts.  I first tried some deeper skin tones than I've ever tried before: E000, 00, 21, 11 and 04 with R20 blush.  To create a honey golden blonde, I went with Y21, E31 and E35.  For her heart barrette and jean shorts I used B91, 93, 95 and 97. Her "white" top is colored with C01, 1 and 2, and her boots are E21, 23, 25 and 29.  Then I concentrated on creating a translucent look for the balloons with Y11, 13, and 15; B000, 00, and 01; and B32, 34, and 37, with B91 and 93 for the cast shadows.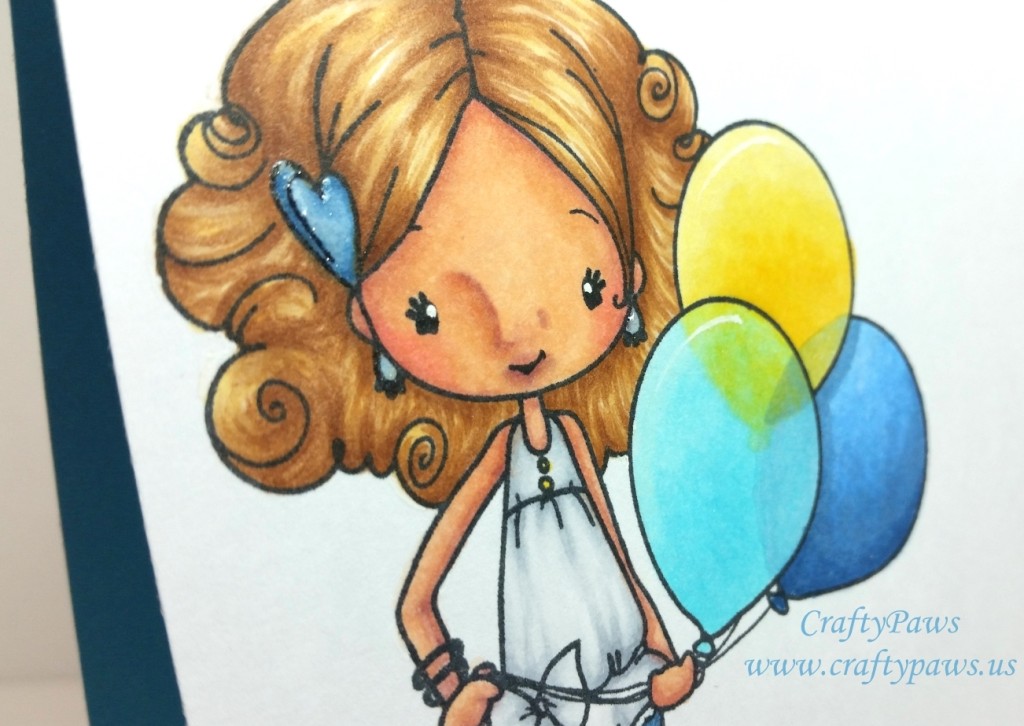 To create this CAS card, I had to go up in card size to 5″ x 7″ to give enough negative space around the image.  I used one of the borders from the Pretty Pink Posh Stitched Border Die 2 Set to cut down the card front and added a blue yellow and white diagonal striped patterned paper from the My Mind's Eye "Moments" paper stack as a grounding and interest for the card.
The happy birthday stamp is from the Tiddly Inks "Flying High" stamp set (this is retired now), and as a finishing touch I scattered an odd number of clear bling pieces.
This card is being entered into the following challenges:
CASology Open Challenge
Simon Says Stamp Wednesday Something New Challenge
Farm Fresh Challenge Anything Goes
613 Avenue Create Anything Goes w/ Optional Birthday Twist Challenge
Through the Craft Room Door Anything Goes Challenge
Word Art Wednesday Anything Goes Challenge
Thanks for stopping by, and have a wonderful crafty day! WOOF