Ok, normally I don't send out any Christmas cards, other than those I have to for work or for building staff, etc. However, this year I felt like I really wanted to make some cards and send them to crafty friends. Well, I don't know what happened, but I ended up panicked and making cards the last few days. They obviously won't get to folks by Christmas (which is tomorrow), but I did make about 20 cards and got them in the mail today. YAY!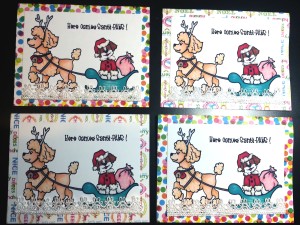 I did a few different versions, but the one that I made the most of was using my digi called, "Happy Howlidays." I colored up a couple of different versions and settled on this one with teals, pink, red and of course the pups are colored like my Biscuit and Bandito. I used the following Copic colors: Santa outfit and Deer's bow: R22 and 24; Deer Poodle: E50, 51 and 53; Santi-Paws Dog: E23, E25 and W1; Sled: BG10, 23 and 45; Bag of toys: RV21 and 13; Antlers: W1; Straps of harness: E74.  To add a little interest, I used a Sakura White Gelly Roll Pen
 to add some dots to the bag of toys, and a Sakura Metallic Gold Gelly Roll Pen
 to add some shimmer to the bell around the Deer Poodle.  I added some shine to the antlers, noses and eyes with Glossy Accents.  Lastly to add some fun to the cards, I used White Uchida Liquid Applique
 around the Santi-Paws outfit and puffed up the faux fur areas.  This is so easy and fun to watch (like heat embossing on steroids). I LOVE this effect!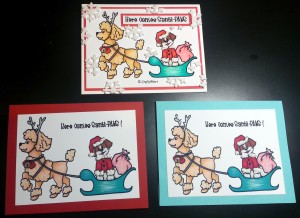 Each of the cards are a little different in terms of card base colors, added stickers, patterned papers, and the addition of lace, but overall they were made in more or less assembly line fashion (a first for me, as I normally don't make more than 1 or 2 of any one thing). I scanned in the colored digi, added the new sentiment, "Here Comes Santi-Paws" (either by banner or directly above the digi), and printed them out. For some cards, I just printed out the whole colored digi and used that as the top layer of the card. For other cards, I used my Silhouette Cameo 
to cut out the scanned in digi so that I could put them on snowflake embossed backgrounds.  SIDE NOTE: I got my Silhouette Cameo recently (an early Christmas present), and I have to say this may be the best crafty purchase I've ever made. It can fussy cut out detailed images in seconds! Seriously, this is my new favorite craft tool.
The top card is being entered into the Simon Says Stamp Wednesday Anything Goes Challenge and
The Naughty or Nice Winter Holidays Challenge
I hope you are all having a wonderful holiday season and that 2015 brings you happiness, prosperity and wonderful crafty adventures! Thanks for stopping by! WOOF