My nephew is going through a lot of self-doubt recently, as he has been applying for business school and has not been accepted by his top choices. I wanted to make him a special encouragement card to give him when he comes home for Thanksgiving in a few days.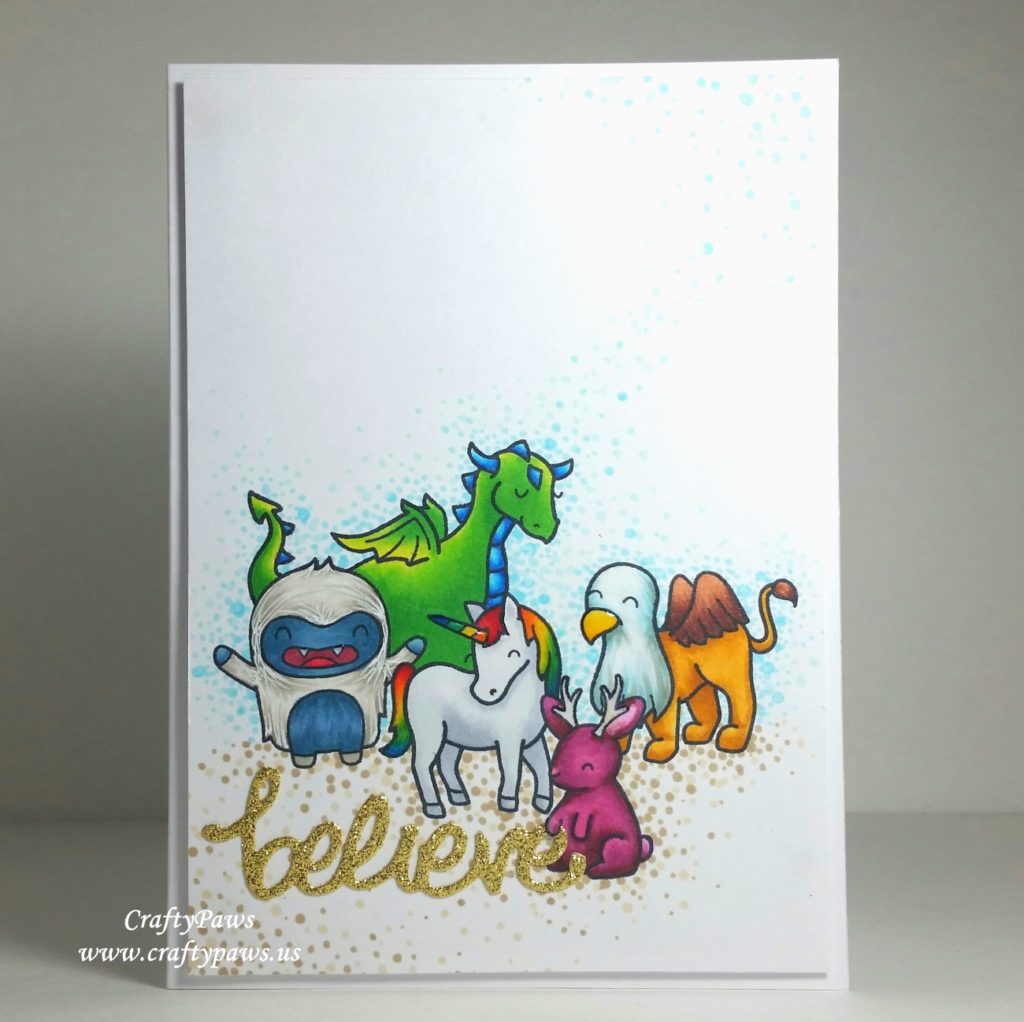 Inspired by the adorable Lawn Fawn stamp sets: "Critters Ever After," "Believe in Yourself," and "Yeti, Set, Go," I created a single layer card with the Yeti, Dragon, Unicorn, Jackalope and Griffin. All of these fantastical creatures are rallying around my nephew, urging him to believe in himself, and representing all of us who believe in him.
After drawing up a little sketch to figure out the placement and layering of the various magical beasts, I fussy cut a few post-it note masks and stamped out and Copic colored the creatures in the following order (those creatures appearing in the front are stamped first, masked and then the creatures behind them are stamped):
Jackalope: RV52, RV55, RV66 and R59
Unicorn: Body: C000, 00, 1 and 3; Rainbow horn and mane: R29, YR04, Y08, YG21, YG09, B01 and B06
Yeti: Fur: W0, 1 and 3 (details added with a white Sakura Gelly Roll Pen); Belly and face: BG10, BG32, B93, B95 and B97; Mouth R35, 37 and 39
Dragon: Blue horns and scales: B00, 02, 04 and 18; Green body: YG21, 07 and 09
Griffin: Beak: Y13, 15 and 17; Body: YR31, 21 and 24; Wings: E11, 13, 15 and 18; Head: B000, B00, W3 and 0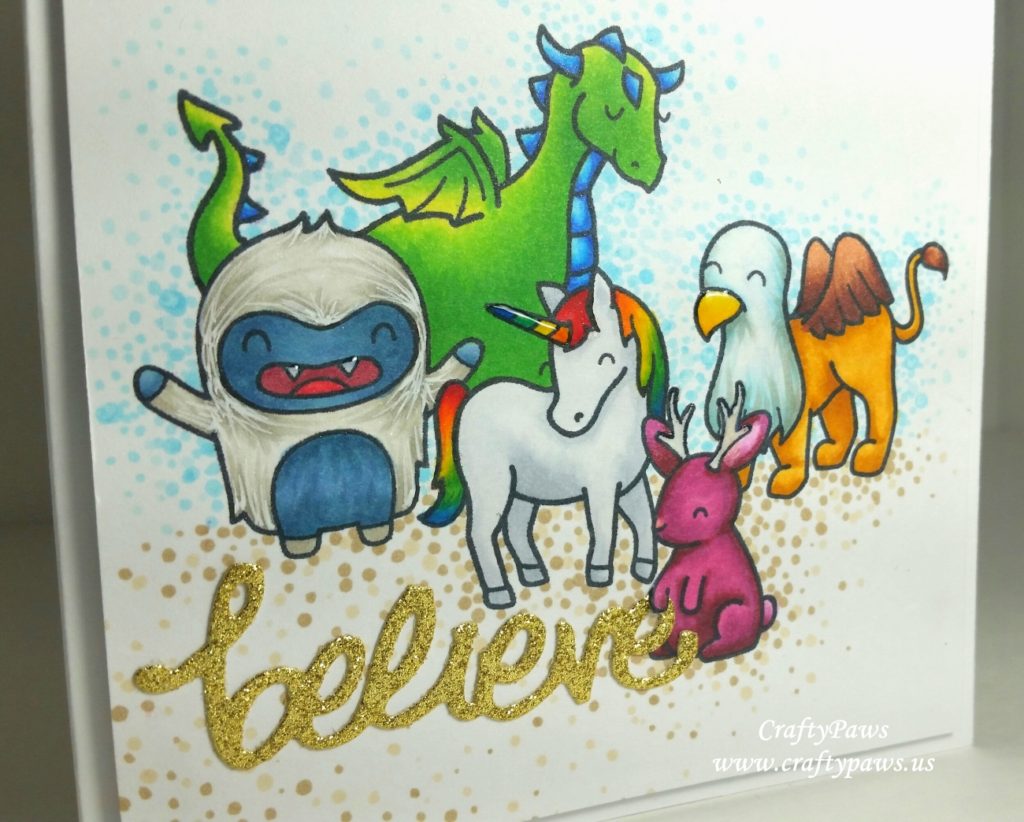 I coated the Yeti's fur; the Dragon's wings, horns and scales; the Unicorn's main and the Griffin's wings with Clear Wink of Stella to add some shimmer and sparkle. I also added Glossy Accents over the Yeti's fangs, the Dragon's horns, the Unicorn's horn and the Jackalope's antlers for some shine.
The "believe" sentiment is cut out of gold glitter card stock with a die from the Little Yellow Bicycle Hope, Dream, Believe Die Set. I used an X-Acto blade to cut around the Jackalope's right front paw, so that I could tuck the last "e" under it so that it would look like the Jackalope was resting on the sentiment. Lastly, I added dots all around the mystical creatures starting in the lower left and ending in the upper right of the card front. I used E41 and 43 below an imaginary horizon line and B000 and B00 above that line to give the impression of ground and sky, respectively.
The following is a video that includes step by step instructions on how to create a 3D looking scene on a single layer card:
This card is being entered into the following challenges:
Word Art Wednesday Anything Goes Challenge
Creatalicious Anything Goes Challenge with Optional Use a Sentiment – WINNER
Just Keep On Creating Anything Goes Challenge
Lawnscaping CAS Challenge #141