OMGee I was thrilled to receive a Bear Tea Party Kit for my FlairbyMe guest design team package. Melanie (the FlairbyMe.com owner) has impeccable taste and such an eye for the sweet shabby chic and cutsie styles. Although part of me was dreading attempting to make my second flip book (they're all the crafty rage right now but I am not normally a mini album/pocket letter/flip book maker–they usually take me days while others can whip these out in hours), when I laid my eyes on this kit, I knew it would be perfect for making a sweet treats themed flip book for my friend Amanda (YT: Stamprightmeow)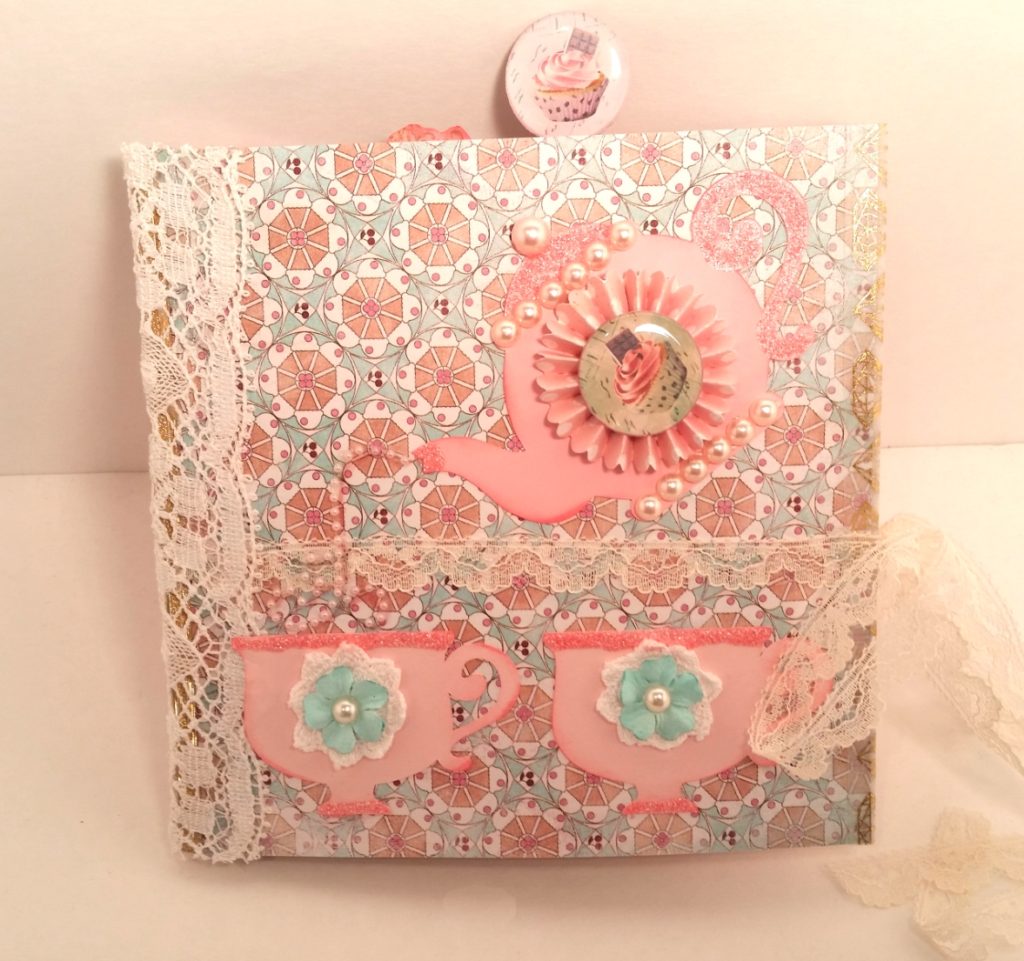 Plus I got a chance to finally break out my 60 Count Zig Clean Color Real Brush Markers (which I have embarrassingly had for months without even cracking open the box). I could have colored these up with Copics, but I decided I wanted a softer water colored look to go with the sweet theme.  I stamped out the cute bear with the macaroon from the Bear Tea Party kit, a cuddly teddy bear with a stack of presents from Fizzy Moon, and a sweet little mouse with a giant cupcake from SP & Company (sorry, this company is no longer in business) with black Versafine Ink onto 140 lb Strathmore water color paper.  Oh that's the other thing, the super textured paper makes stamping a little tricky, but with my new MISTI tool (yes, I finally bit the bullet and joined the crowds getting this), I was able to stamp and re-stamp the image without fear of messing up the image. As I'm not the best stamper, this new tool is a total game changer for me!
To color up the critters, I used the following colors: 094 Gray Brown, 096 Mid Gray, 065 Mid Brown, 066 Dark Oatmeal, 064 Oatmeal, 072, 091 Light Gray, Beige, 026 Light Pink and 028 Pale Pink for blush. For the pastel colors of the macaroon, cupcake and presents, I used the following colors: 026 Light Pink, 021 Light Carmine, 083 Lilac, 047 May Green, 091 Light Gray, 052 Bright Yellow, 036 Light Blue, and 063 Ochre.  Lastly for the darker shakes of the noses of the critters, mouse's clothes, cherry, and macaroon filling, I used 031 Cobalt Blue, 022 Carmine Red, 095 Dark Gray, and 010 Black.  It was so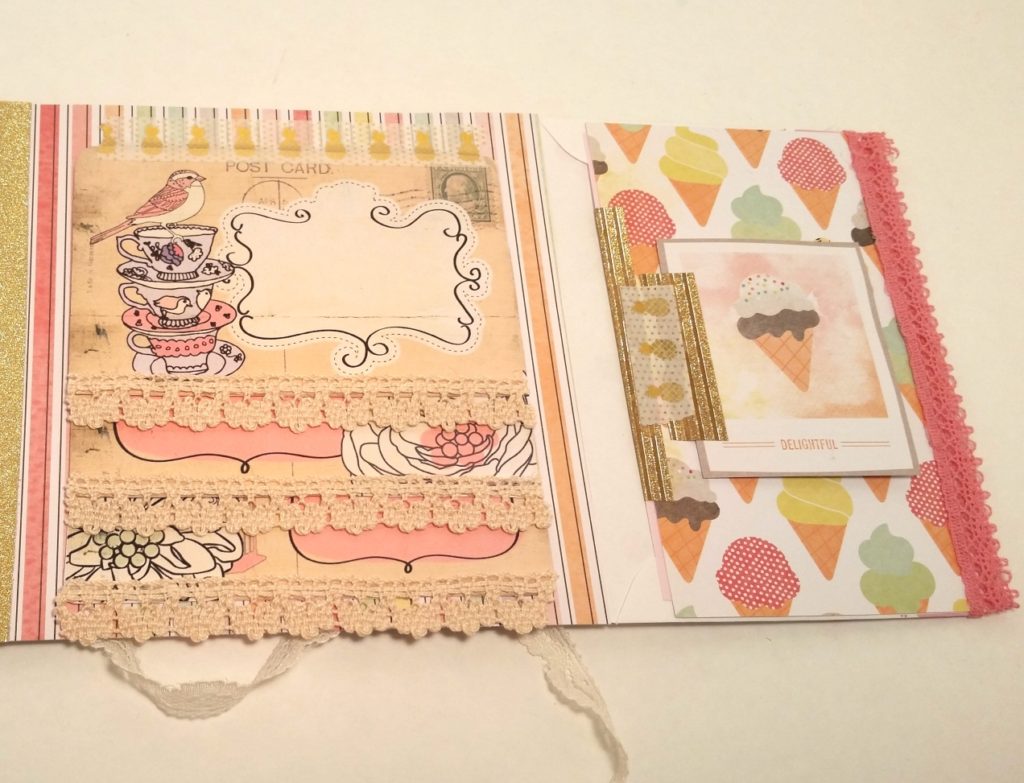 fast to just color around the edges and where I thought the shadowed areas would be and blend out with a water-filled Pental water brush.  I loved how easy it was to blend! I won't be getting rid of my Copic markers (still my favorites), but to create a softer, more painterly look, these Zig Clean Color Real Brush Markers are pretty awesome.
Then it was a mater of creating a four panel flip book structure. I picked out scraps from my scrap box as well as eight 6 x 6 papers from the American Crafts Spring collection, the Authentique Sweetness collection, and the Dear Lizzy Neapolitan collection. I glued them front to back to create a double sided, thicker base, and then connected them all together with a 1/8″ space between each panel (for a gusset to give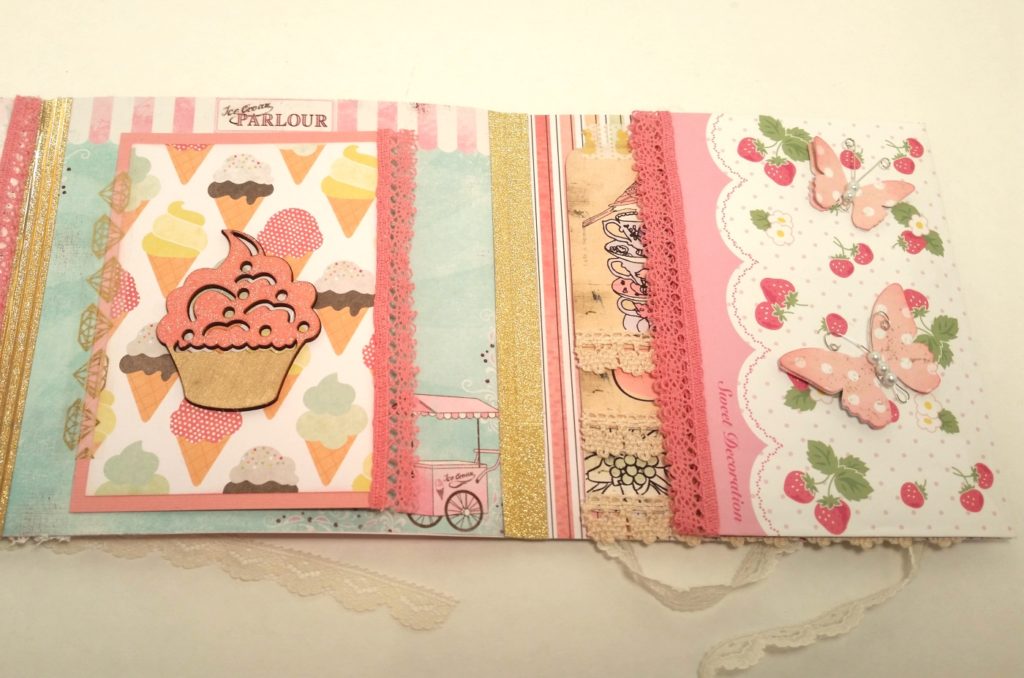 a little space for thicker embellishments) with various gold washi tapes from my stash. I also tacked on a strawberry envelope that I had saved from a happy mail note from a friend to create an extra flip pocket.
Then for the fun part, all the embellishing and creation of flips was made super fun and easy with the super sweet embellishments from the Bear Tea Party kit. I used the teapot and tea cups, just inking the edges with Tim Holtz Distress Ink in Worn Lipstick and adding pink Stickles for extra sparkle and dimension. I inked up one of the wood veneer cupcakes with pink ink for the frosting, again topping with pink Stickles, and painting the cupcake base with my new favorite paint marker by Marvy Uchida in gold (I picked up mine at Walmart for ~$3). I also used a couple of the dimensional butterflies, a cupcake flair-topped rosette, a flair-topped paper clip (I dismantled a second one to make it double sided), a couple of decorated applique bows, the sweet raspberry lace, the pale pink fuzzy rickrack trim, some of the natural crocheted trim, and even the lace tie that came from the packaging to create the closure. With everything coordinating together so well from the kit, it was really easy and fun to go to town embellishing.  I supplemented the kit with a few little handmade book paper flowers, a Poppy Stamps Teapot Stack die cut, and some sweet sentiments from old Project Life cards to make this flip book, but otherwise, with some patterned papers and washi, this kit had everything I needed for this project–plus I had lots of yummies left over for more projects (to come)!
The following is a video share of this flip book:
This flip book is being entered into the following challenges:
Simon Says Stamp Work It Wednesday Flowers Challenge
Simon Says Stamp Wednesday Flowers Challenge
Card Mania Flowers Challenge
Lil Patch of Crafty Friends Anything Goes Challenge
Our Crafty Corner Anything Goes Challenge
Word Art Wednesday Anything Goes Challenge
Crafting a Beautiful Mess Anything Goes Challenge
Through The Craft Room Door Anything Goes Challenge
Penny Black and More Anything Goes Challenge
Not Just Cards Anything Goes Challenge
613 Avenue Create Anything Goes Challenge