This week's free digi is of a little girl holding a basket with a puppy peeking out over the front edge.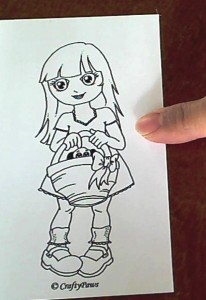 Now that we are into April, I thought folks might enjoy a little girl image that could be used for Easter/springtime cards or layouts. Notice that her right finger is petting the little pup, which seems, to me, to be the most natural thing to do. Wouldn't we all want to pet a new spring puppy? 🙂
Hope you enjoy coloring and using this digi (available to registered blog members on the Digi Page).
The photo at the top is also my entry to the Sugar and Spice Crafty Pastel Challenge.
Thanks for stopping by! Please subscribe if you wish, and have a great day! WOOF