When I first started crafting on YT, I was confused. Folks were talking about making banners, but they were just one piece of what would be a banner (IMHO). Well, since then I have accepted the "definition" and have tried my hand at a few of them.
My first was bit of a let down. I made very flat but colorful fabric flowers, cutting them out by hand and layering them as best I could. Placed one in each corner and put a large poodle applique in the middle. Everything was, well, just ok.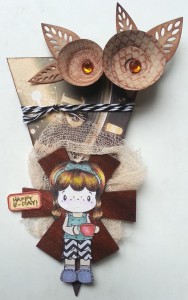 The second one I made I decided I would use a stamped image as my focal point and try layering more. I used tea dyed cheese cloth, a couple craft flowers, a large wood veneer asterisk, and some baker's twine.  I crafted a pretty respectable banner piece (yes, I am still not calling it a banner when it is just one piece of a banner).  This time I was fairly happy with the result.
My latest one was super shabby chic. I have gotten the hang of making fabric and lace flowers and just kept adding more and more lace, flowers, and sprays until there was no more room on the triangle banner piece (Oh, by the way, banner pieces can take a variety of forms: rounded bottoms, fish tail banners, and triangles, just to name a few). I think this was the best one yet.
The following is a video of the last banner piece I made.
Please subscribe if you wish, and thanks for stopping by! WOOF