I've been a geeky Star Wars fan since the first movie (now Episode IV) came out when I was 7 years old. So it is particularly fitting that my sweet El Bandito's birthday is on "Star Wars Day" (May 4th a la "May the Fourth (Force) Be With You").
This year I wanted to make a special layout with my Havanese baby looking like an Ewok. I fussy cut a picture of him in a pose that I thought would work for this "dress up." Next I used the back side of some old textured paper to make a leathery looking hood by first tracing a general shape of the hood with the opening and hand cutting it out. I blended on Tim Holtz Distress Ink in Vintage Photo, Gathered Twigs and Fired Brick along with MFT Black Hybrid Licorice Ink (just along the edges) to give it an aged, weathered leathery look. To finish off the rustic hood, I tied four quadruple knots in a bit of twine to add to the top of the hood to look like the cinching or decorative wrapping around it.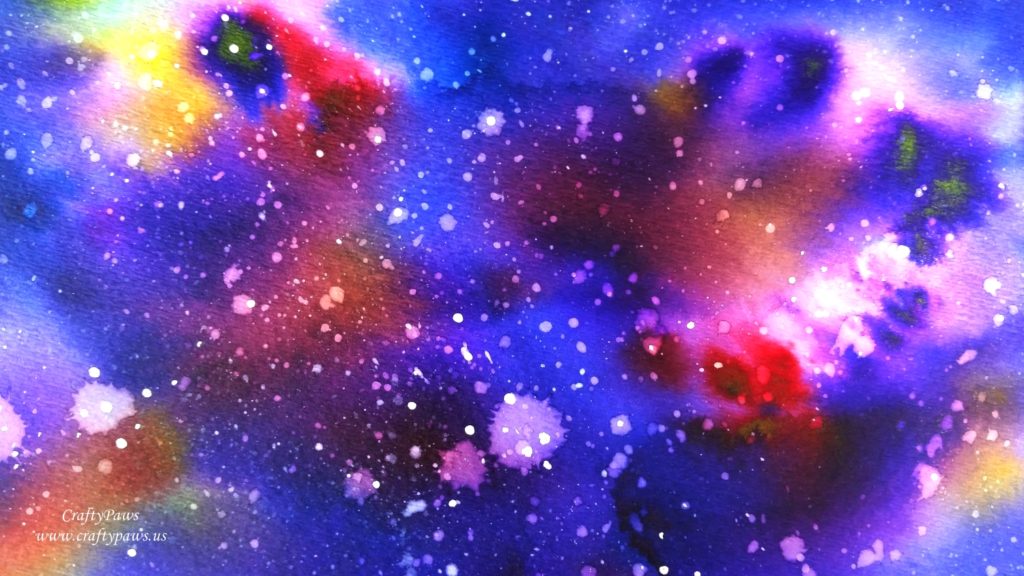 I knew I wanted to create a galaxy background, and I first started to blend on more Tim Holtz Distress Inks onto very textured watercolor paper, but this was not creating the vibrant look I wanted. So I switched to play with 6 Ken Oliver Color Bursts in Indigo, Ultramarine Blue, Violet, Alizarin Crimson, Yellow Ochre, and Lemon Yellow and water from a spray bottle. Oooh I love how the pigments FLOW, mix and move together (for instance, I don't have a pink, but the Violet and Alizarin Crimson blend to create a beautiful hint of pink)! To create the negative splotchy look, I splattered and sprinkled water on the fully dried Color Burst background and after waiting 2+ minutes, I used a paper towel to blot up the released color. The final touch was adding white dots with Copic Opaque White to represent stars or planets. The vibrancy and look of real outer space depth was so fun to create.
For the sentiment, I played off the opening scrolling text that starts each Star Wars movie. I typed the title of this layout, "MAY THE FOURTH BE WITH YOU" in all caps. Then the rest of the sentiment reads: "Episode V [as in 5th birthday] A long time ago, in a galaxy far, far away…  EL BANDITO was born." (I did the all caps for his name because that is often done with important names in the Star Wars movies too). When I had the spacing just how I wanted it with a little word art magic using Microsoft Word, I printed it on vellum with yellow ink (again, just like in the movies); however, this proved to be hard to read over the dark background so I backed it with white card stock. Ultimately I decided to print out the text again with black font (much easier to read) and just layered it over top of the yellow so that the letters had a soft yellow glow (you can see the yellow if you look very closely).
I matted the whole layout with a thin border of white card stock and then matted that again onto a dark blue card stock base for a clean, crisp look. There are a lot of materials used on this layout but I think I was able to keep it in the CAS style. The following is a video share of this layout:
This layout is being entered into the following challenges:
Simon Says Stamp Monday The Great Outdoors Challenge
Simon Says Stamp Wednesday A Hint of Pink Challenge
CASology Flow Challenge
CAS-ual Friday Birthday Challenge – 6 Color Bursts
Card Mania Life is Colorful Challenge
Word Art Wednesday Anything Goes Challenge
Creatalicious Anything Goes Challenge with Optional For the Girls/Mother's Day
Crafty Gals Corner Clean and Simple Challenge
Crafty Purple Frog Celebrate the Little People Challenge
MFT Sketch Challenge 331