After yesterdays more complicated flip it card, I thought I would go to the other extreme and try a single layer card. I purchased this adorable Paper Smooches "Chubby Chums" stamp set about a year ago (I HAD to have it!  It is so stinkin' cute!), and I am embarrassed to say that this is the first time I have inked them up. Better late than never, right?!
I decided to create a bouquet of balloon animals that are flying through the air, trying to carry along a girl from the Mama Elephant "In My Heart" stamp set–think of Russell, the little boy from the movie "Up!" that was traveling by a house carried along by a slew of balloons. 🙂
To create the balloon bouquet, I created a post-it note mask for each chubby chum. After stamping each one on the card base, I placed the mask on top before stamping the the next chubby chum so that I could make them appear as though some of them were in front of others. As I imagined these balloons to be made of mylar rather than rubber, I did not try to create a translucent look.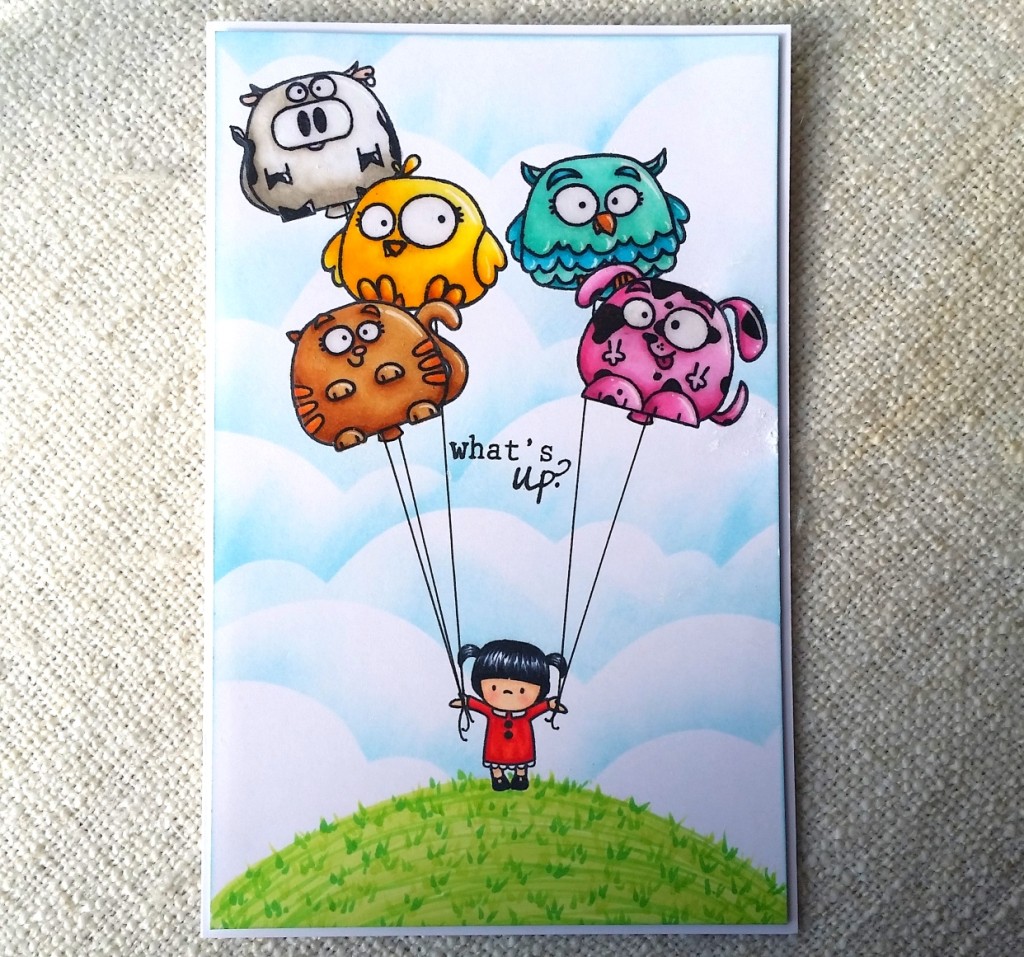 Then with a Copic multi-liner pen, I drew in the mouth of each balloon and used a ruler to draw the strings from the balloons to the little girl's outstretched hands.
I used the following Copic colors for each of the animals and for the girl:
Girl's hair: B01, C7 and C9
Girl's Skin: E000, 00, 11 and R20
Girl's Dress: R22, 24 and 29 with C1 for the white collar and lace trim
Chick: Y11, 15, 17 and E15
Cow: W1, W3, 0 and R30 for ears
Cat: E31, 33, 37, 97 and R20 for nose
Owl: BG10, 32, 23, 45, 49 and E97 and 33 for beak and feet
Dog: RV52, 55, 66
I also added highlights with a white Sakura Gelly Roll Pen and put a coat of Glossy Accents over the whole lot of balloons.
To create a look of a sky filled with puffy clouds, I sketched out a row of different sized arches onto some scrap card stock and hand cut it out. This was the mask I used to ink around using Tim Holtz Distress Ink in Tumbled Glass. For the grassy hill, I lightly drew in a hill with a pencil and colored and drew in grass with Copic colors: YG03, 07 and 09.
The following is a process video for creating this card:
This card is being entered into the following challenges:
AAA Cards Maskerade Challenge
Paper Smooches Anything Goes Challenge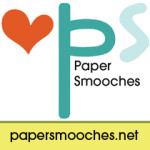 Seize the Birthday Anything That Flies Challenge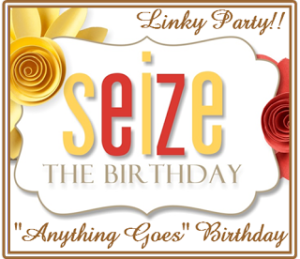 Through The Craft Room Door Anything Goes Challenge – WINNER
Lil Patch of Crafty Friends Anything Goes Challenge
Thanks for stopping by, and I hope you're having a great day! WOOF