I recently have been doing a lot of crafty shopping, mostly clearance or super sales, but shopping nonetheless. So after watching a really inspiring video by Justine Hovey about creating some fun and easy ATCs I got out lots of my recent purchases and just had fun playing.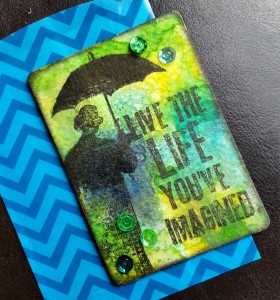 I got out my Sizzix Tim Holtz Movers and Shapers ATC & Corners Die
and cut out some Strathmore Cold Press 140-Pound Watercolor Paper
, some decorative paper scraps, and some chipboard (recycling some embellishment packaging). These three layers made a solid base with "tooth" from the watercolor paper to catch and maintain the vibrant colors I planned to use.
I then got out the Tim Holtz Ranger Distress Mini Ink Kit 1
, which has Peacock Feathers, Picked Raspberry, Spiced Marmalade, and Mustard Seed along with some Heidi Swapp Color Shine sprays in Primrose, Mustard, Seafoam and Navy (honestly I could link to these on Amazon too, but I picked these up for a fraction of the price on clearance at Michaels). I inked, sprayed with water, dried, and repeated.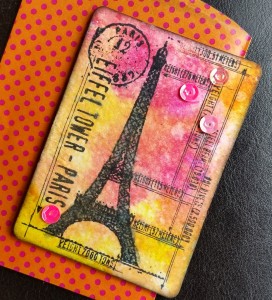 The key to building up the layered look is to be patient and either dry with a heat gun or let air dry between applications. If you keep spraying or inking without letting the mediums dry, the colors can get muddy rather than vibrant and translucent. Also, make sure to finish adding all your wet mediums (like Wink of Stella or plain water drops) before you do the next step of stamping or you might end up with some bleeding of inks (unless you are going for that look). 🙂
To create an easy focal point, I used the Eiffel Tower from the TIM HOLTZ – Visual Artistry Collection Stampers Anonymous Clear Stamps – French Market
and the umbrella man and sentiment from the TIM HOLTZ – Visual Artistry Collection Clear Stamps – Life's Possibilities
.  I tried both Versafine and Momento black inks, and for this use, I found the Momento worked better for crisp, fast-drying images (I'm sure Archival or StazOn inks would work great too, but I don't like my stamps to get stained–yes, I know staining doesn't damage the stamps, I'm just a little OCD).
I inked the edges with a finger dauber and more black ink to create a grungy finished edge, which I think helps the background colors pop even more.   Lastly, I added some color coordinated sequins with Glossy Accents and Recollections Glitz glitter glue and some clear Wink of Stella on the Eiffel Tower for some extra shimmer (a girl can never have too much sparkle an shimmer, right?!).
The following is a video share of these ATCs:
These ATCs are being entered into the following challenges:
The Pink Elephant Anything Goes Challenge
Time Out Grunge Challenge
Thanks for stopping by and have a wonderful day. WOOF