I had a lot of fun scrapping a couple of pictures I took of my Biscuit and Bandito today. It is fall here in the South, and the leaves have turned a gorgeous spectrum of fiery red to golden yellow. I wanted to do an autumnal doggy layout highlighting these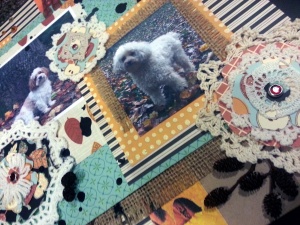 colors with some patterned papers (some are scraps I've had for over 15 years!), natural burlap scraps, and soft crocheted doilies. Even the Thickers I used was a chocolate color but with a playful floral print.
There was no grid or sketch to follow. I just layered paper after paper and created what I thought was a pleasing rhythm.  Most of the papers are from the American Crafts "Night Fall" collection from 2013, but some of the papers were gifted to me so I am not sure of their names. The paper and crochet doily flowers with red bling brad centers were a combination of pieces received from three different crafty friends (YT: Bethsscrapbookroom, Alterjunkie, and Shirley Revels).
To add some dimension and interest, I was also able to use some adorable mini pine cones.  They added another natural element to the layout that was unique.
The final touch (which I thought I may have gone overboard with) was splattering some diluted black paint (at a diagonal) across the layout. To soften the black splattering, I also added some orange and champagne colored rhinestone stickers in three small clusters.
The following is a process video in which I share the creation of this layout:
This layout is being entered into the Simon Says Stamp Anything Goes Wednesday Challenge and
The Paper Nest Dolls Anything Goes Challenge
Thanks for stopping by! Please subscribe if you wish, and have a great day! WOOF