I started with a 2.5″ x 3.5″ chipboard base covered with a scrap of brown damask patterned paper. I didn't have to ink the edges because I decided to cover all of those with black lace, using Fabri-Tac. I had a tag that I had made a while back using a 7 Gypsies Hampton Art stamp set (sorry there wasn't a name on the package), that I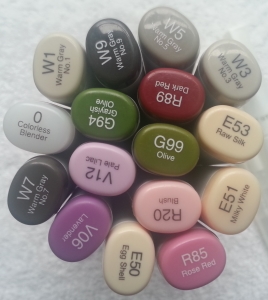 thought fit the mood I was trying to create so I added that at a jaunty angle (Yes, I said, jaunty; I'm trying to add different adjectives to my daily vocabulary–tired of me just saying cute, beautiful, etc.).  To add a little rough hewn texture, I also added a faux metal gear that I made a while back (video tutorial available here).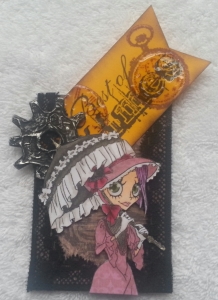 The centerpiece, of course, is the C.C. Designs Steampunk Lylah that I paper pieced (for her dress and bonnet) and colored with the following Copic colors: Hair: V06 and 12; Skin: E50, 51, and 53; Parasol: W7 and 9; Parasol tip and handle: W9; Frills on parasol and bonnet and gloves: W1; Bows and sashes on bonnet: R85 and 89; Eyes: G94 and 95; dress front: W5 and 7; and lips: R20.
You'll also notice that there is some shimmer on this image. I used a light tough with my clear Wink of Stella on the frills on her parasol and the ruffles on her bonnet and dress. I tried my clear star Gelly Roll pen on the hard parts of her parasol, which worked out great because the glitter was stronger with this and gave the W9 colored areas a kind of metallic look. Finally, I added Glossy Accents on the clock faces of the tag and the big doe eyes of Lylah.
Oh and the secret?  That would be that Lylah has dyed her hair violet (teeheehee). In a Steampunk world, that might be expected, but in a Victorian world that would be scandalous. I made this ATC in kind of a combo Steampunk and Victorian style and she embodies them both.
The following is a video share of this ATC:
This ATC is also being entered into the Simon Says Stamp Work it Wednesday Stamp Challenge
Thanks for stopping by! Please subscribe if you wish, and have a great day! WOOF