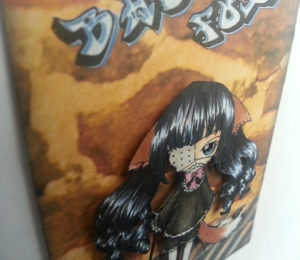 This may be my favorite ATC so far. There is something about this image, called "Play with Me" by Sureya (who is an artist on Deviantart.com) that totally captured my imagination. I simplified the image, cutting off some extra ruffles and some of the hair curls, but I kept her style, which I will dub, "scary cute." LOL It reminds me a little of the young O-Ren Ishii (aka Cottonmouth played by Lucy Liu) from Pulp Fiction.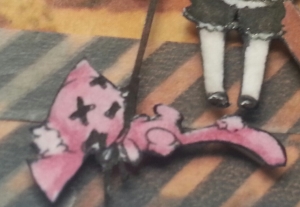 I colored her up with the following Copic colors and after fussy cutting her and her battered stuffed toy out (which took forever, old lady glasses, and an exacto knife), I popped her up on foam adhesive: Mask, tights, and ruffles: W1 and 3; Pet and bow tie: R85 and 81; Hair: C7, C9, B32; Skin: E50, 51, 53; Outfit: W5, 7, and 9; and Foxy parts: E15, 23 and 25; and Eyes: B24.
I had covered up this ATC (3.5″ x 2.5″) chipboard with some scrap paper that looked like a brick wall. I inked the edges with black soot Distress Ink, and then just laid a few pieces of grey and white washi tape to "ground her. I added some Glossy Accents to her eyes and her shoes, and laid in some clear Wink of Stella on the ruffles of her outfit.
I added the graffiti title, "Bad Foxy," using a free graffiti font that I downloaded online, and I altered it using a text effect in Microsoft Word to add the shadow and blue highlights.  You might think that the title simply came from the digi, but for me it is also a wink at all of the Doctor Who references to "Bad Wolf."
The following is a video share of this ATC:
This ATC is being entered into the Moxie Fab World Foxy Foxes Challenge
Thanks for stopping by and have a great day. Woof!