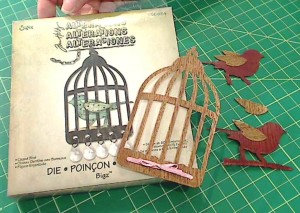 When most folks in the crafty community talk about making banners, the style that is normally thought of is shabby chic or vintage. I decided that I would try something a little different and approach making this pennant like an art journal page.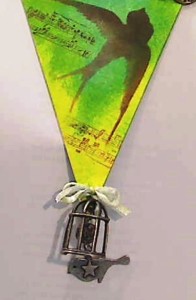 I was inspired by a beautiful poem by Maya Angelou called, "I Know Why the Caged Bird Sings" (which I printed out on watercolor patterned paper and put on the back), and I took the opportunity to play with lots of different materials. I started with water color paper on the front, which I colored up with my Faber Castell Gelatos, mushing around the color with a little water on my index finger. Then I used some wood veneer adhesive backed papers (gifted to me by YT: Candace Scarborough) and a Tim Holtz dies of a bird cage and a bird. I accented the bird cage with some metal photo corners by 7 Gypsies, and laced through some narrow satin ribbon through the holes at the bottom of the cage. I also got to use a homemade stencil of flying birds, gifted to me by my friend Rosa (YT: ColorXplosion by Rosa). Using some Ranger Distress Inks in Vicotrian Velvet and Walnut Stain and a dauber I got the opaque to translucent effect I wanted on these birds.  I used E6000 to glue some metal flowers in a couple of the open spaces as well as a bird cage and bird charm (which I also attached with another satin ribbon) to add some more interest and dimension.
There seemed to be too much contrast between the woods and the metals and the background colors so I toned down the vibrancy of the background my stamping some music notes using the Ranger Distress Ink Vintage Photo. Ahhh, that was better. I like how the banner came out in the end, and I was really happy that I got to take a less beaten path to banner making with this project.
This banner with the metal flowers is also being entered into the One Sweet Challenge for May
The following is a video share of the project, which includes a reading of the poem:
Thanks for stopping by. Please subscribe if you wish, and have a great day! WOOF