Ever need to make a card in a hurry and just looked around on your desk to see what you could co-opt to whip one together? That is what happened to me this morning when I realized it was my brother-in-law's birthday TODAY, and I had about an hour to make a card before I had to run to the airport.  Now let me preface that it usually takes me a good day of crafting to make a card.  But this was a card emergency! LOL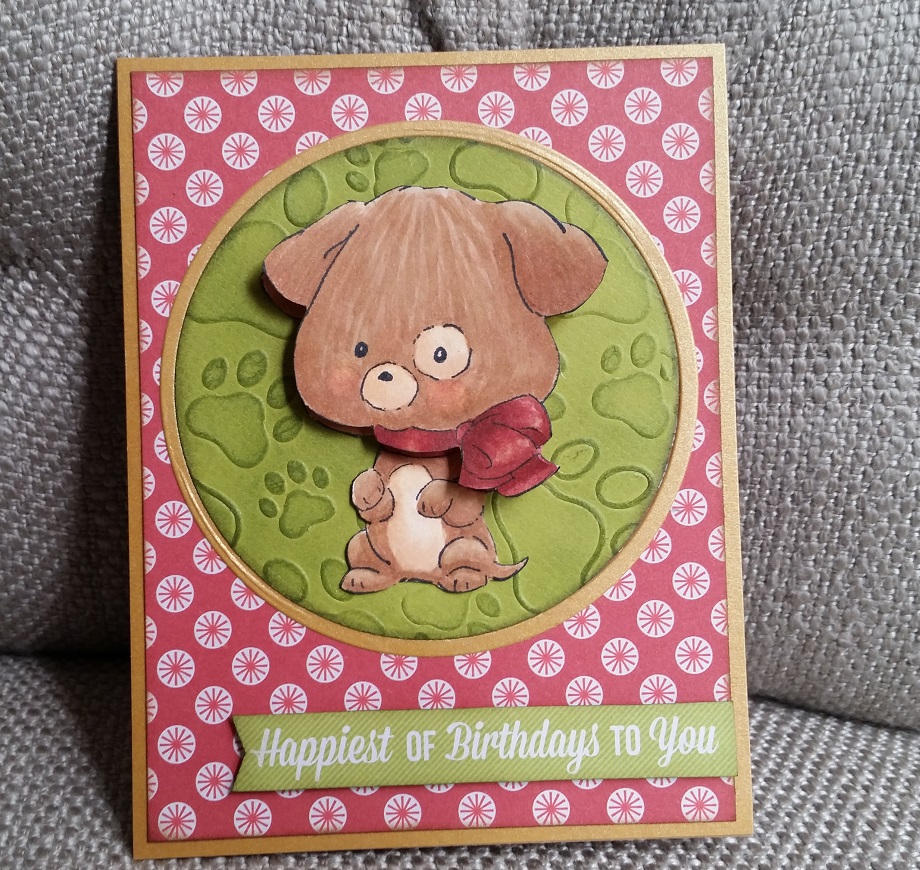 I salvaged a green circle die cut embossed with doggy paw prints (from a Darice embossing folder) and Forest Moss distress inking and a gold shimmery ring die cut that was left over from my peek a boo bulldog card from a few days ago. Then I chose the adorable I Wuff You Art Impressions stamp (that I picked up at the Scrapbook Expo a couple months ago and have been itching to ink up) to make the focal point. Isn't he so adorbs?! My brother-in-law is a big dog lover so I knew he would like this.
I stamped out the image twice and colored 1 image with these Copic colors:
Light parts of pup: E50, 51 and 53
Dark parts of pup: E31, 33, and 35
Ribbon bow: E13, 07 and 09 (to match the background paper)
Blush: R20
The second image I just colored the edges with E33 (for the dog parts) and E07 (for the bow parts).  I didn't fret too much about blending or exactness on this second image since I was going to fussy cut around the whole thing, and it was going to go under the first carefully colored image. I fussy cut both images and for the top image I separately cut the head and bow away from the body.  To add a little extra sumthin' sumthin' I made a DIY action wobble for that head piece so the pup can nod his head up and down.  I luv it when my pup, Bandito, does that. 🙂  The sentiment and the papers are from an old paper collection from my stash–sorry I can't remember the brand.
And the punch line? I frantically finished the last addition of popping up the sentiment on double sided foam adhesive as my sister pulled into the driveway to take me to the airport. I made it just in time!  I got a call tonight from my brother-in-law thanking me and oohing and ahhing over the card.
This card is being entered into the following challenges:
Art Impressions Shake It Off Challenge – WINNER
Simon Says Stamp Anything Goes Wednesday Challenge
MarkerPOP Anything Goes Challenge
Virginia's View All Things Colored Challenge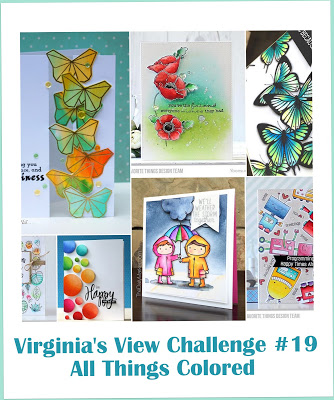 Thanks for stopping by and have a wonderful crafty day. WOOF