Just wanted to make another quick shaker swing card. These are so versatile and can be used for any occasion–just switch around the sentiment on the back of the shaker and the embellies on the front and voila!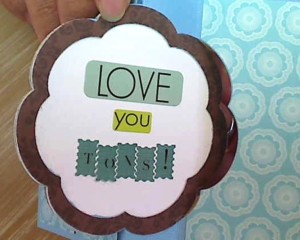 This one was made punching out a couple of elephants with my Martha Stewart punch. I propped up the ears to add a little extra interest and I added two big blue heart bling pieces on top to signify the love that the card is supposed to be sending. Inside this shaker I added little bling hearts in yellow and blue and some plastic pearl hearts. NOTE: slightly heavier elements like these bling hearts and pearl hearts seem to work better as shakers than sequins (which I used on my last shaker swing card with the butterfly). For the sentiment, I used some alpha stickers and spelled out "Love you TONS!"
If you want measurements or materials lists for the shaker swing card, please check out my prior post HERE.
This card is being entered into the Simon Says Stamp Monday Challenge and
the Naughty or Nice Challenge #5
Thanks for stopping by and have a great day! WOOF