Celebrating my nephew's graduation from college has become a real event in my family. I wanted to make another special card for him, and as it turned out, this one was so cute that my mom actually snatched this up and said she wanted to give it to him with her gift! LOL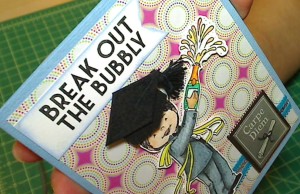 I used an SP& Company stamp that was a gift from Sami (YT: thescrapmaster) when I purchased 4 other stamps from her store closing sale. When I first saw this stamp, I thought of new years eve and did not really think I would have much use for it. However, once I really took a look at it, I saw that it could easily be transformed and used for any celebratory event!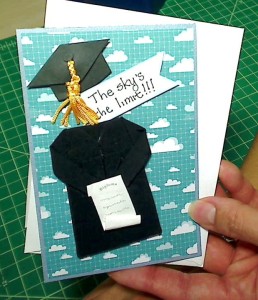 I just swapped out the party hat for a graduation cap from a Jolee's sticker package, colored up the cute little guy with my Derwent Inktense water color pencils and my Pentel waterbrush, and added a little metal and epoxy embellishment with the sentiment, "Carpe Diem" (seize the day).  It was a relatively simple card, but I think it came out super cute (and so did my mom!).
This second card was one that I whipped up in a flash. I used a bit of left over card stock, some fun cloud paper, and some remaining stickers from that graduation Jolee's sticker pack. The sentiment I just wrote out with a Uniball pen and cut into a banner shape, dabbing some blue ink around the edges to coordinate with the card stock. It could not have been easier! Sometimes we crafters are our own worst enemies, making things harder than they need to be. 🙂
Thanks for stopping by! Big hugs, Kristina WOOF!
The following is a video share of the first card:
This first card is also being entered into the Raisinboat Blog Challenge
the Simon Says Stamp Masculine Challenge
and the Naughty or Nice Challenge