I have been in a bit of a crafty funk the last few days. I think the issues with dealing with the hacker attacks on this blog took me off my crafty game. (sigh)  What to do? My plan to rev up my mojo is to….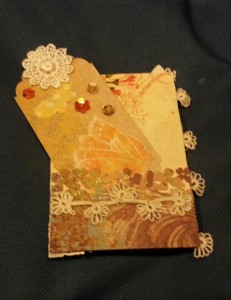 Make artist trading cards (ATCs)! They measure 2.5″ x 3.5″ and they are so focused that they are quick to create. Their small format makes it easier to experiment without fear, and they can pack a powerful creative punch. Need another bonus to get motivated? What about using up lots and lots of your scraps (paper, lace, trim, stickers, etc.). YAY!
This first one is my entry into a birthday challenge hosted by the sweet Carol (YT: Carol Nivens Watson aka Crafty Carolina Gal). I started with a chip board base, covered with scraps of patterned paper (bonded using a glue stick), and 3 dimensional butterfly stickers from Studio 112, each followed by a trail of flat back pearl stickers. I added a couple of ornate metal corners (removing the foam adhesive that came on them and gluing them down more securely with E6000), a little delicate lace trim (adhered with Fabri-Tac), and some color matched sequins (glued down with Aleene's Original Tacky Glue). To gild the lily, I added clear Wink of Stella over the butterflies. Can you blame a girl for wanting a little more sparkle?! 🙂
On the back I made a little decorative pocket using a Martha Stewart floral border punch, where I added more of that lacy trim and some liquid pearl centers for the flowers. I included a little tag decorated with more butterfly stickers and sequins so that I had a place to include all of the information Carol requested be included in the ATC entries.
Voila! Sweet ATC 1 completed! That felt good.
The following is a video share of this ATC:
Thanks for stopping by and have a great day. WOOF