I have a wonderful crafty friend who is an amazing, dedicated teacher. To let her know that I think what she does every day for her students is awe inspiring, I made this card for her to accompany a little surprise happy mail package I am sending to her. I was inspired by the Bing Crosby song, "An Apple For The Teacher" and the adorable Fairest from The Greeting Farm. Although I think Fairest is supposed to be a version of Sleeping Beauty, I thought she could make a cute little student who is offering up an apple for her teacher!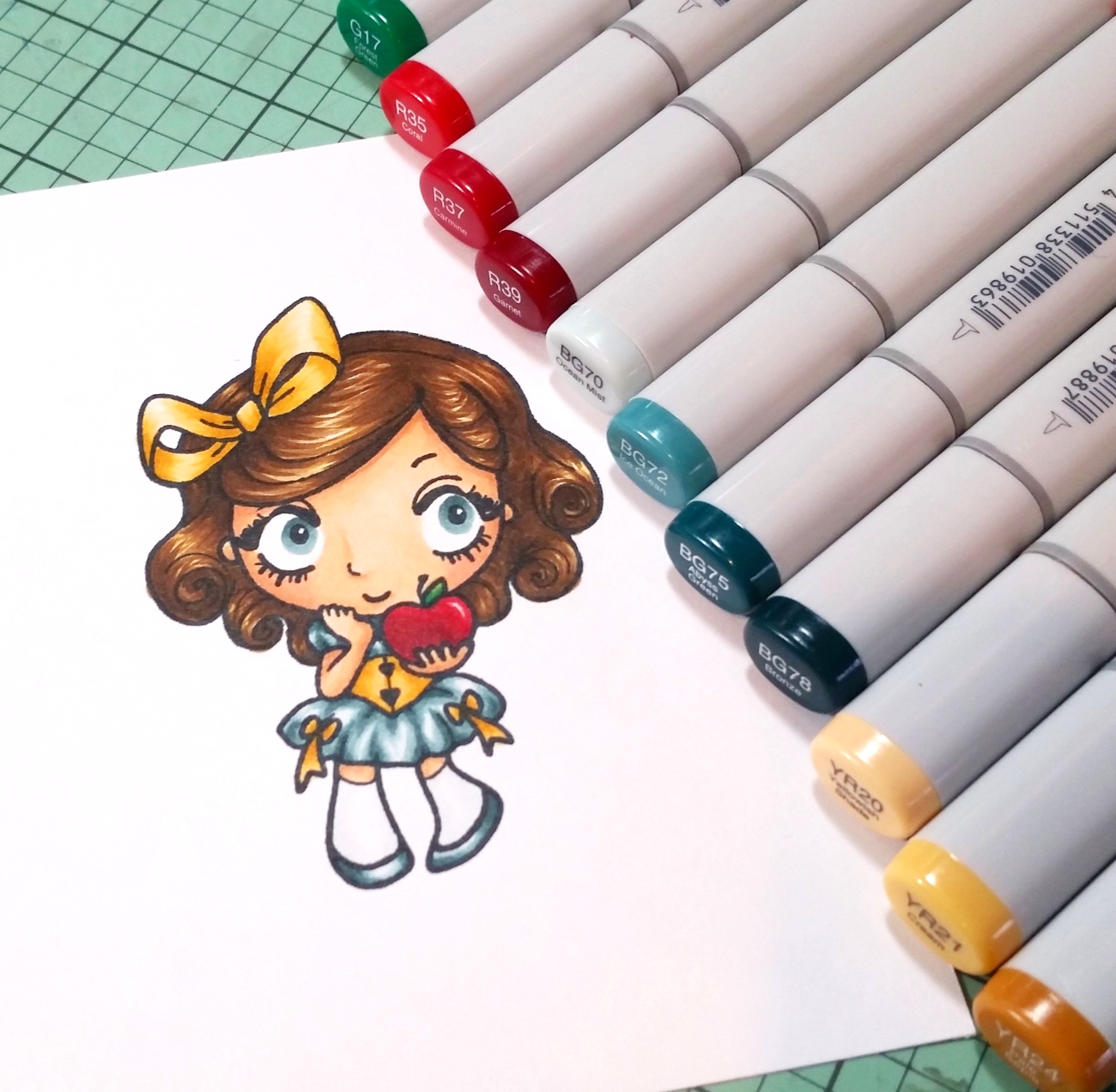 I remembered that I had an apple patterned paper in my stash and found it in an old American Crafts paper stack called, "Night Fall." I took a cue from the autumnal or earth tone colors of that paper, I stamped Fairest out with MFT Black Licorice Hybrid Dye Ink, and colored her up with the following Copic colors:
Skin: E000, E00, E21, E11, and R20
Hair: Y21, E55, 57 and 59
Bows: YE20, 21 and 24
Dress and socks: BG70, 72, 75 and 78
Apple: R35, R37, R39 and G17 (with a top coat of Glossy Accents for shine)
I also found a great smaller patterned polka dot paper from the Lost & Found Two My Mind's Eye "Sunshine" paper collection that coordinated with the apple paper and made for a nice, complimentary background paper. TIP: the smaller scale of these polka dots as compared to the apples helps the two patterned papers not compete with each other or confuse the eye.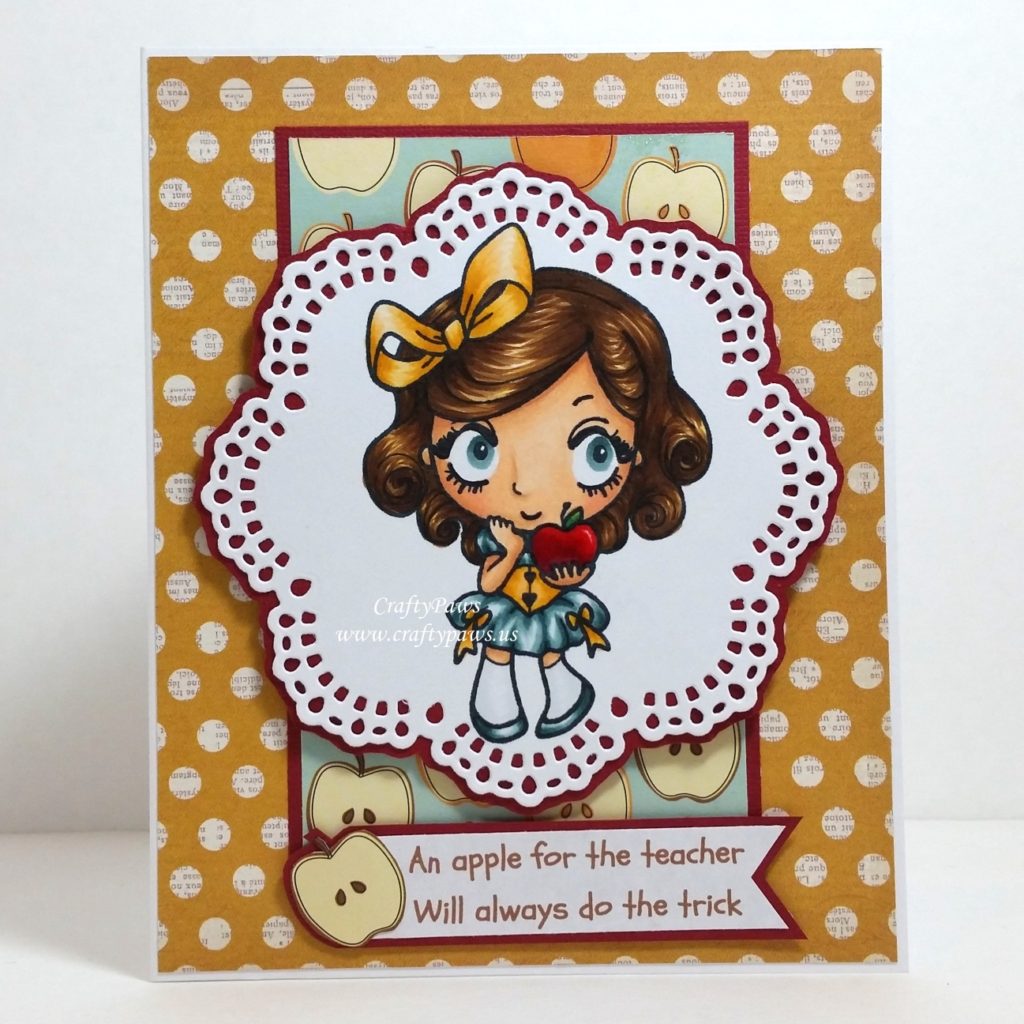 I then cut out the image with a doily die that fit around and framed Fairest perfectly. I was going to just pop up the die cut image on fun foam for a little dimension, but because there wasn't a lot of color contrast between the white die cut background and the patterned papers, the whole assembly started to look a little visually cluttered. To solve this, I decided to pull the burgundy red color from the apple and repeat that with some card stock matting. I matted the apple paper, the doily die cut (which I hand fussy cut around), and even the sentiment banner (to which I added a hand fussy cut apple from the apple patterned paper for a little extra embellishment).
Speaking of the sentiment, I took a stanza from the Bing Crosby song and printed it out in two parts on my printer with brown ink. The sentiment on the front of the card says, "An apple for the teacher will always do the trick," and the sentiment continues inside the card to say, "when you don't know your lesson in arithmetic." LOL It's a cheeky little line that Bing Crosby sings about how he should deal with a teacher with whom he is falling in love. Aren't the innocent lyrics so sweet in old timey songs?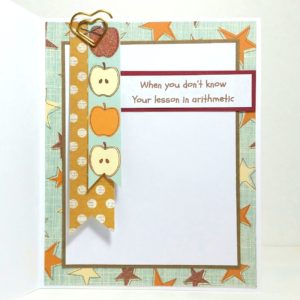 I decorated the inside of the card with another patterned paper from the Night Fall collection that had the same colors as the apple paper but with a star pattern. I matted the white liner paper with some kraft card stock, and I also hand cut fishtail banners from the patterned paper scraps left over from the front of the card. I attached those fishtail banners with two staples in an X formation and topped that with a brushed gold metal heart paperclip to continue with the stationary (office/school supply) theme.
It's these types of little embellishment details that I think add so much to a handmade card. I think all these touches let the recipients of handmade cards know how much love and thought went into the creations.
The following is a card share video in which I share some of my thought process and card design tips for this card:
This card is being entered into the following challenges:
The Greeting Farm Farm Fresh Office Supplies Challenge
MarkerPOP For the Girls Challenge
Simon Says Stamp Monday Inspired by Music Challenge
Creatalicious Anything Goes with an Optional Inspired by a Tune Challenge
Card Mania Earth Tones Challenge
613 Avenue Create Anything Goes with an Optional Colors of Fall Challenge
Word Art Wednesday Anything Goes Challenge
Addicted to Stamps Make Your Mark Challenge
MFT Card Sketch #299 Challenge