I have been wanting to do a doggy-themed Halloween card, so just as I do with my own dogs, I decided to "dress up" some of the adorable dogs from the My Favorite Things "You Have My Heart,"  "Lucky Dog," and "You Make My Tail Wag" stamp sets.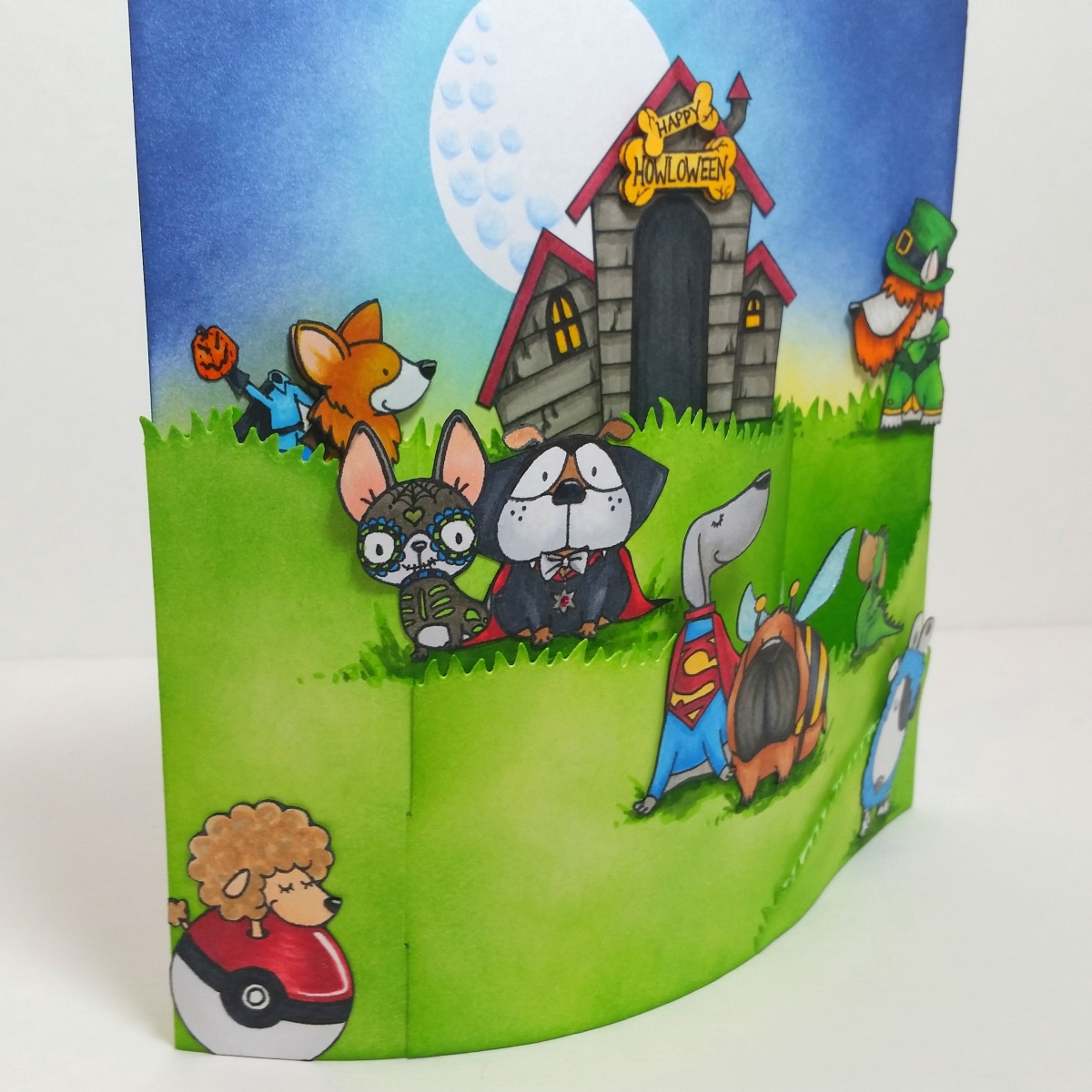 To design the costumes for each dog, I stamped them out on scratch paper and doodled different costumes on them to see what would work best for each pup. When I'd figured out a particular costume-dog combo, I paid close attention to what lines from the stamp I should wipe off before stamping (using a stamp shammy made this process much easier). Then I carefully did the partial stamping of each dog and drew the costume on with a Copic Multi-liner pen in 0.05 pt. I used the following Copic colors for each dog and then painstakingly fussy cut them out, making sure I inked the edges of the cut out images so that the white edges wouldn't show:
Corgi with Headless Horseman: Corgi: C0, R11, Y26, YR24 and E97; Horseman: B02, B05, C7, C9 and E47; Pumpkin head: YR65 and 07
Westie turned Leprechaun: Westie: R11, W1, W3 and white gelly roll pen for furry details; Beard and hair: YR65, YR24, YR16, E97 and E99; Vest, hat buckle and cuffs: Y17
Chihuahua with Day of the Dead Body Painting: W5, W7, N0, R11, R20, YG07 and B05
Dracula: R35, R37, R39, C4, C6, C9, E23 (with Cranberry Stickles on the medal for sparkle/bling)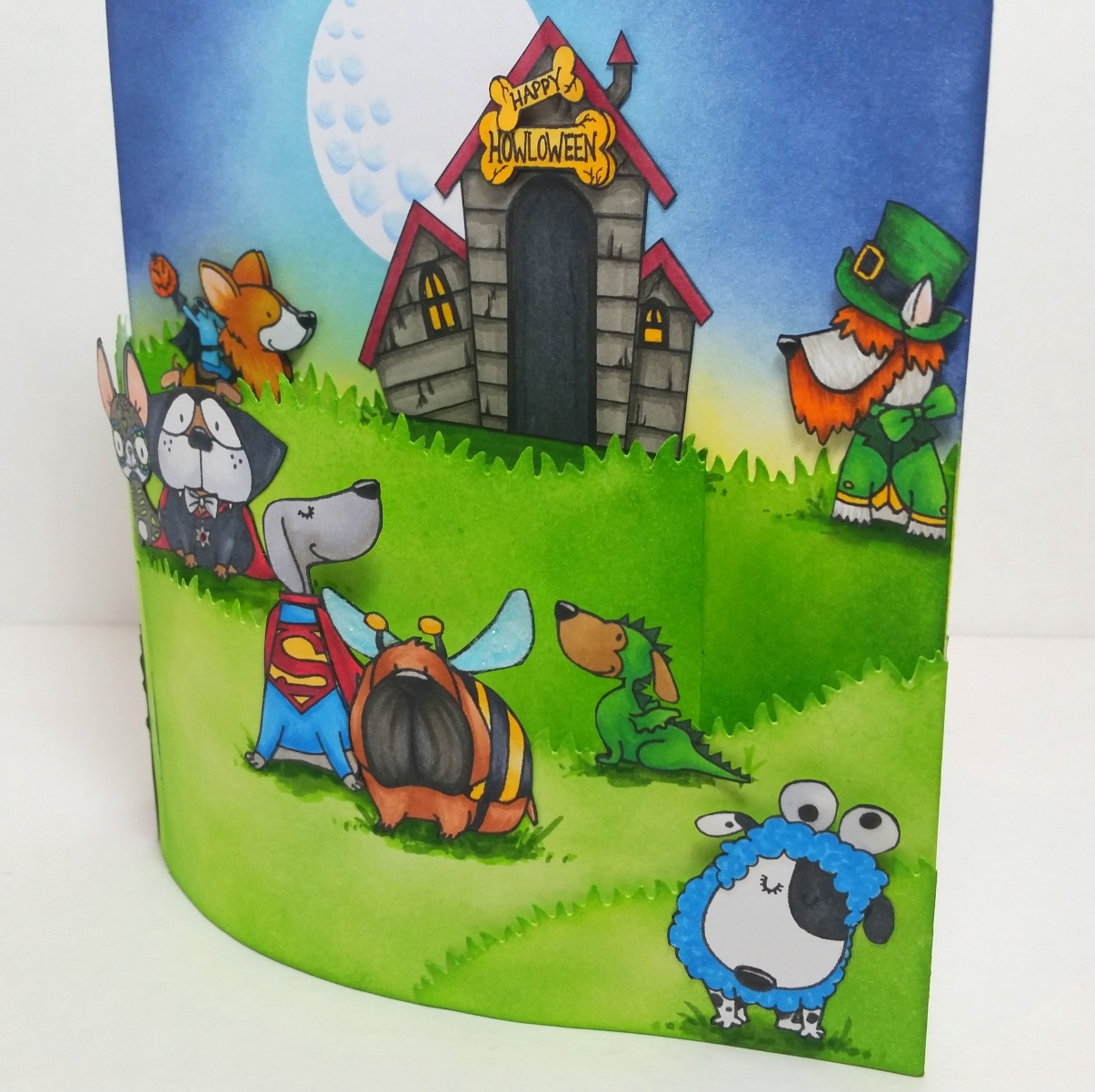 Weimeraner turned Superdog: B02, B05, R37, R39, Y35; Weimeraner: W3 and N2
Bumble Bee Dog: C6, C8, B000, B00, Y21 and Y35 (with iridescent glitter glue on wings for extra sparkle/bling)
Dragon: E55, YG07, YG09, G09, G29
Poodle turned Pokeball: Poodle: E00, E01, E21, E31, E33 and W3; Pokeball: C000, C00, R35, R37 and R39
Dalmatian turned Cookie Monster: C0, C1, B02, B05, and N7
I also added Glossy Accents to all the eyes (including Cookie Monsters') and noses of the dogs and the windows of the haunted dog house for shine.
I also made a doggy haunted mansion by following the same partial stamping and drawing steps on the dog house from the "You Make My Tail Wag" stamp set. Only to create this larger haunted mansion, I stamped out parts of the house three times and combined them to create a wonky, off-kilter haunted house. I even altered the building sign by adding a smaller bone stamp to the top and popping both bones up on dimensionals after writing in "HAPPY HOWLOWEEN" on the two bones.
For the card itself, I decided to try my hand at a bendy card so that I would have lots of layers on which to create a scene for all these pups. I started with the back base panel of 6.5″ x 6.5″, and used Distress Inks in Squeezed Lemonade, Tumbled Glass, Faded Jeans, and Chipped Sapphire to create a sky at dusk. Before blending on the color, however, I made a simple round mask from a post-it note so that I could create a moon. I used Copic B21 and erased 3/4 of each circle with a 0 to create the look of craters (a technique I learned from Sandy Allnock).
To create the look of hills, I cut 2 panels measuring 6.5″ x 4″ and die cut the top edge with one of the My Favorite Things Die-Namics Grassy Hills die set.  I used one panel for the ground of the back base panel and the second one for the left panel, which I scored and folded back 1/2″ on the left side to glue behind the base panel. To create the right panel hill, I cut another piece of card stock to 6.5″ x 2.75″, die cut the top edge with another one of the Grassy Hills dies, and scored and folded back 1/2″ on the right side to glue behind the base panel. To make the tabs for the panels to fit into slits (coming next) that naturally create a curve when assembled, I marked 1/4″ on the opposite edge of the folded back edges and simply hand cut tabs.  To create the slits, I used an X-Acto blade and measured 1.5″ from the right side of the back base panel to cut the slit into which the left panel would fit, and measured 1.5″ from the left side of the glued-in left panel to cut a slit into which the right (front) panel would fit. For all of the grassy hill panels, I used Tim Holtz Distress Inks and Markers in Twisted Citron and Mowed Lawn to blend on color as well as add shadows and hints of grass under and around each pup.
The following is a video share of this card:
This card is being entered into the following challenges:
MFT Superstar Card Design Challenge – 2nd Entry (first entry was #145)
CAS-ual Fridays Dimension and Bling Challenge
Lil Patch of Crafty Friends Anything Goes Challenge
Through the Craft Room Door Anything Goes Challenge
613 Avenue Create Anything Goes Challenge
Craft Your Passion Anything Goes Challenge
Addicted to Stamping Make Your Mark Challenge
Just Keep on Creating Anything Goes Challenge – WINNER
There is a really fun Chase Freedom commercial with a really peppy tune called, "Worship You" by Vampire Weekend that was one of the inspirations for this card.
HERE is a link to the song/video
Creatalicious Anything Goes with an Optional Inspired by a Tune Challenge
Simon Says Stamp Monday Inspired by Music Challenge – WINNER