A lovely crafty friend, Justine (YT: Justine Stone) is hosting a challenge, called Gifts from the HEART, asking folks to make altered composition books that can be donated to people dealing with loved ones in hospice care.  She does this regularly ever since she found some solace in writing in her journal while her mom was in similar care last year.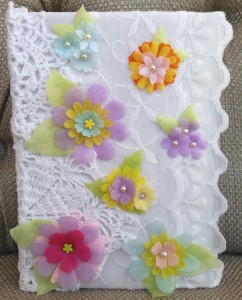 I wanted to make something that was bright, beautiful, and flowery because I thought something like that might be just what someone going through grieving might need. Plus, I am really craving spring. 🙂
Because the journal I had was a very bright neon foiled book, I first put a coat of gesso on the front and back covers of the journal and let it dry overnight. Then I used a white cotton embroidered trim and an ivory embroidered trim from MelsCraftBoutique to cover the front and backs, leaving some overhang so that I could bring it around to the inside of the front covers.  Note that the ivory trim has an unfinished back edge so it is on the bottom and the white trim has a finished edge (so there is less fear of unraveling) so it is on the top. These wide, opaque trims were perfect for covering these larger areas and creating a soft base.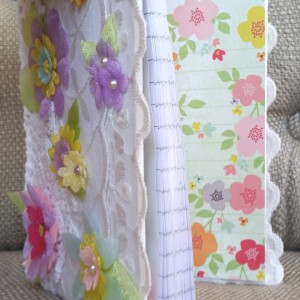 For the spine, I wanted to make sure that it stayed flexible so I decided to use knit doilies (rather than paper or less forgiving fabric).  I used this larger doily on the bottom and a medium doily for the top, both from MelsCraftBoutique. It only took 2 doilies to cover the whole spine, and I think it added a nice soft touch.
My readers can get 10% off any orders of $15 or more from MelsCraftBoutique and if you are shipping to the U.S. and your order is $40 or more, you also get free shipping. Just use the coupon code: craftypaws10
I had fun adding leaves and flower layers in a rainbow of colors that are made from a very sheer, puffy fabric (sorry I don't know the brand–they were gifted to me in a RAK yesterday (yes, I'm already crafting with these NEW items!) from my super sweet and talented friend, Priscilla (YT: Priscilla Del Valle).  Lastly, I lined the inside of the front and back covers with patterned paper from the American Crafts Dear Lizzy Neapolitan 12 by 12 Inch paper pad
 (which seemed to match the flowers perfectly).  This covers up all the rough edges of the trims and gives a nice finished look tot he book.  
The following is a video showing the process of altering this composition book:
This altered composition book is being entered into the following challenges:
Simon Says Stamp Work it Wednesday NEW challenge
Simon Says Stamp Wednesday All Things Bright and Beautiful
Simon Says Stamp Monday H Challenge
Challenge Up Your Life Rainbow Challenge
Thanks for stopping by. Please subscribe if you wish and have a great day. WOOF!