A lot of crafters pride themselves on upcycling items that might otherwise be thrown away. I am one such crafter. Every time I learn about some new item that can be upcycled, I try it, and I almost always enjoy it (truth: some of the toxicity with melting plastic is a little beyond me).
When I first saw folks upcycling the outer disposable sleeve for coffee, I was hooked. What a great way to re-use something that would just be thrown away and the paper was always thick and strong. Coffee sleeves usually come in craft colors, but sometimes they are also available in pastels–who knew?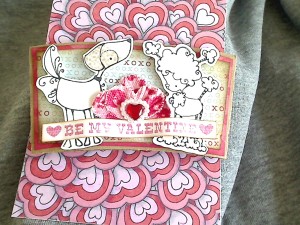 I received my first altered coffee sleeve from my Canadian friend, Sarah (YT: Sarah Elliott). She customized it just for me using the adorable Chi Chi Ketto and Spotty Ketto stamps. These dogs stamps were some of the cutest I'd ever seen and they seemed to match Biscuit and El Bandito perfectly. I was hooked, but alas, they are retired. Sarah was so generous as to gift me the mini versions of these stamps! I was absolutely beside myself thrilled.
My first attempt at altering a coffee sleeve was for a YT phenomenon and absolute doll, Beth (YT: Bethsscrapbookroom). I wanted to send her a giant chocolate bar and wrap it in something special. I colored up the "Does this make me look fat" digi from WickedDesignsbyBrenda and used colored and glossy accented wood veneers, mini clothes pins, glitter glue and patterned paper scraps and made a kind of belly band. It turned out great and added just the right touch (HINT: this would also be great little party favors or a nice addition to a hostess gift). The following is a video of that altered coffee sleeve share:
Please subscribe if you wish, and thanks for stopping by! WOOF