I have only done 5 altered canvases, but I have loved each and every one. When it comes to something like this, I tend to the classic timelessness of whites and creams because I think that if it is going to be on my (or someone else's) wall for a long time, it needs to have longevity.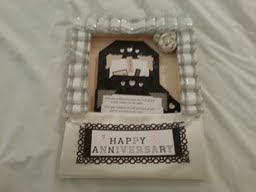 The first one I did was for my hubby for our 5th year anniversary. I made a bit of a mess of it, but I really enjoyed the process, adding all sorts of wood pieces, streamer papers (for texture), Chinese braided trim, vellum sentiments, and well, you get the picture. It is in storage now, but when we move to a permanent home it will come out and share a wall with the canvases I made subsequently and pictured in the top photo. The picture here is of the back of the canvas where I included a pocket using remnants of my wedding dress and made tags with important quotes and pictures from our wedding.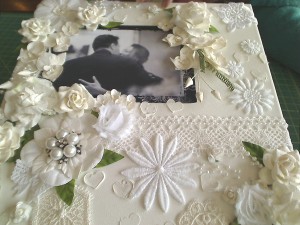 This picture was my next one. I made that one for my hubby too, this time for his birthday. He really did like it, and I saw the difference in his eyes (from when I presented him with the first one–LOL!). I matted a photo from our wedding day and added all (yes, ALL) the white flowers I had been gifted from so many YT friends (YT: todaylibrary, YT: Candace Scarborough, YT: Maggie2005cupcake, YT: Mkturner215, YT: Cindy90305, YT: Tiflydesigns, and YT: CutsieGirly).
The two flanking canvases in the top photo I made using wood letters from the clearance section of Michaels, latex caulk from The Home Depot, and stencils I received from Candace again. This time I added all my later-received white flowers (yes, ALL of them) from my friend Bev (YT: NewCrafterBev), gesso-covered puzzle pieces (as in "you complete me" or "we fit together like puzzle pieces"–corny huh?) and real and faux/decorative keys I altered, purchased or received from Aliciasglitzzandmore.  The similar color palette and using some of the same trims helped everything harmonize so they could be hung as a triptych, but the differences kept them all interesting.
Finally, my last canvas was for a dear friend and crafty encourager, Jen  (YT: Jen Evers), who was the person who actually first introduced me to crafting on YT. I have her to thank for so much. She asked me if I would do a canvas swap with her, and this is what I created using burlap, twine, sea shells, doilies, flowers, and lace.
The following are some of the YT videos in which I share my last 4 canvases.
Thanks for stopping by! Subscribe if you wish, and have a great day! WOOF