Oh yes, I am hooked! After losing control in my prior pour with three soda bottle bottoms, I decided to pull back a bit and try an acrylic pour with one bottle bottom, and I LOVED it! This time, I picked colors that are more in my wheelhouse (blues and greens) rather than just trying to use up left-over paints (although I did use up my mixed up dark blue gray, which was collected from prior pour run-offs). The other colors I used were: Craftsmart White, DecoArt Americana Bluegrass Green, Bahama Blue, Shoreline; and Artist's Loft Metallic Cobalt Blue. As normal, each of these acrylic paints were mixed 1 part paint to 2 parts Flood Floetrol. Where some of the paints were a little thick, I also added a splash of water. Lastly, to encourage cell formation, I added a squirt (yes, that's the technical amount – hehehe) of treadmill silicone.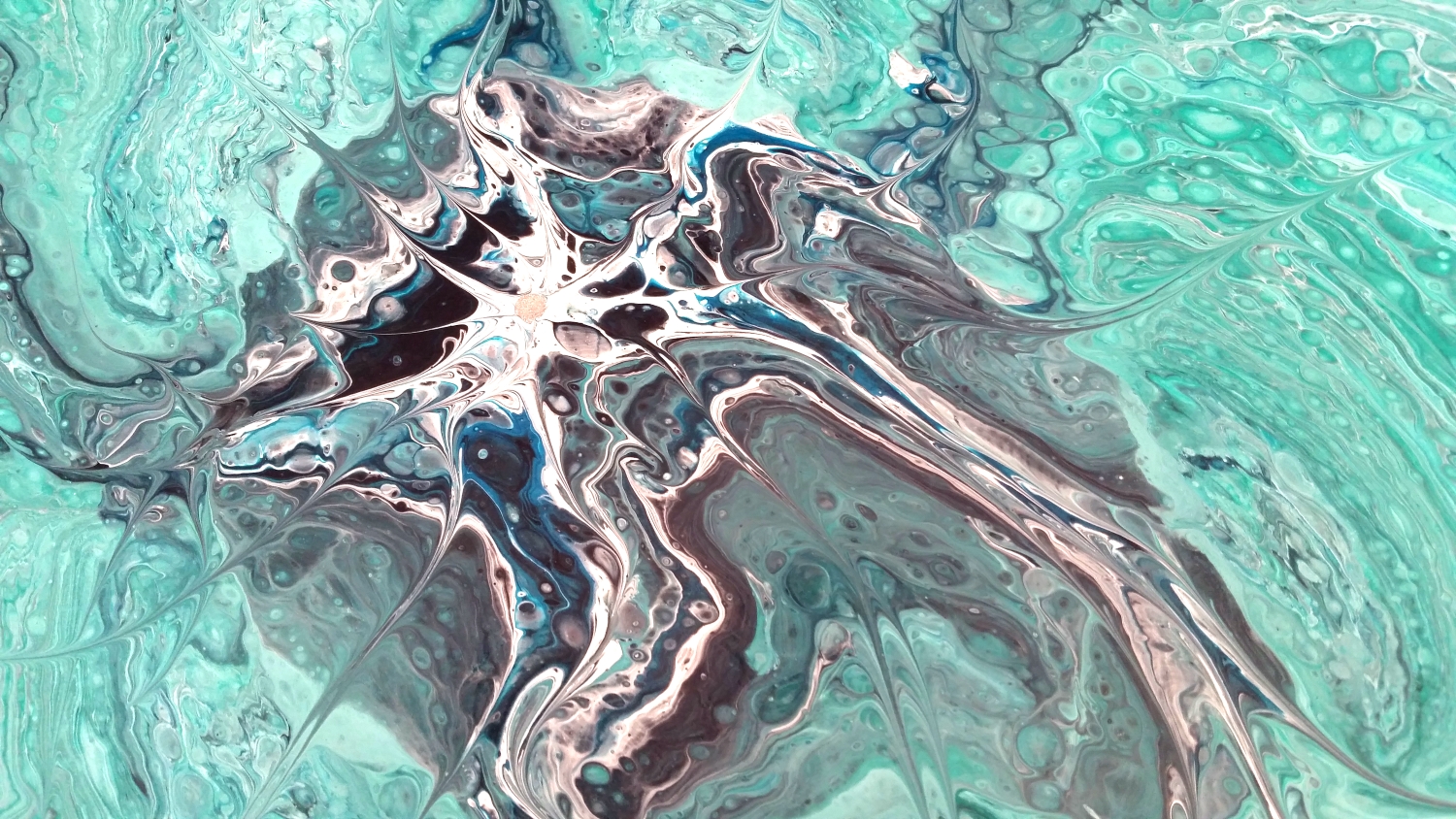 I cut the bottom off of a soda bottle bottom and cut triangular areas at the base of the bottom aligned with the valleys from the bottle bottom (these triangular openings allows the paint to naturally fill in the area under the bottle bottom). I also prepped my 24″ x 30″ canvas with Liquitex White AND Black Gesso. I placed the bottle bottom toward the center of the canvas and started my dirty pour. I was able to insert a bit of white paint in addition to the dirty pour cup paints a couple of times, and I think that helped brighten the center part of the geode. For this size of canvas, about 3/4 of a quart of paint was sufficient to cover the canvas (with a lot of run-off).
I tipped the canvas in a counter-clockwise and then a clockwise direction to let the acrylic paint flow to all the edges that I wanted without losing too much of the veined geode shape I wanted. CLICK the following photo to watch the process video of this acrylic pour that I've titled "Living Geode":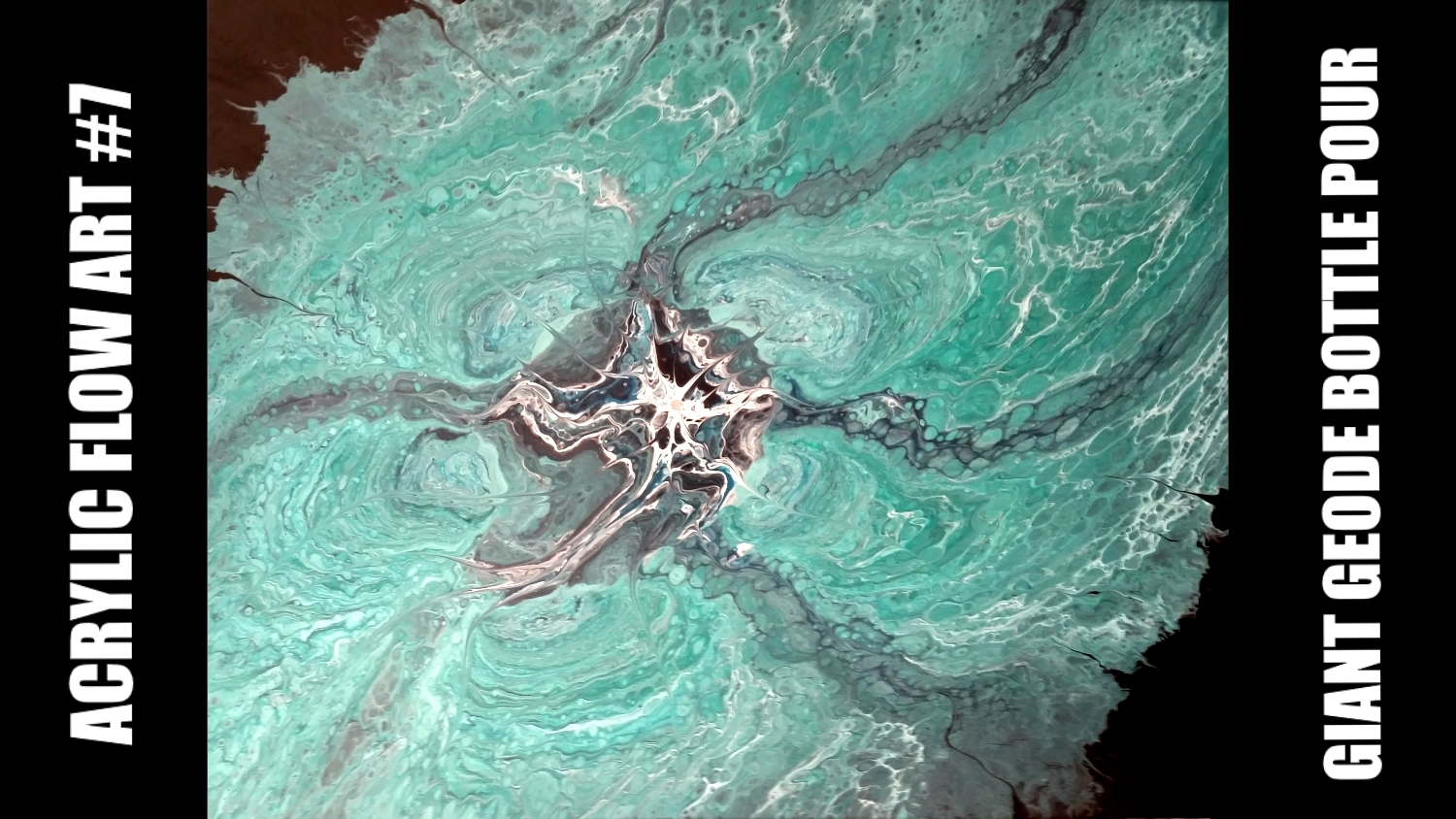 Disclosure: Many of the supplies I've used for today's project are linked. Some may be affiliate links, which means if you make a purchase I receive a small commission at no extra cost to you. I truly appreciate your support toward the costs of running this blog!
This acrylic flow art canvas is being entered into the following challenges:
Crafter's Castle Blog Anything Goes with Optional Elegant/Shabby Chic Challenge
Addicted To CAS Masculine Challenge
613 Avenue Create Anything Goes with Optional Magical or Fantasy Challenge
Crafts Galore Encore Anything Goes Challenge
Through the Craft Room Door Anything Goes Challenge
Lil Patch of Crafty Friends Anything Goes Challenge
Creatalicious Anything Goes with Optional Under the Sea or Fairytales Challenge
Word Art Wednesday Anything Goes Challenge
Simon Says Stamp Wednesday Make Your Own Background Challenge