I have been watching lots of acrylic flow art pouring videos on YouTube and really getting inspired by them. However, the drying time and the space that they require (for large pieces, which is what I want), was keeping me from jumping in. But this weekend, Mr. CraftyPaws went away on a boys' golf trip so I was free to pour away! I prepared for this mega flow art weekend by picking up in advance all the supplies I would need: four large canvases (measuring 24″ x 30″) that I picked up at Michaels during one of their 70% off sales; gesso (that I used to prep over each canvas); Flood Floetrol additive from Lowes (Home Depot no longer carries this); lots of fun acrylic paint colors; and empty plastic soda bottles.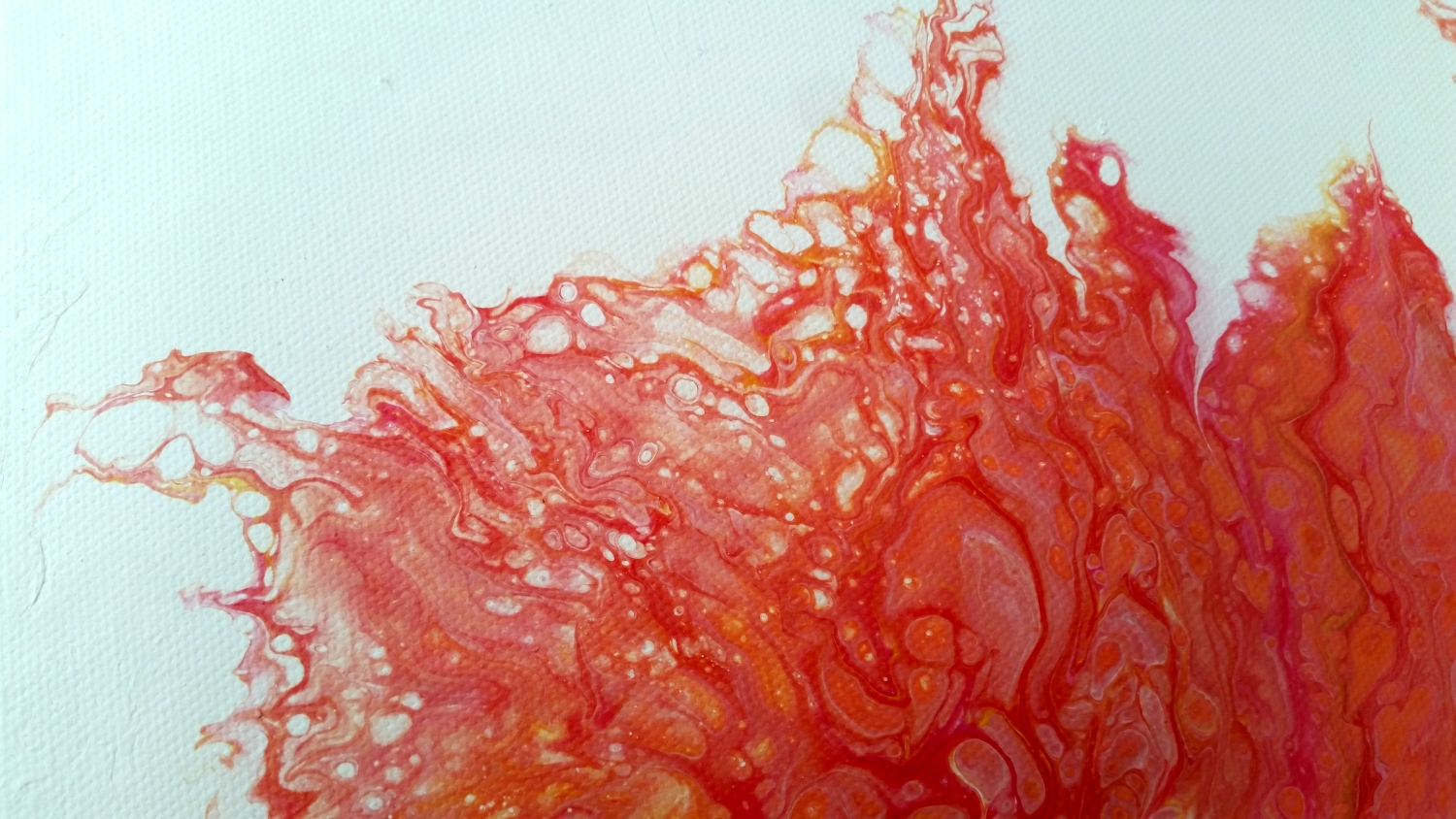 For this first pour, I wanted to use up lots of colors that I had previously mixed up for a little pouring session I had hosted for my mom and her friends (all in their 70s and 80s) a few weeks ago. These ladies had wanted bright tropical colors so this first pour used up all the left overs in cranberry red, red, magenta, citrus orange, lemon yellow, gold and white. I poured all these pre-mixed (1 part paint, 2 parts Floetrol, and a dash of water) colors into a large plastic to-go container for a brightly colored dirty pour. Then I went about cutting off the bottoms of three soda bottles, each with 5 hills and valleys at that bases. I next cut five little triangular openings at the cut off bases, aligning each with a valley; this allows the paint to pool into and underneath the bottle during the pour.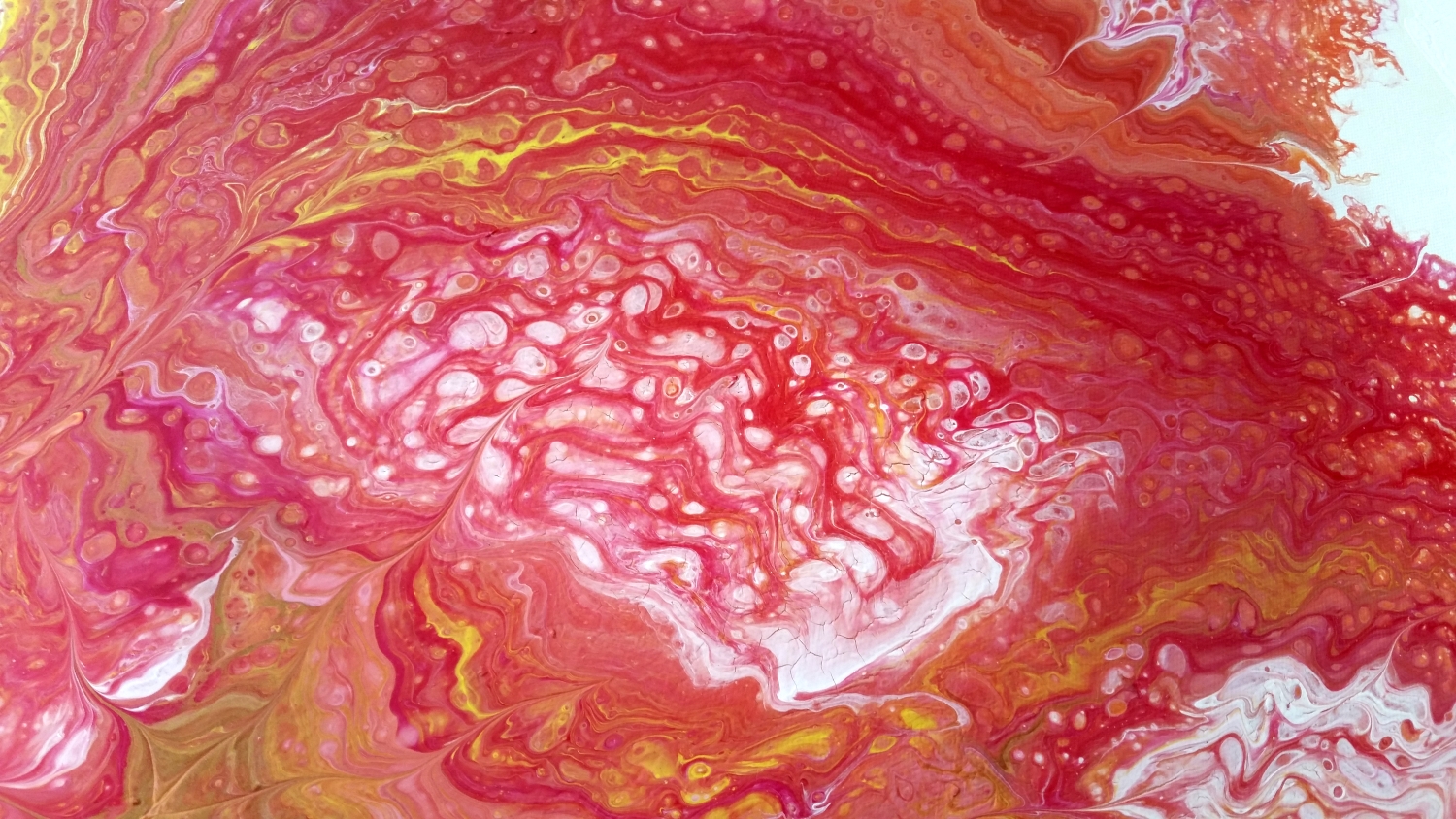 Then it was a matter of placing 3 bottle bottoms on a canvas and pouring over top of each of them. I had hoped to keep the general look of 3 flowers as I then tilted the canvas, but keeping track of 3 pours on one canvas proved to be too much for me. LOL As with most acrylic flow art, one never really knows how something one's imagined is actually going to turn out, and this one was totally different to what I'd been planning…but that's part of the fun and magic! To me, the final result looks like a fiery volcanic eruption and reminds me of that fantastical silly movie with Tom Hanks and Meg Ryan called, "Joe Versus the Volcano."
CLICK on the picture below to watch the process video of how I created this flow art titled, "Eruption":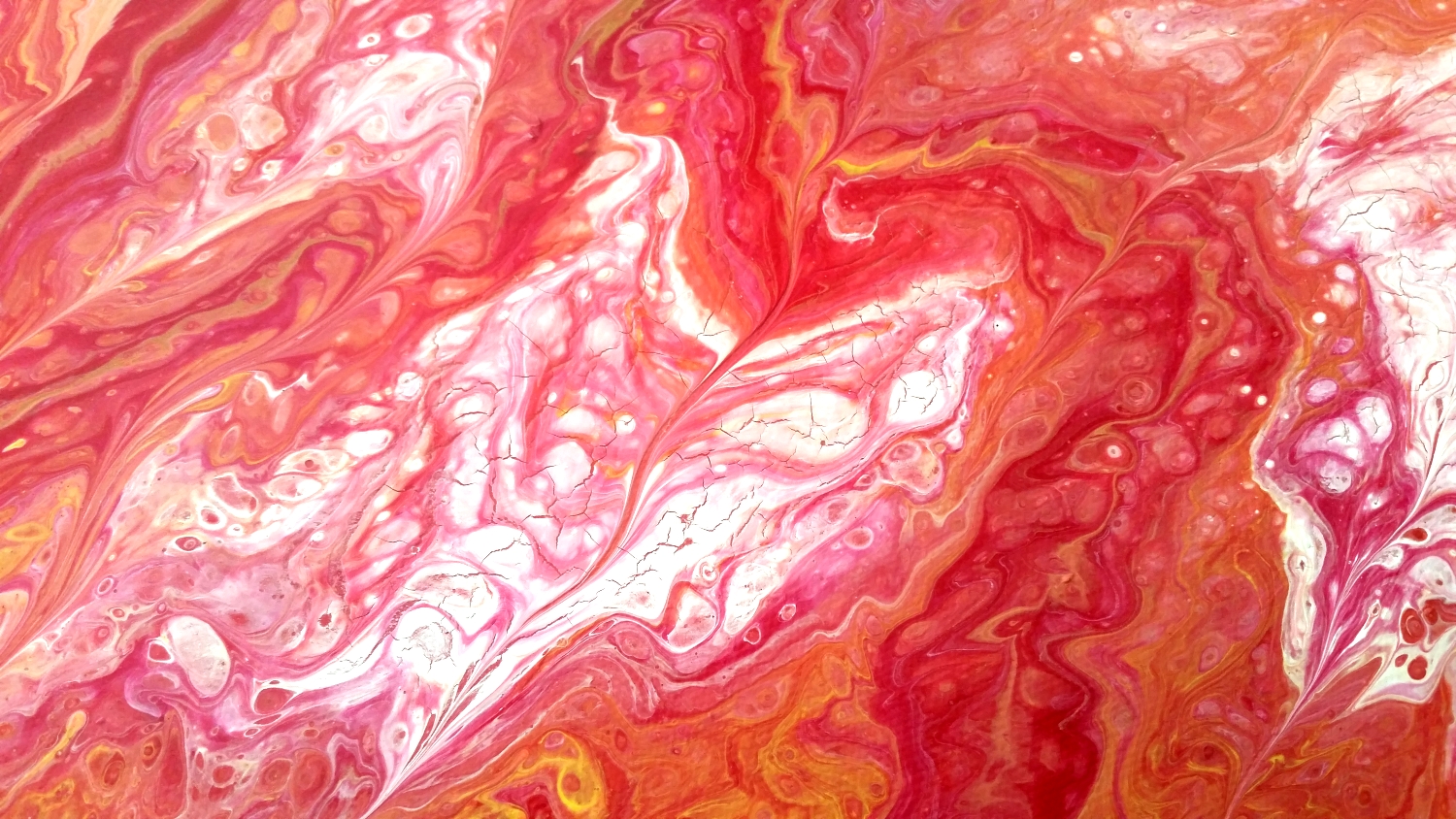 Disclosure: Many of the supplies I've used for today's project are linked. Some may be affiliate links, which means if you make a purchase I receive a small commission at no extra cost to you. I truly appreciate your support toward the costs of running this blog!
This acrylic flow art canvas is being entered into the following challenges:
Crafter's Castle Blog Anything Goes with Optional Elegant/Shabby Chic Challenge
Crafty Gals Corner Tropical Colors Challenge
613 Avenue Create Anything Goes with Optional Magical or Fantasy Challenge
Crafts Galore Encore Anything Goes Challenge
Through the Craft Room Door Anything Goes Challenge
Lil Patch of Crafty Friends Anything Goes Challenge
Creatalicious Anything Goes with Optional Under the Sea or Fairytales Challenge
Word Art Wednesday Anything Goes Challenge
Simon Says Stamp Wednesday Make Your Own Background Challenge