For this third installment of my acrylic flow art series, I wanted to share with you all the steps for cleaning and varnishing finished acrylic flow art paintings. Basically, if you want to protect the acrylic paintings, you need to seal the pores in the canvas and paint with some kind of finishing coat. Some folks use epoxy, but to do that properly, one needs a blow torch, and well…I didn't know if I wanted to make that kind of commitment (and deal with the smells and fumes). I decided to use a water-based Minwax Polycrylic Protective Finish in Clear Gloss (you can also choose, matte, or semi-gloss, but I wanted the high shine) to not only protect but also give a shiny wet-look that really makes the colors pop.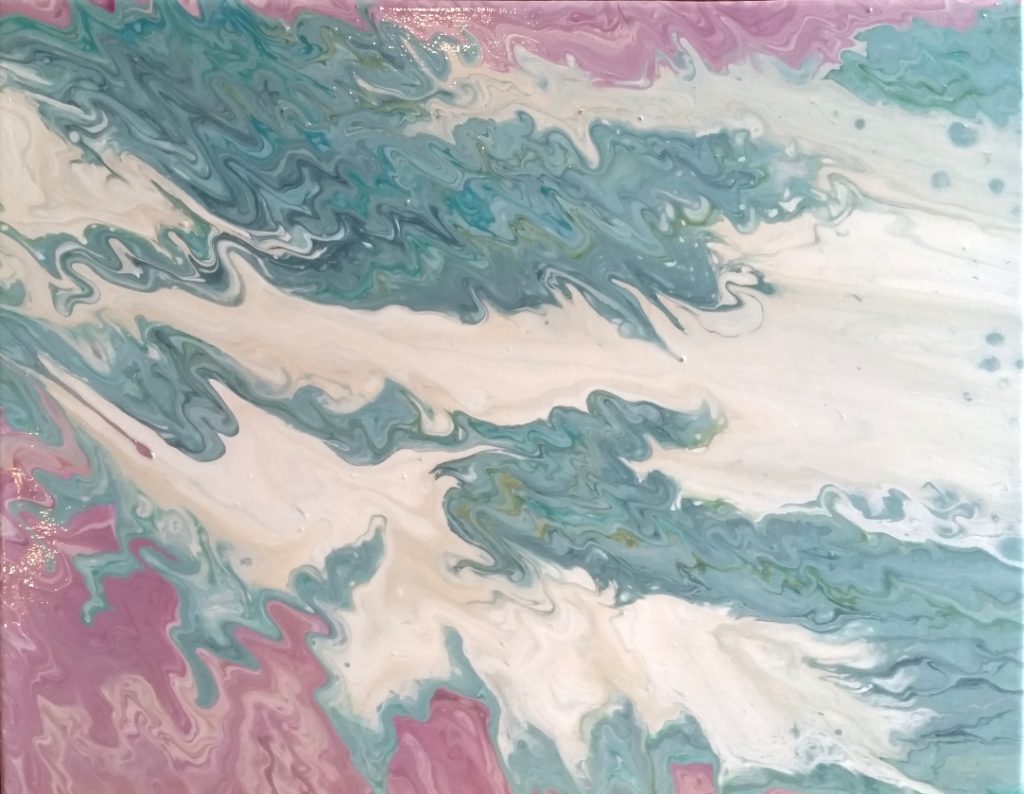 But first, after you've let your paintings fully cure (2-3 weeks), you need to clean the canvases of all additives like silicone (which would resist and create pitting if not removed before adding the polycrylic). To do that, I brushed on baby powder (others use flour or talc) all over the canvases and used a soft but firm bristle brush to really try to absorb all the silicone. Next I used microfiber cloths wet with water to fully wipe away all the baby powder and silicone. I rinsed and wrung out the microfiber cloths 4 times for each canvas, just to make sure they were completely clean. I let the canvases dry again for another 24 hours.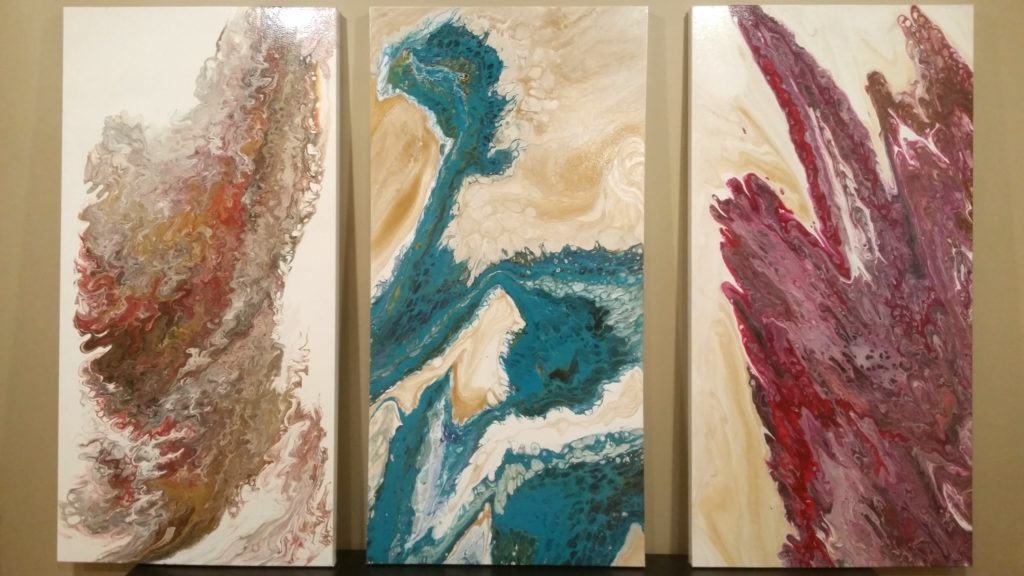 For the Minwax Polycrylic, I used a fine finish foam paint roller for the larger canvases and a soft bristle synthetic paint brush (not an expensive one) for the edges of the paintings and the smaller canvas. I put on 3 coats of the polycrylic on each canvas, waiting about 3 hours between coats. While it was not hard to wash my small paint brush, getting all the polycrylic out of the foam paint roller between each use would have been very wasteful and hard to do. So here's a tip for you: wrap your painting tools in plastic wrap between uses. This keeps the brushes and foam rollers from drying out and getting hard. This worked like a charm for me.
The following is a video sharing the process of cleaning and varnishing my paintings:
This white, jade and rose colored acrylic pour is being entered into the following challenges:
Word Art Wednesday Anything Goes Challenge
Creatalicious Anything Goes With Optional All that Glitters Challenge
Card Mania Anything But a Card Challenge
Lil Patch of Crafty Friends Anything Goes Challenge
Crafty Gals Corner Anything Goes Challenge