This is the second time I'm creating a wave painting through acrylic flow art, ergo the name of the piece, "Wave II". This time I am making this for my own home (as opposed to commissioned pieces), and I started with a large, 36″ x 48″ canvas to create a kind of "view" in our guest bedroom.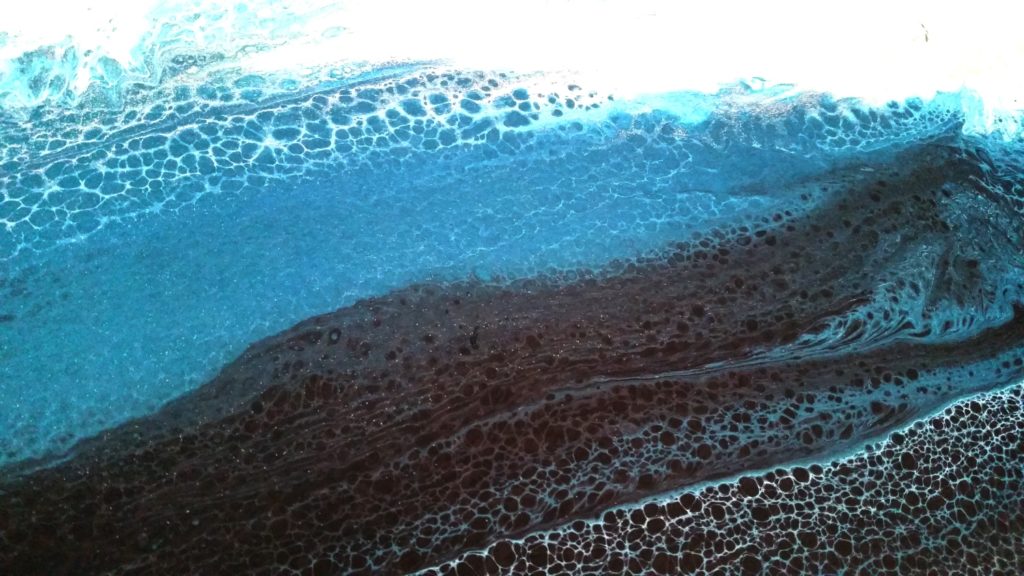 I started first by gessoing the entire canvas with Liquitex Basic White Gesso. After a couple of hours of dry time, I mixed my 4 acrylic pour mixes, 1 part paint to 2 parts Flood Floetrol with a squirt (yes, that's the technical term – LOL) of Silicone Treadmill Lubricant. To cover about 2/3rds of the background, I mixed up about a quart of white. One of my favorite ocean-y blues is the Artist's Loft Metallic Cobalt Blue Acrylic Paint so I mixed up about a pint of that. To add a fun sparkle to the piece, I mixed up about a cup of Martha Stewart Silver Glitter Acrylic Paint. Then I had a couple of deep dark blues (sorry I don't remember the brand) that I mixed with black (about 1:3) to create an almost black pour.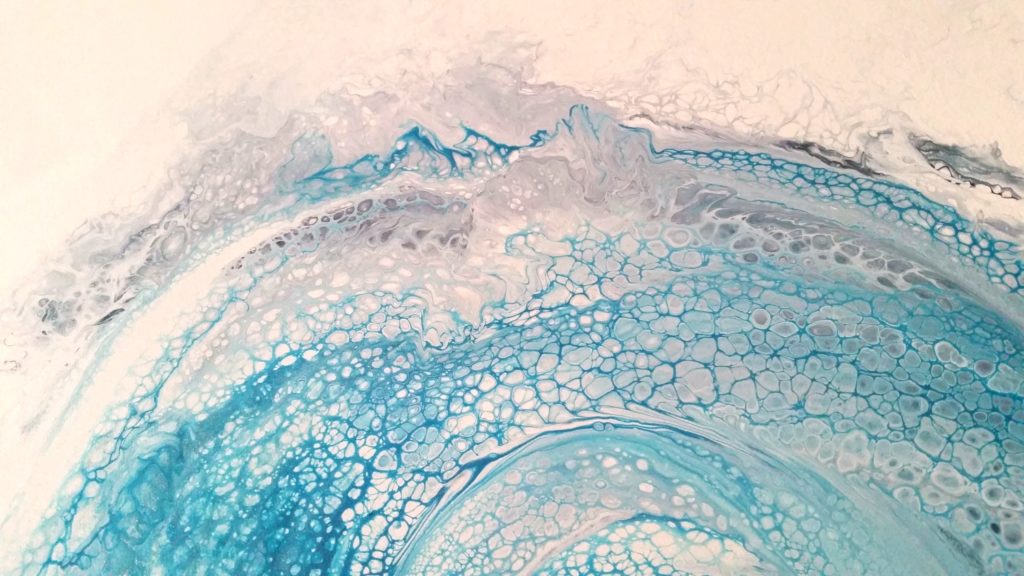 I poured and brushed out the white on the top 2/3rds of the canvas, including the edges. Then I poured out the other paints, going from silver to cobalt and blue-black from top to bottom on the lower 1/3rd of the canvas. Next I did a bunch of swiping with an Ateco offset baking spatula, wiping off the spatula after every swipe so as not to muddy the paints. It is truly magical how the cells form after each swipe.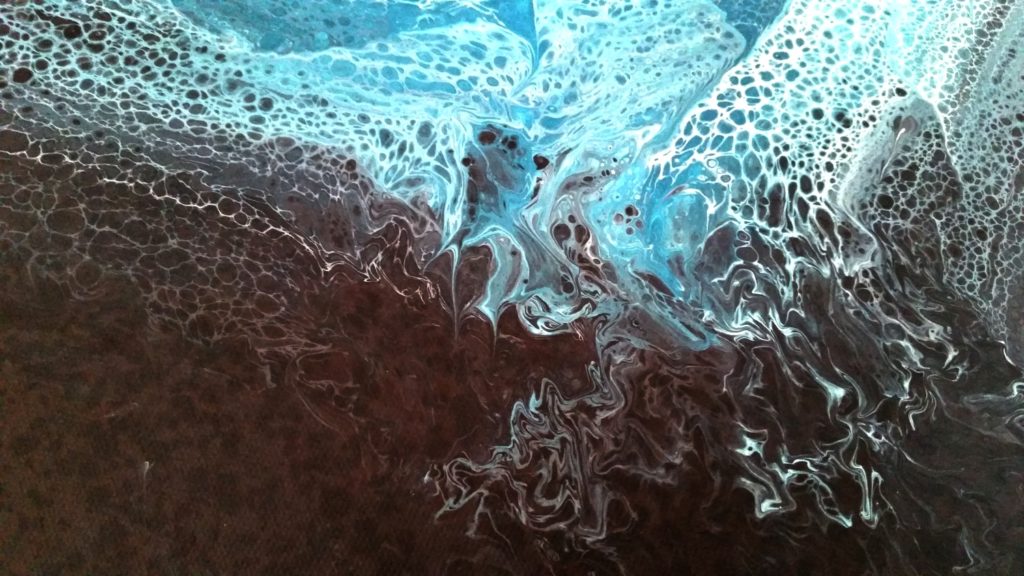 When I was fairly happy with the amount of mixing and separation of the colors, I paused to grab my blow dryer. I set the temperature to cool and turned on the power to high to push the top layers of paint even further. Some folks like more control, and manually blow through straws, but I find that for the large canvases I do, a blow dryer is much more effective. I love being able to move the paint without actually touching it to create softer tendrils of paint. I also push a lot of paint to the edges of the canvas to avoid getting too thick a layer in the middle, which sometimes leads to cracking or crazing as paintings dry.
Please click on the following picture to watch the process video (I apologize for the shakiness; I couldn't find my portable tripod so I'm doing this hand held):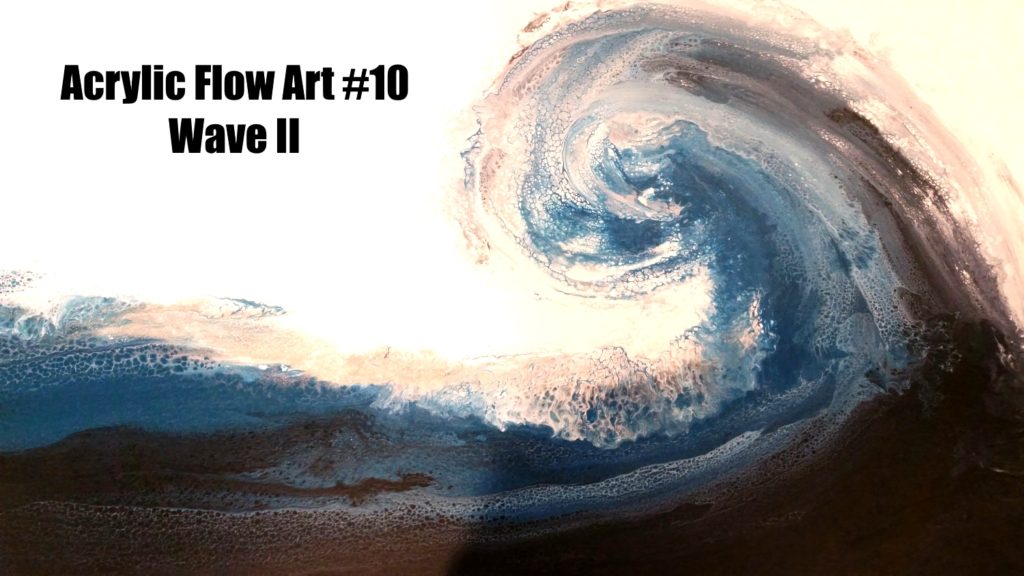 Disclosure: Many of the supplies I've used for today's project are linked. Some may be affiliate links, which means if you make a purchase I receive a small commission at no extra cost to you. I truly appreciate your support toward the costs of running this blog!
This painting is being entered into the following challenges:
613 Avenue Create Anything Goes with Optional Clean and Simple Challenge
Word Art Wednesday Anything Goes Challenge
Creatalicious Anything Goes with Optional Circles Challenge
Lil Patch of Crafty Friends Anything Goes Challenge
Through the Craft Room Door Anything Goes Challenge
Crafts Galore Encore Anything Goes Challenge
Crafter's Castle Anything Goes with Optional Fall/Halloween Challenge
The Corrosive Anything Goes Challenge