Get out those Washi, tissue, and decorative duct tape (I'm going to use shorthand in this post and just call all of them, Washi)! They are so cute that we keep buying them, right?!  Don't just use them to package up happy mail. Really use them!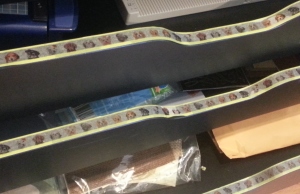 I decided to decorate a set of Ikea Vika Alex drawers in my craft room, by picking my favorite to line the top lip of the drawers. When they are closed, it adds just a sliver of color and when I open them to grab some crafty tool, they make me smile!
Next I wanted to decorate my desk set and other items that I would be able to see all the time, as they stay on top of my work and craft desks. I decided to use the same Washi on the base of my OttLite. Then I moved on to the base of my stapler and tape dispenser. What next? Oh yes, my pencil cup could use a little strip too!
I had a little plastic stackable storage container that I decorated with lots of different Washi in red, black, and white colors. This would coordinate with my desk set without being "matchy matchy."  This turned out super cute and practical with compartments for binder clips, paper clips and push pins–all great to have on hand on my desk.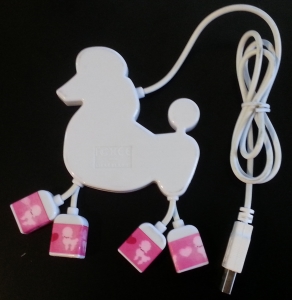 I also used some cute Washi to decorate my USB extension cord, which happens to be shaped like a poodle–LOVE!  It came out looking like she had pink poodle Uggs or something (at least that's what it looks like to me–LOL!) Just a HINT: Given the translucent nature of Washi, I noticed that Washi on white objects came out much clearer than on black backgrounds.
The drawers of my work desk are made of metal so I thought I could do with some cute Washi magnets. I used some scrap pieces of magnetic sheeting that I picked up from the hardware store (they are supposed to be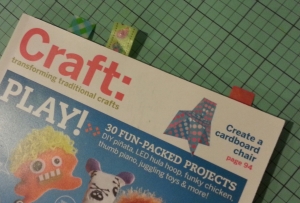 used to cover up heating or air conditioning vents and sell for about $3-4 for three large 8″ x 15″ sheets), and I just covered little strips of it with Washi. As cute as your Washi is, is how adorable these magnets come out. 😀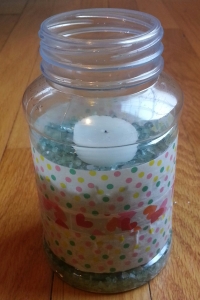 A quick way to also mark pages in a book or magazine without folding the corners? No problem! Use a little strip of Washi, doubling it up, but leaving a little bit uncovered to create a little post–it type flag. How cute!  This type of practical decorative use is obviously great for daily planners and the like too.
Lastly, I thought I would decorate a mason canning jar (you could also use upcycled spaghetti jars, or any small vase) to make a candle or votive holder.  Just use some translucent Washi (most are translucent although there are some tapes that are opaque) and make a fun pattern or just make stripes and the candle light will shine through the paler parts of the Washi. I filled the lower part of mine with green glass vase filler (found in the floral section of craft and home decor stores) so that my votive candle would be more stable and easier to light from the top of the jar.
The following is a video share of these ideas with some process tips:
These Washi projects are being entered into the Simon Says Stamp Anything Goes Monday Challenge and
The canning jar candle holder in the Moxie Fab World Cool Canning Jars Challenge
Thanks for stopping by. Please subscribe if you wish, and have a great day! WOOF