I had so much fun making funny cards yesterday and had so many more ideas that I decided to make an even 10 cards to send to my friend, Beth (YT: Bethsscrapbookroom), for her challenge in support of young adults with multiple sclerosis.  Again I used the Diemond Dies kitchen utensils die set for all of the cards.  If you are making any purchases at Diemond Dies, please remember to use the coupon code: thankskristina for an extra 10% off your entire order and free worldwide shipping on orders of $35 or more.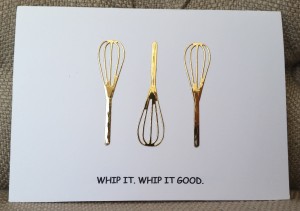 You can't pass up the opportunity to switch "wish" for "wisk" when you are making up puns.  I made the silly birthday card by coloring up a cake stamp from the Fiskars Birthday Party stamp set with Distress Markers in Spun Sugar and Worn Lipstick.  I also used those inks to do a little water coloring to create a base for the cake to sit on.  To add a kind of festive confetti thrown into the air feeling (as well as connect the pink and black from the cake and whisks), I also splattered Worn Lipstick, Pumice Stone, and Black Soot onto the card with a wet paint brush.  Just adding the whisk dies illustrates the pun sentiment, "Whisking You a Happy Birthday."
I'm a 70s baby and grew up rockin' to 80s tunes, like Devo's "Whip It" and Michael Jackson's "Beat It." So when I first saw the whisk die I knew that I had to use it with lyrics from one of these songs. This "Whip it. Whip it good" card could just as easily been captioned with "Beat it. Just beat it."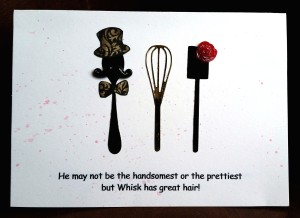 I just love that whisk die so I decided to highlight the delicate lines of it in this next card.  I saw the idea in google images and just made it my own by embellishing the spoon with a plastic mustache, top hat and bow tie and the spatula with a red rose. It's a little goofy, but I thought it would be a good card to send when someone wants to send a note of encouragement about everyone having a special something about them. 🙂  The sentiment reads: "He might not be the handsomest or prettiest, but Whisk has great hair!"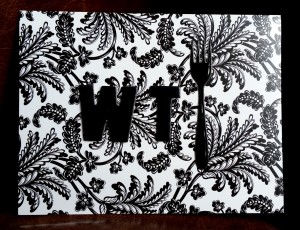 The small card with the damask pattern base was super simple but may be considered a little crude by some. If you are one of those folks, I apologize. However I thought on certain occasions this "WT [fork]" card would be just the right thing to send.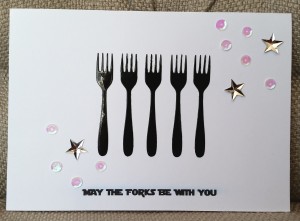 My favorite of all these CAS cards is the super simple one that includes a reference to a famous Star Wars quote (yes, I'm a geek at heart). The line of 5 forks with the sentiment, "May the forks be with you" is such a horrible pun, but I love it! To add some visual allusions to the movie I also added some pale pink pearlescent sequins and silver sequin stars. I thought this would be a good card for someone fighting multiple sclerosis to give or receive.  It's also a great all-occasion kind of card that I know I'll be making again. 🙂
The following is a video share of these cards:
The Whisking You a Happy Birthday Card is being entered into the CAS-ual Fridays Watercolor Challenge and
Less Is More Pink and Grey Colour Challenge
Thanks for stopping by and have a great day! WOOF