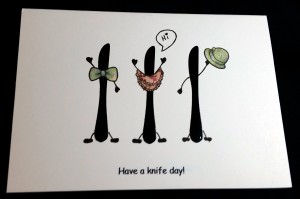 I had a blast making these CAS cards for another wonderful challenge hosted by my friend Beth (YT: Bethsscrapbookroom). This month we are making cards for young adults with multiple sclerosis.  I thought they might enjoy some light-hearted cards to use so I decided to make some funny cards, playing off puns whenever I could think of them.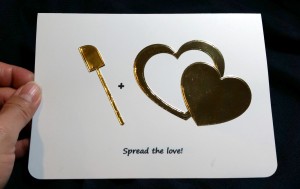 For this first set (there are another 5 coming tomorrow), I used the following new dies from Diemond Dies: Kitchen Utensil Die Set, Nesting Ovals Die Set, and Nesting Heart Die Set.
Remember to use the Diemond Dies coupon code "thankskristina" for 10% off your entire order and free worldwide shipping on orders of $35 or more.
For the "Wanna Spoon" card, I just doodled a bowl of ice cream (which I colored with Distress Markers) and used a spoon die cut  and a speech bubble so it would look like the spoon was propositioning the bowl of ice cream.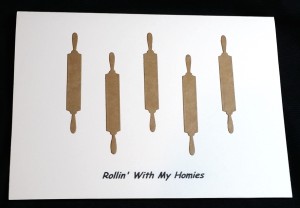 For the "Have a knife day!" card, I die cut out 3 knives and doodled in some limbs and dressed them with some clothes which I had stamped out on scrap patterned paper and fussy cut out from the Some Odd Girl "Hipster Pets" stamp set.
For the "Spread the love!" card, I die cut out a spatula and two hearts out of gold foil paper and just drew in a little plus sign. Easy peasy!
For the "Rollin' With My Homies" card, all I had to do was die cut out 5 rolling pins and just position them in a way that I thought created a nice visual rhythm.
For the "Run Away With Me!" card, I die cut an oval out to make a man/dish.  I created arms for him using the knife die, and I used more clothes from the Hipster Pets stamp set. I also added some googly eyes and a plastic mustache to give him a gentlemanly look. LOL For the woman/spoon, I stamped in her face using the Lawn Fawn "Love You S'more" stamp set and added a little plastic bow to give her a feminine look. I created her arms just using the handle of the wooden spoon die. To give them a sense of movement I doodled in legs that were taking strides.
The following is a video share of these cards:
The Wanna Spoon? card is being entered into the
Naughty or Nice Love/Anti-Love Challenge
The Pink Elephant Be My Valentine Challenge
The Spread the Love card is being entered into the CASology LOVE Challenge
Thanks for stopping by and have a great day! WOOF