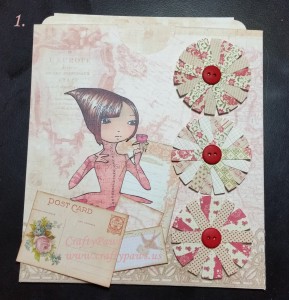 Ok, how much do I love this Santoro "If Only" stamp?! She is like a fairy princess with a hint of a Steampunk edge. I normally don't make cards in bulk, but these pocket cards that I learned how to make from a tutorial from my friend, Jamie (YT: ScrappinStampers), are totally addictive. These are another DT project for Jamie's Not2ShabbyShop.  Although this stamp is currently out of stock, the Not2ShabbyShop has other fantastic Santoro stamps. My readers can use the coupon code: "CRAFTYPAWS" for 10% off any purchase!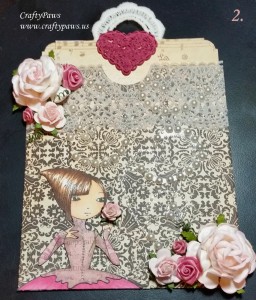 All the cards are made with various 6″ x 6″ papers from my stash.  Sorry I don't know the names, as they were all gifted to me. The first card is fairly flat (good for mailing), and I got to use some pretty paper strip and button flowers from the girls' paperie "tinsel & twig" collection. The second one is more traditional, with a damask background, flower clusters, flat back pearl swirls, and a bold lace sticker.  The Copic colors I used are: Skin: E50, 51, and 53; Blush: R30; Rose and dress: R83 and 85; and Hair: E55, 57, and 59.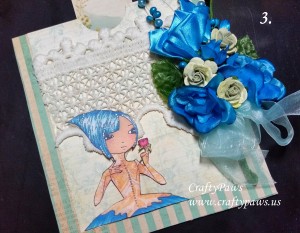 The third one has a beautiful lace remnant, which looks, to me, like the architectural arches that sometimes wrap Moorish courtyards.  It also has a blue and green flower spray tied with a sheer organza double bow that references roses growing up a pillar (at least to me–lol).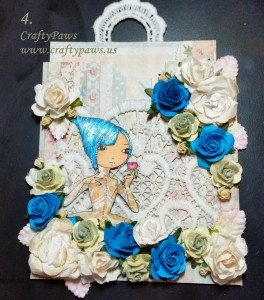 For the last card, I was going for an over-the-top English garden feel, but with a funky twist of blue (my favorite color). I used more of that same lace remnant, which is supposed to reference an elaborate lattice gate, and five different kinds of flowers to frame my favorite colored and paper pieced version of this stamped image. Along with paper piecing the bodice from a scrap from my scrap box, I used the following Copic colors: Skin: E50, 51, and 53; Blush: R30
Rose: R83 and 85; Leaves: YG25 and 17; and Bright Blue Hair: B00, 02, 04 and 06. On this small card there are some 27 roses and 6 pale pink and green leaves. That's a lush garden in my book. 😀
Card 4 is being entered into the following challenges:
Simon Says Stamp Monday No Rules Challenge
Simon Says Stamp Wednesday Texture Challenge
The Pink Elephant Anything Goes Challenge
The Inspired by Stamping Color Challenge
MarkerPOP Blog Bright Colors Challenge
Thanks for stopping by and have a great day! WOOF