I have been trying to slow down on crafting to give my back, neck and shoulders a bit of a break, but there are some card challenges are too tempting to pass up, whether because they are for children, an inspirational YT friend, or a fellow dog (in this case poodle) lover.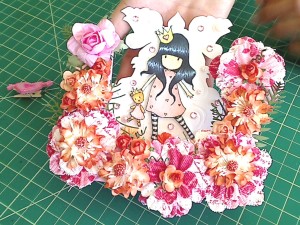 The first card was for a little four year old girl named Amrita, who loves princesses and the colors orange and pink. Her mom (YT: sujafriendlover) asked that the cards be "different" (not the standard A4 card) and include various embellishments (I don't recall which or how many because I kind of went nuts on all of that so I stopped counting–LOL). I really like how the open center step card provides lots of levels to embellish.  I used a Gorjuss Girl stamped image called "Party Princess" and lots and lots of fabric and paper flowers, a tiny heart embellished clothes pin, and a sweet heart border sticker from the "Crazy for You" set from We R Memory Keepers.
The second birthday card was for a really talented, inspiring colorer all the way in Indonesia, Indah (YT: missambercrafts), who loves cute cards and pink. She asked that a banner be included so I used the same sticker set above for the LOVE banner and colored up a Penny Black fairy from the "Mimi in Paris" set in soft pinks and glittery Stickles.  The extra "umph" came from the super sweet wooden Celebrate It brand cupcake that I "re-made" softer (it started life a harsh red). Looks good enough to eat!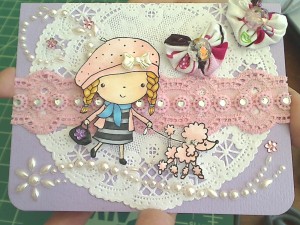 Last is an any time card for a dear Youtube friend Bev (YT: NewCrafterBev) who is a fellow poodle lover. I used another image from the Mimi in Paris set for this one.  I just had fun layering and embellishing starting with a white paper doily, pink eyelet lace, bling trim, pearl flourishes, and pretty handmade fabric hearts from my friend Susumu (YT: NerdyGeekCrafter). That's the only danger with the cutsie style; sometimes it's hard to stop embellishing.
So much for slowing down, eh? I can't help myself. I just love crafting, especially when I can make something from the heart for someone who I know will appreciate the love and care that card making can embody.
Tips for fussy cutting: Change your exacto knife blade often–that's the only way I know to accomplish those intricate inside cuts (check out that leash and the handbag). And if you accidentally cut through, try glossy accents to "glue" the two ends back together.
The following are the YT videos sharing these projects
Please subscribe if you like, and thank you for stopping by! WOOF