I am working on a large Steampunk project. As I go along, I thought I would share the different components with you all.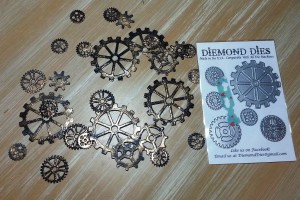 To transform the small gears that I cut using my Diemond Dies Steampunk Gears dies, I used multiple layers of heat embossing. I first painted the cut chipboard (salvaged from a cereal box) with black acrylic paint. Then I tried embossing with a Zing charcoal embossing powder and then a light sprinkle of Ranger Queen's Gold embossing powder. To get that light sprinkle, I transferred some of the powder into a salt shaker I picked up at the Dollar Tree)!  Other gears I heat embossed with Recollections clear embossing powder and added a light sprinkle of the gold again. My favorites were a combination of the clear and charcoal with a light touch of the gold over top. Each gear is unique and, together, they make for a great, realistic collection of small faux metal gears!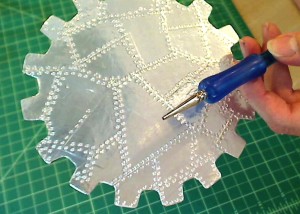 For the larger gear from the mini album Diemond Dies Steampunk Gears die set, I used Shurtape from the hardware store to piece together little metal sheets. It comes in a big roll, is already adhesive backed, and is easy to cut with scissors. I used the end of an old paintbrush to make faux rivet marks, but you could use the end of a mechanical pencil or a retracted ball point pen. The last step is to just dab and spread some black acrylic paint thinly over the top, making sure to get the black paint into the rivet marks. While this process is a little time consuming and detailed, the results are well worth the effort.
NOTE: As a guest design team member for Diemond Dies, I am pleased to be able to offer you 10% off your entire purchase and FREE shipping worldwide on orders over $35! Just use the code: thankskristina at check out.
The following is a video share of these gears, along with links to the tutorials that I followed to create these faux metal gears:
If you want to check out one more faux metal technique tutorial, CLICK HERE
Thanks for stopping by, and have a great day! WOOF