For my second guest designer project for The Greeting Farm, I decided to jump on the slimline card band wagon and crafted an over-sized slimline anniversary card for Mr. CraftyPaws using three adorable couples from the #couplegoals and Forever With You stamp sets.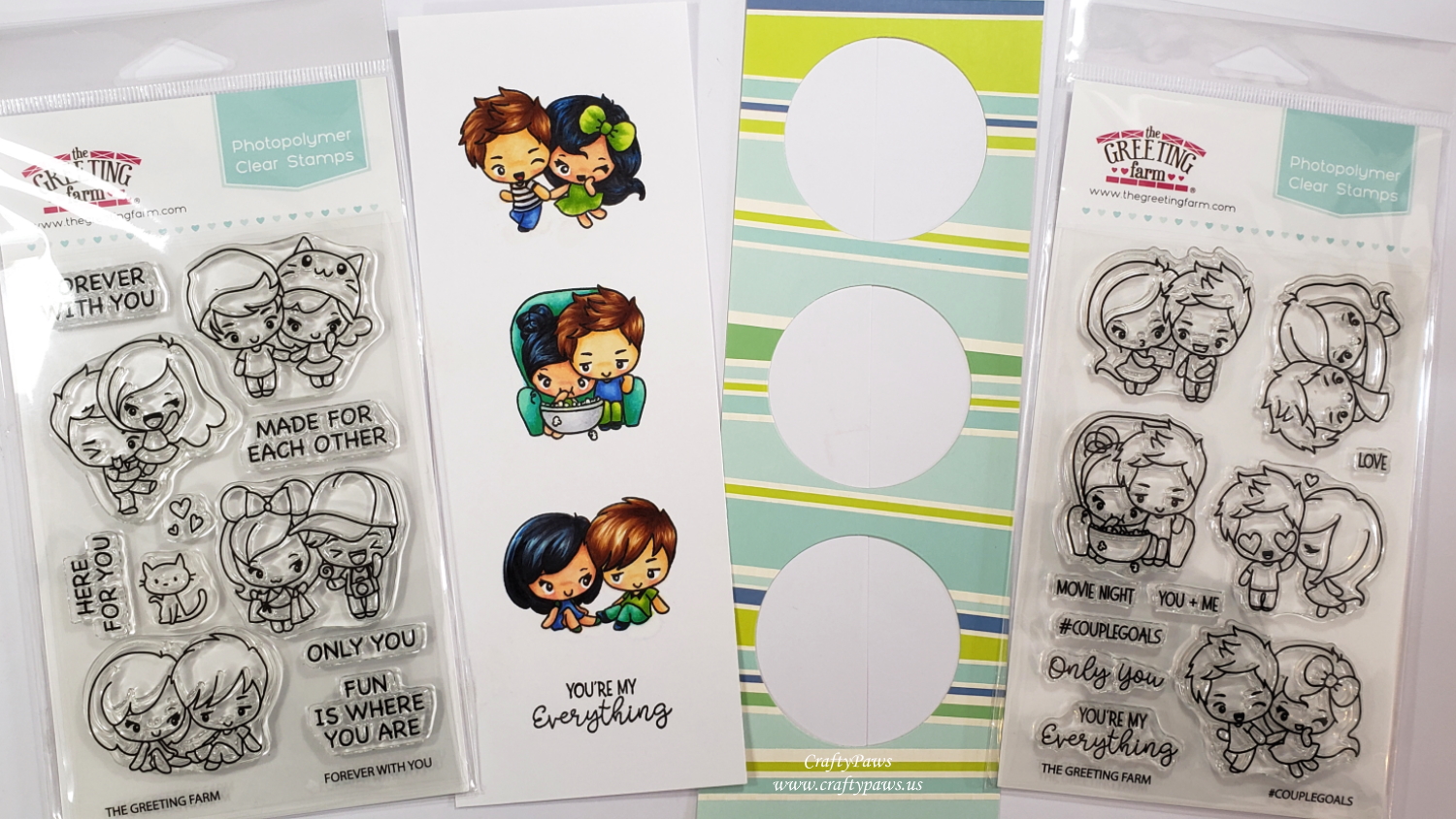 Without using any specialty slimline dies, I was able to make one of my favorite styles of card — a slimline card from a 10.25″ x 3.25″ scrap of patterned cardstock.  I used a 2.25″ diameter circle die and cut 3 circles from the patterned cardstock with the centers of the circles at 2.25″, 5″, and 7.75″ (watch the video below to see the measurements and tips for how to easily and perfectly die cut this design).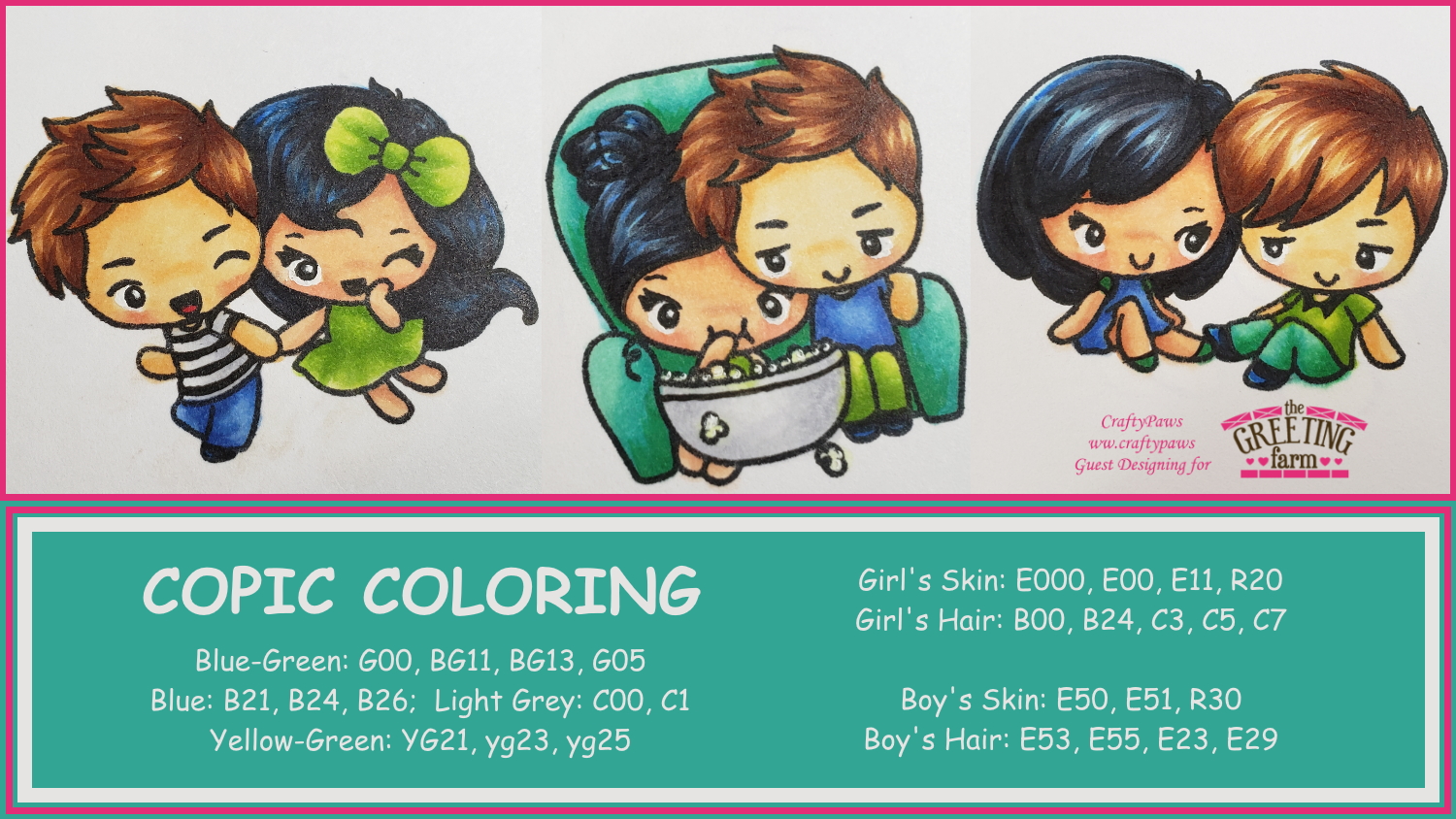 I Copic colored three images that I thought represented some of our favorite simple things that Mr. CraftyPaws and I do together: go for walks walk, watch television in the evenings, and sit and have long chats. The colors I chose were inspired by the patterned cardstock I used, and these are the Copic colors: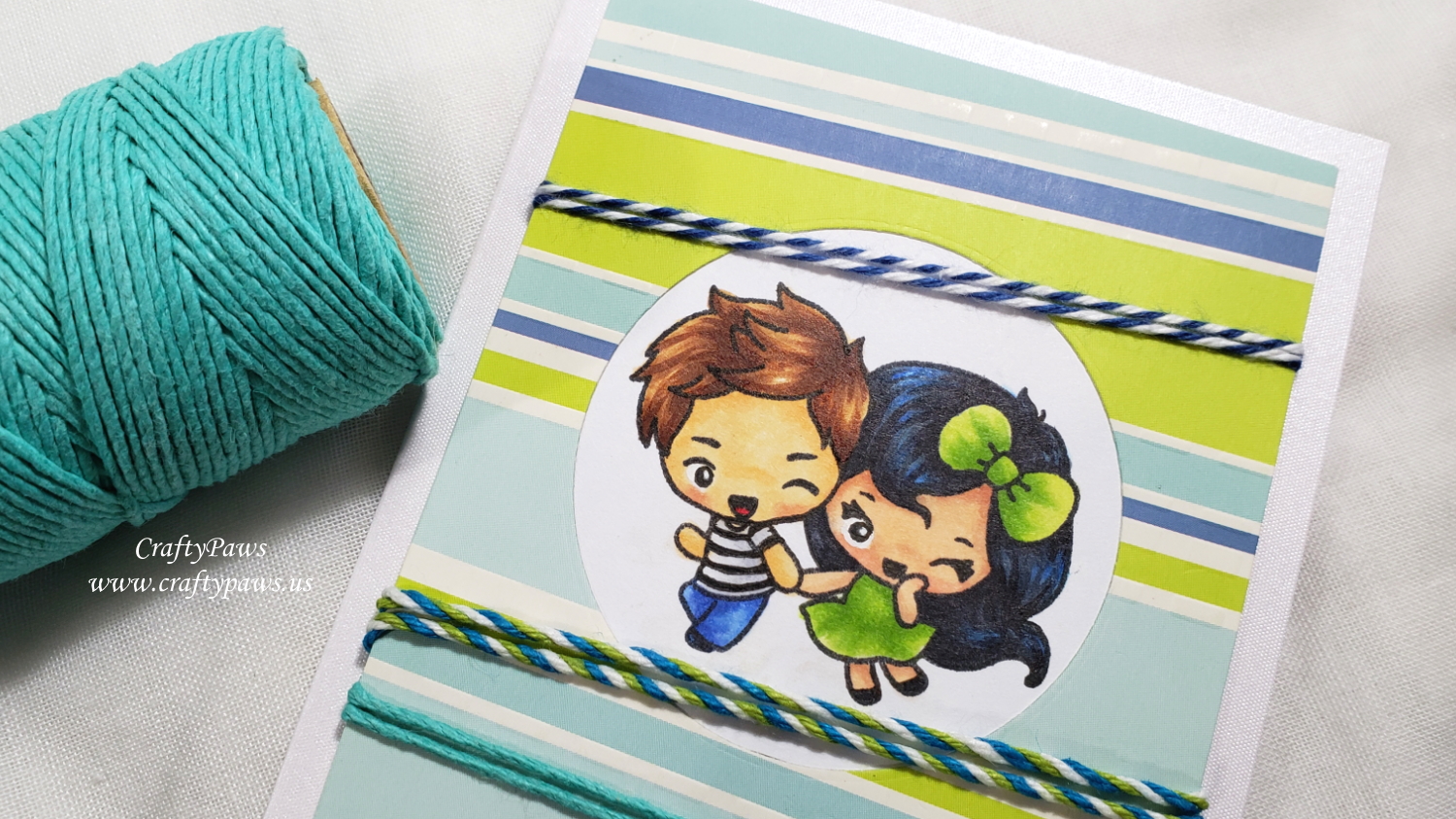 Girl's Skin: E000, E00, E11, R20
Girl's Hair: B00, B24, C3, C5, C7
Boy's Skin: E50, E51, R30
Boy's Hair: E53, E55, E23, E29
Yellow Green: YG21, YG23, YG25
Blue Green: G00, BG11, BG13, G05
Blue: B21, B24, B26
Light Grey: C00, C1
Popcorn:  Y000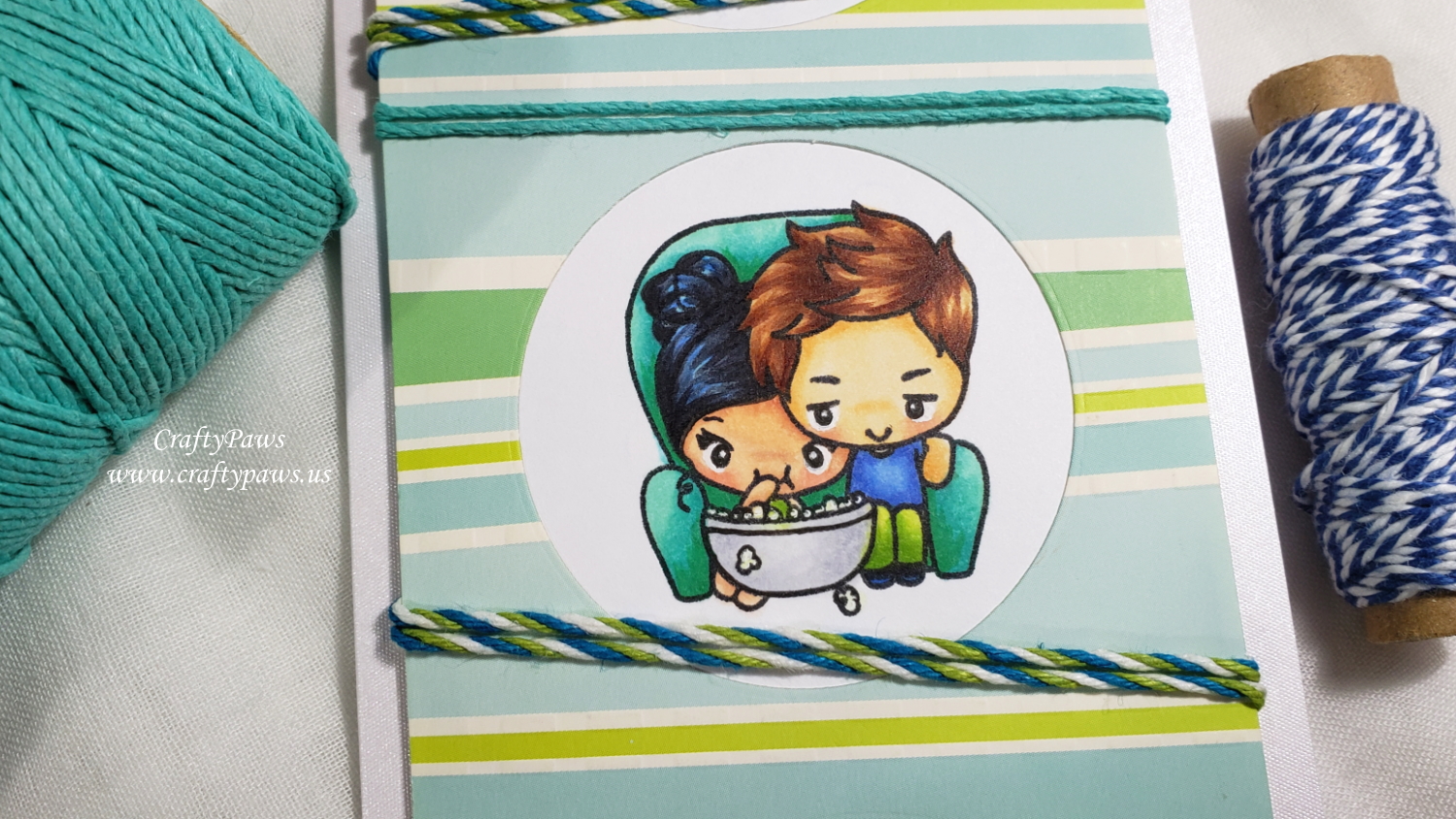 I had stamped out all the images on one long piece of Georgia Pacific Premium Card Stock, so I cut these apart to fit behind each of the circle openings. When I realized the area around one of the images was not large enough to fill a circle window–I was so upset! I took a deep breath and convinced myself to not throw away the colored image and just keep going with it. I patched the gap with a scrap of more Georgia Pacific card stock from behind, and I took a break from card making to mull over how to fix this mistake while eating lunch.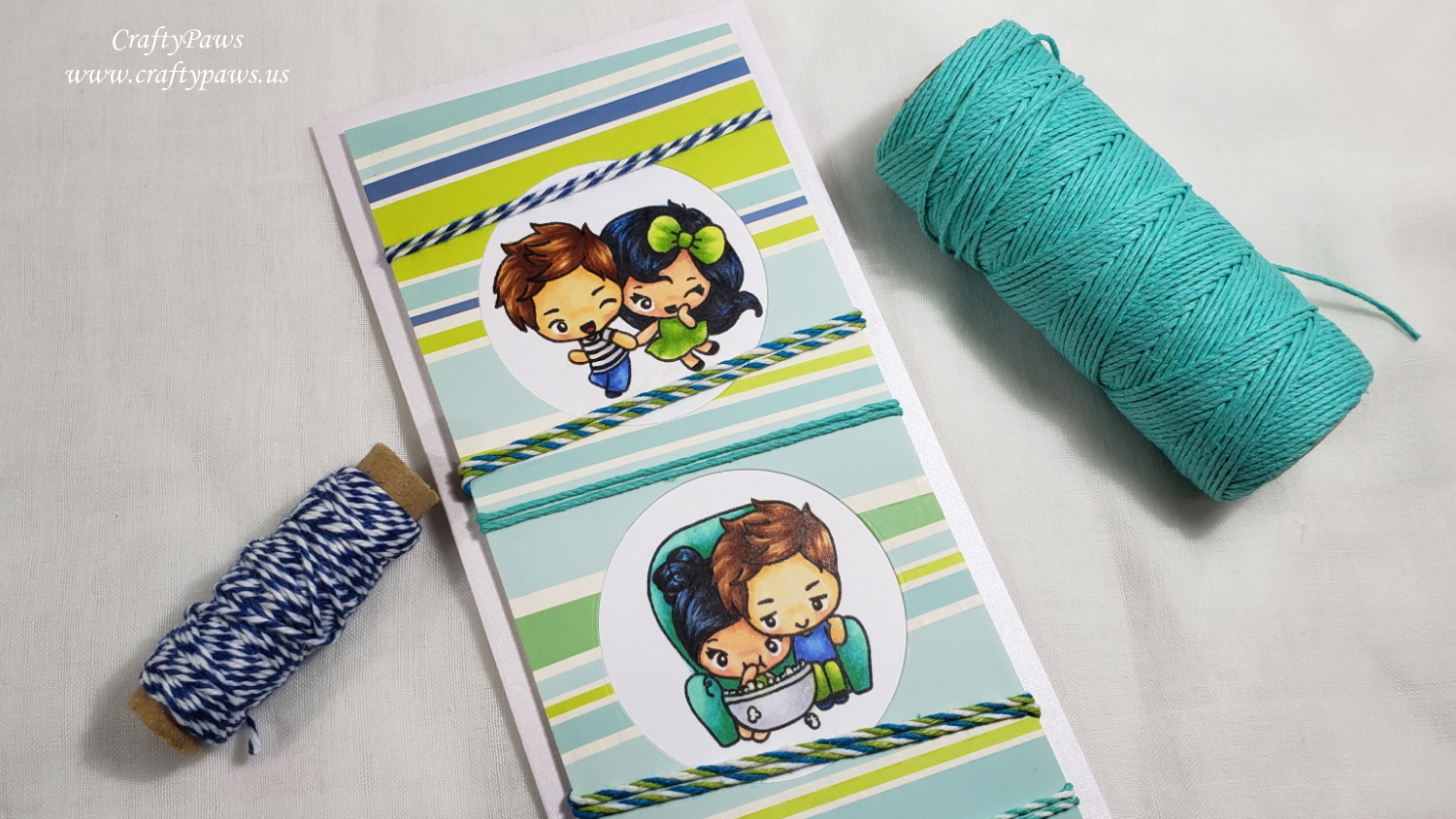 When I got back to my craft room, I was reinvigorated! Again I was inspired by the modern striped pattern of the card front. I decided I could add different coordinating colors of twine to not only cover up my mistake but also add some fun texture and interest! In my twine hoard (whenever I get anything wrapped with a bit of twine I save it, and when the Dollar Tree sold baker's twine I bought a bunch), I found a pretty teal twine; a navy and white baker's twine; a lime green, turquoise and white baker's twine scrap; and a teal and white scrap of baker's twine. I took lengths of each type of twine and wrapped the card front with double rows of the twine. I taped down the ends to the back of the card front, and I alternated the placement angles and distances of the twine rows, mimicking the striped pattern of the card stock.
To ensure that the card front was well supported and level when adhered to the card base, I used a bunch of foam dots on the backside of the card front all around the taped-on twine.  I also matted the sentiment, "You're My Everything" (from the #couplegoals stamp set) with another lime green patterned paper scrap and popped that up on foam dots toward the bottom of the card front.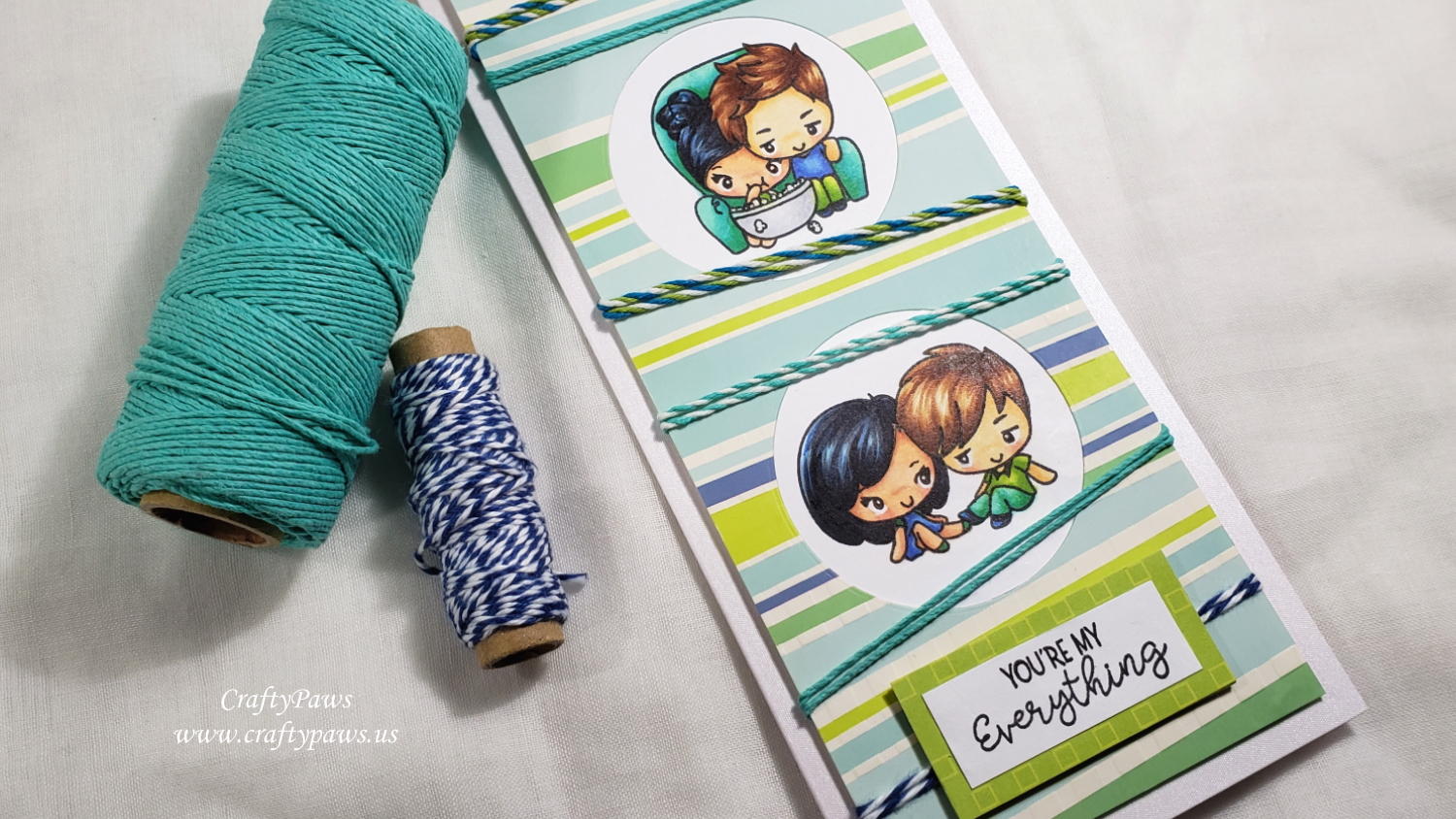 Then, because I am not one to miss an opportunity to use up scraps, I took a couple of old Creative Memories heart punches and punched out a bunch of hearts from the left over scraps of the patterned card stock. If Mr. CraftyPaws wasn't so anti-confetti, I could have just tucked them into the card, but given his strong feelings, I decided to use the hearts to embellish the inside and back side of the card. I thought they added a nice finishing touch.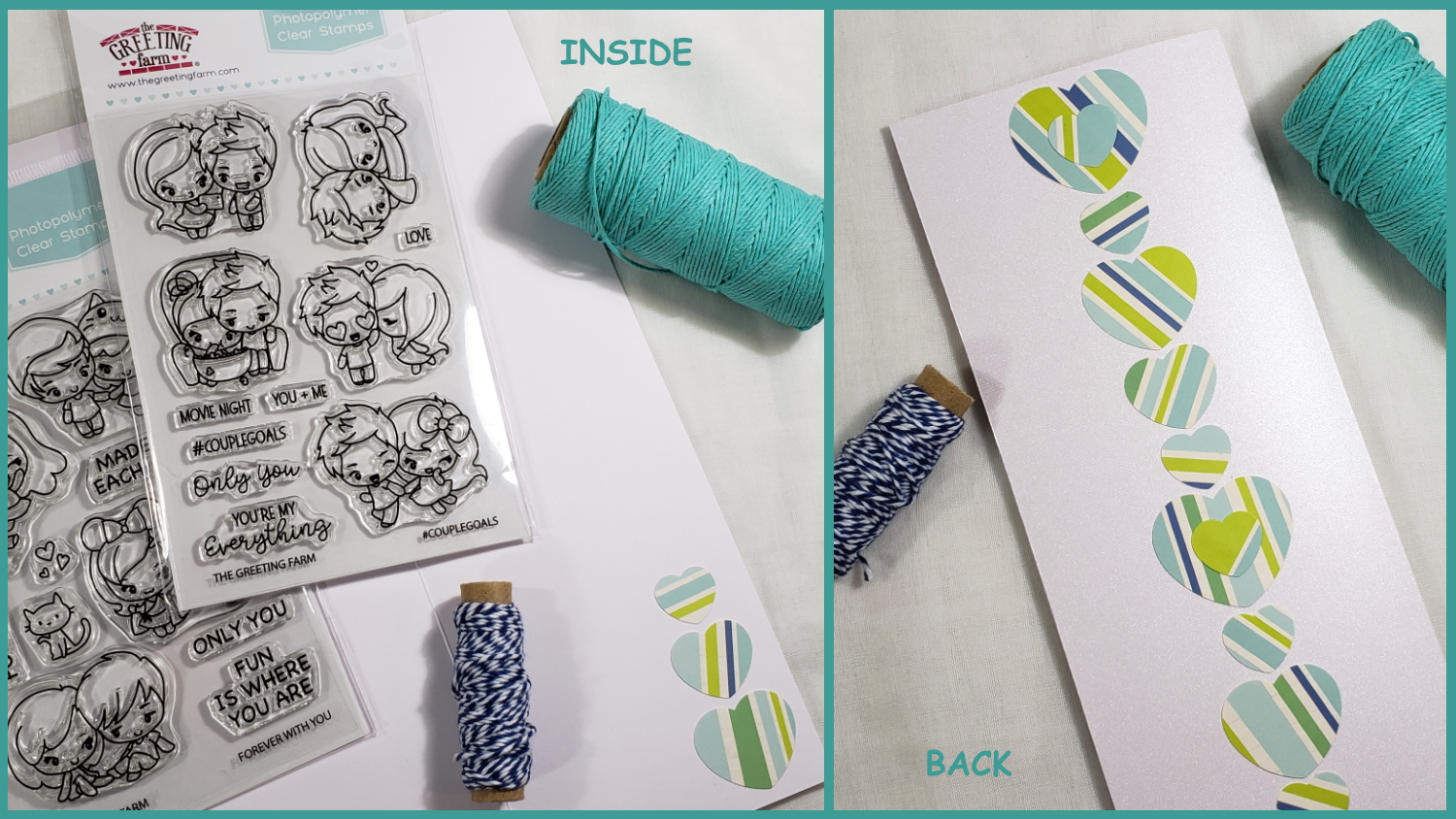 Please CLICK on the following picture to watch the card making video: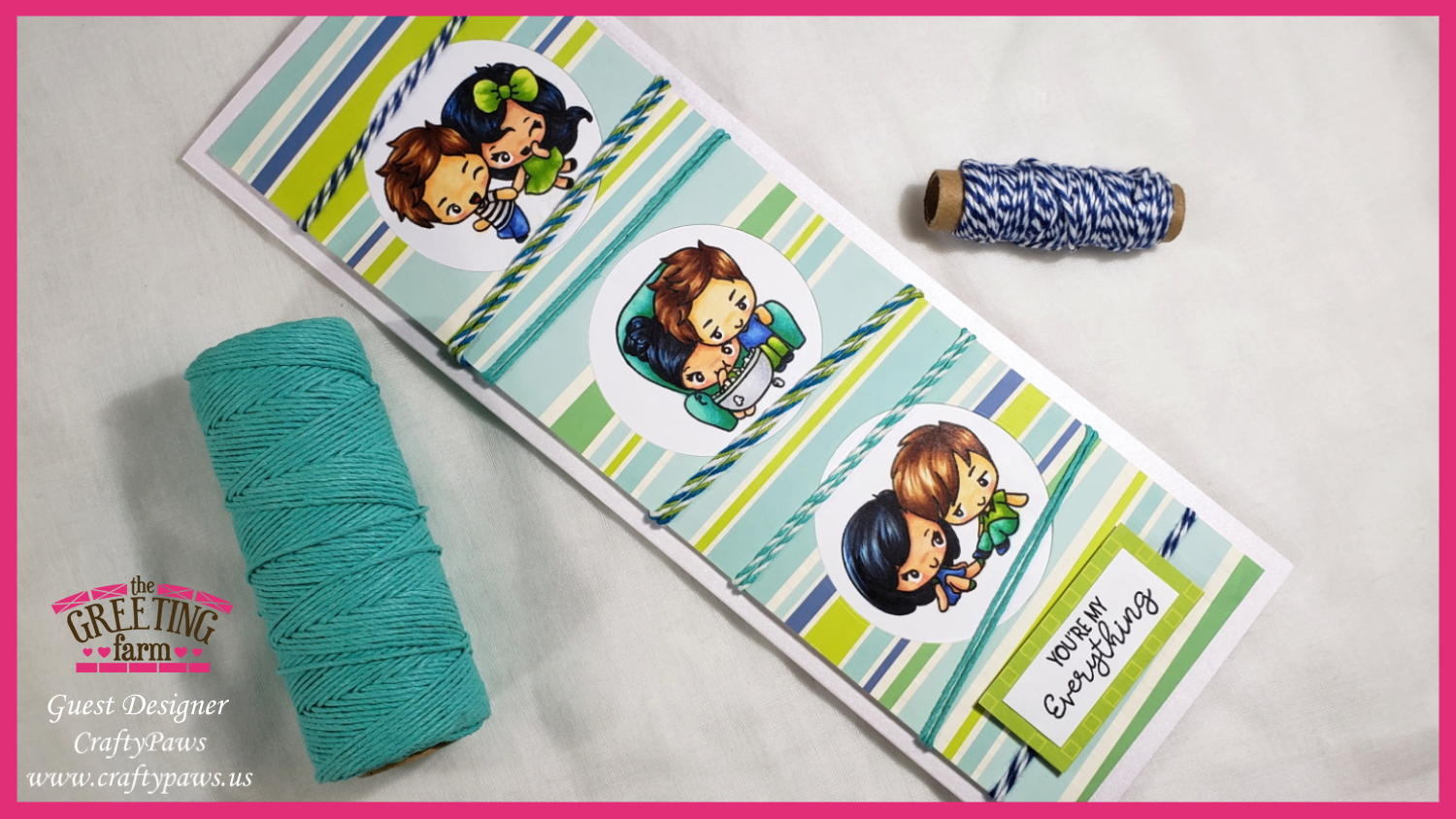 Disclosure: Many of the supplies I've used for today's project are linked. Some may be affiliate links, which means if you make a purchase I receive a small commission at no extra cost to you. I truly appreciate your support toward the costs of running this blog!
This card is being entered into the following challenges:
Creatalicious Anything Goes with Optional Mythical Creatures Challenge
Word Art Wednesday Anything Goes Challenge
Through the Craft Room Door Anything Goes Challenge
Crafts Galore Encore Anything Goes Challenge
Stamping Sensations Colour My World Challenge
Simon Says Stamp Wednesday favorite technique Challenge